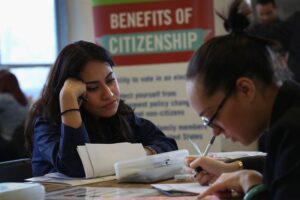 With 20 pages of questions (and another 18 pages of instructions), filling out the application for U.S. citizenship can be intimidating for many applicants.
Officially known as Form N-400, Application for Naturalization, the majority of applicants can prepare the application without extensive help from an attorney. If you have a straight forward case, you can probably do it yourself.
If you're ready to tackle the application for U.S. citizenship by yourself, go to the website for U.S. Citizenship and Immigration Services (USCIS) at www.uscis.gov/n-400/ to download Form N-400 and the filing instructions.
If you want some extra support and the reassurance that you're doing everything correctly, Continue reading →