Immigration Topics Explained:
Green Card Through Consular Processing
Consular Processing Explained
What is the consular process?
Consular processing is the procedure of applying for an immigrant visa (green card) through a U.S. embassy or consulate in a foreign country. It is one of two paths for obtaining an immigrant visa to the United States through family-based immigration. The second path is adjustment of status. If the applicant is outside the U.S., the only path for immigrating to the U.S. is to use consular processing. The vast majority of immigrants apply through an embassy or consulate.
The following describes in general terms the process for obtaining a family-based green card through consular processing. In this process, the petitioner is a U.S. citizen or lawful permanent resident, and the beneficiary is the foreign national seeking a green card. If you're ready to get started, skip to how CitizenPath can help.
Petitioning a Relative
How do I start consular processing?
Before the intending immigrant can apply for an immigrant visa, the U.S. relative must establish a qualifying relationship. A U.S. citizen or lawful permanent resident may petition certain family members to live in the U.S. and receive green card. The entire process begins when the U.S. citizen or permanent resident files Form I-130, Petition for Alien Relative, on behalf of the beneficiary (intending immigrant). To obtain a green card based on a family relationship, the beneficiary must be in either the immediate relative or family preference categories. The purpose of Form I-130 is to establish an qualifying relationship so that the relative may apply for a green card.
Immediate Relative Categories
Immediate relatives include the spouse, parents, and unmarried children (under age 21) of U.S. citizens.
Family Preference Categories
Family preference includes other qualifying family-based relationships for immigration.
Note: A similar process is available to U.S. citizens that want to bring a fiancé (as well as any children of the fiancé) to the U.S. for marriage. This process begins with the U.S. citizen filing Form I-129F, Petition for Alien Fiancé(e). This path is not available to the fiancés of lawful permanent residents. Learn more in the K-1 Visa Overview.
A complete petition package will also include several supporting documents. For detailed instructions on how to prepare the forms and which supporting documents to include, use CitizenPath to prepare your Form I-130. CitizenPath is the industry's best preparation software designed by immigration attorneys and backed up with live customer support. Our affordable online immigration services make USCIS applications easier and help eliminate common mistakes that cause delays, rejections, and denials. We even guarantee that USCIS will approve your petition. Learn more about preparing Form I-130 with CitizenPath.
Approval Notice
What happens after submitting Form I-130?
U.S. Citizenship and Immigration Services (USCIS) will notify the petitioner of a decision. If USCIS denies the I-130 petition, the notice will include the reasons for denying the petition and any rights to appeal the decision. If USCIS approves the petition, they will forward the case to the Department of State's National Visa Center (NVC). USCIS will also mail an approval notice to the beneficiary. The I-130 approval notice will arrive by mail as Form I-797, Notice of Action. It will look similar to the approval notice pictured below.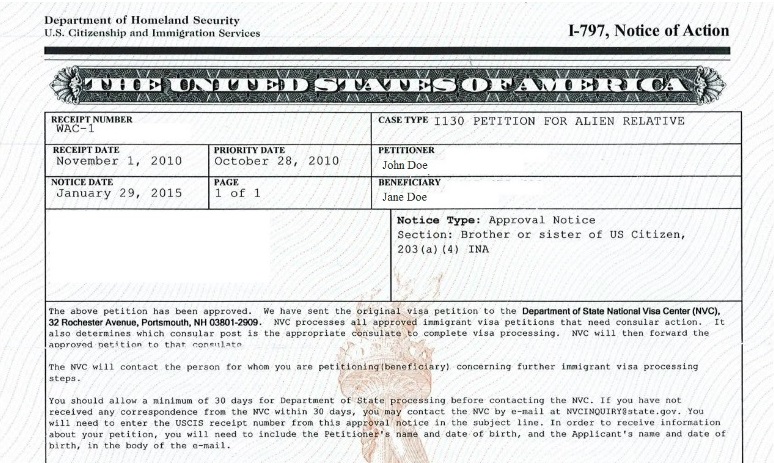 National Visa Center Processing
Can I enter the United States after I-130 approval?
The National Visa Center, which is responsible for the collection of visa application fees and supporting documentation, will notify the petitioner and beneficiary when the visa petition is received and again when an immigrant visa is about to become available. For immediate relative categories (spouse, parents and unmarried children under age 21 of U.S. citizens), there is an unlimited number of visas available. As a result, the process is relatively quick. For immediate relatives, it may take approximately one month for USCIS to transition the case and receive an invitation to submit additional documents from the NVC. For family preference categories however, there's a numerical limit on visas available each year. As a result, there is generally a wait associated with family-preference immigrant visas, and you'll need to understand how the visa bulletin works.
The beneficiary can apply for a green card through consular processing once USCIS approves the I-130 petition and a visa is available. For a more complete explanation of this process, begin reading at family-based immigration. For an understanding of what happens after filing Form I-130, review the Form I-130 processing time line.
Apply for the Immigrant Visa
What is the DS-260 application?
The NVC will also notify the petitioner and beneficiary when the beneficiary must submit immigrant visa processing fees, the visa application and supporting documentation. At this time, the beneficiary and each qualified family member immigrating with the beneficiary must complete the Application for Immigrant Visa and Alien Registration (Form DS-260).
In most cases, the NVC requires the U.S. petitioner to submit a Form I-864, Affidavit of Support. The Affidavit of Support is a contract between the sponsor (petitioner) of an immigrant visa applicant and the U.S. government. It's a promise to support the beneficiary if the person does not have the means to support him or herself.
For petitioners without significant income, there are options at this point to also use a joint sponsor.
Attend Consular Processing Appointment
When will I have an immigrant visa interview?
Once a visa is available and the NVC has received the DS-260 with all supporting documents, the consular office will schedule the beneficiary for an interview. The consular officer will complete processing of the applicant's case and decide if the beneficiary is eligible for an immigrant visa.
If the beneficiary is granted an immigrant visa (green card), the consular officer will give him or her a packet of information. This packet is known as a "Visa Packet."
Enter the U.S. as a Permanent Resident
When do I get a green card?
An approved immigrant visa means that you were granted status as a permanent resident in the United States. Upon arrival to the United States, the beneficiary will give the Visa Packet to the Customs and Border Protection (CBP) officer at the port of entry. The beneficiary will be inspected by a CBP officer. If found admissible, the new immigrant will be admitted as a permanent resident of the United States. This status gives him or her the authorization to live and work in the United States permanently.
The CBP officer will likely provide the new immigrant with an "I-551 stamp" in his or her passport. This temporary stamp may be used like a green card until the actual card arrives.
USCIS will mail a green card to the beneficiary once he or she is inside the United States. If the green card is not received within 45 days of arriving in the U.S., call the USCIS National Customer Service Center at 1-800-375-5283.
Pros and Cons of Consular Processing
Is consular processing better than adjusting status?
Consular processing takes approximately 6 to 14 months for immediate relatives. This time line includes I-130 processing through the consular interview. Due to the wait for a visa to become available, the process will likely take much longer for family-preference immigrants. Because consular processing generally has a shorter processing time, it's preferred by some applicants over adjustment of status. What's more, consular processing has a lower risk of refusal. Unlike USCIS officers, consular officers cannot refuse to issue a visa based on discretion. This means that the consular officer must have specific, factual evidence for denying an application. However, cases that are denied are generally non-reviewable. In other words, it's a final decision.
For a more detailed analysis of the advantages and disadvantages of consular processing versus adjustment of status, read this comparison. For detailed, step-by-step instructions through the consular processing path, visit the U.S. Department of State's website.
Form I-130, Petition for Alien Relative
Use Form I-130 (Petition for Alien Relative) to start the immigration process for a family member. Each year, USCIS rejects or denies thousands of I-130 petitions. Rejections and denials delay the process and can cost you money. Therefore, it's important to get it right.
each year an average of
I-130 petitions are filed*
out of these
get rejected*
How CitizenPath Helps You Prepare the I-130 Petition
How do I prepare Form I-130 and other immigration forms?
CitizenPath's affordable, online service makes it easy to prepare Form I-130, Petition for Alien Relative. Designed by immigration lawyers, the Immigrant Visa Petition Package helps you eliminate the common errors that create delays, rejections and even denials. That's because the service alerts you when your answer to a question may be a problem. You'll also get customized filing instructions based on your situation. It's a powerful, do-it-yourself tool that puts you in control. And we've got your back -- CitizenPath provides live customer support and provides a money-back guarantee that USCIS will approve the petition. Get started >>



We're going to ask you a few questions to make sure you're eligible and preparing the correct form.




Our software will guide you through the I-130 petition using simple step-by-step instructions.




Once you're completely satisfied, you'll be able to print your I-130 and customized filing instructions.