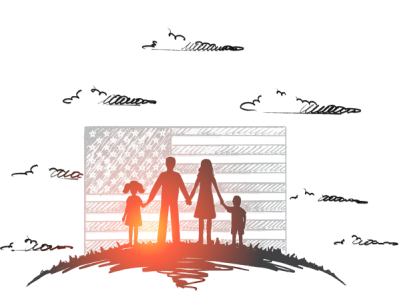 Immigration Quotes from Great Americans
Immigrants make America great. Immigration reform will help the best and brightest doctors, engineers, entertainers and entrepreneurs stay in the United States. It will also help us stay true to our founding fathers' desire to offer refuge to those fleeing persecution and war.
Share these immigration quotes from great Americans on your favorite social platform.
"Our attitude towards immigration reflects our faith in the American ideal. We have always believed it possible for men and women who start at the bottom to rise as far as the talent and energy allow. Neither race nor place of birth should affect their chances."
Senator Robert F. Kennedy
"Mr. Speaker, our Nation depends on immigrants' labor, and I hope we can create an immigration system as dependable as they are."
Luis Gutierrez
"More than any other nation on Earth, America has constantly drawn strength and spirit from wave after wave of immigrants. In each generation, they have proved to be the most restless, the most adventurous, the most innovative, the most industrious of people. Bearing different memories, honoring different heritages, they have strengthened our economy, enriched our culture, renewed our promise of freedom and opportunity for all…."
President Bill Clinton
"They are willing to fight for a country that they weren't even citizens of. I wish all Americans felt that way about their country."
Captain Kirk Thorsteinson
"It says something about our country that people around the world are willing to leave their homes and leave their families and risk everything to come to America. Their talent and hard work and love of freedom have helped make America the leader of the world. And our generation will ensure that America remains a beacon of liberty and the most hope fill society this world has ever known."
President George W. Bush
"Give me your tired, your poor, Your huddled masses yearning to breathe free, The wretched refuse of your teeming shore. Send these, the homeless, tempest-tossed, to me: I lift my lamp beside the golden door."
Emma Lazarus
"He doesn't like my name… Of course we couldn't all come over on the Mayflower… But I got here as soon as I could, and I never wanted to go back, because to me it is a great privilege to be an American citizen."
Anton Cermak
"The greatest nations are defined by how they treat their weakest inhabitants."
Jorge Ramos
"Dear America, I am an Arab American, but a proud American just like you (…) On that dreadful day, September 11th, my duffel bag was already packed and I was waiting to answer the call of duty. Why was I ready? I also want a better and safer America just like you. When it comes to patriotism and loyalty, I am red, white and blue, just like you."
Sergeant Mahmoud El-Yousef
"Born in other countries, yet believing you could be happy in this, our laws acknowledge, as they should do, your right to join us in society, conforming, as I doubt not you will do, to our established rules. That these rules shall be as equal as prudential considerations will admit, will certainly be the aim of our legislatures, general and particular."
Thomas Jefferson
"Once I thought to write a history of the immigrants in America. Then I discovered that the immigrants were American history."
Oscar Handlin
"We have become not a melting pot but a beautiful mosaic. Different people, different beliefs, different yearnings, different hopes, different dreams."
President Jimmy Carter
"We welcome refugees, not because they are American... But because we are American."
Krish O'Mara Vignarajah
"We are a country where people of all backgrounds, all nations of origin, all languages, all religions, all races, can make a home. America was built by immigrants."
Secretary Hillary Clinton
"You know, 11 million people live in the shadows. I believe they're already American citizens. These people are just waiting, waiting for a chance to contribute fully. And by that standard, 11 million undocumented aliens are already Americans, in my view. "
President Joe Biden
"If we ever closed the door to new Americans, our leadership in the world would soon be lost."
President Ronald Reagan
"No matter who you are or what you look like, how you started off, or how and who you love, America is a place where you can write your own destiny."
President Barack Obama
"This is what keeps me going: that you can go from a sub-basement apartment in a 1960's Brooklyn ghetto to working for the President of the United States in one generation."
Adolfo Carrion, Jr
"Refugees are not terrorists. They are often the first victims of terrorism."
António Guterres
"I'm the daughter of refugees. The immigrant mentality is to work hard, be brave, and never give up in your pursuit of achieving the American dream."
Reshma Saujani
"What makes someone American isn't just blood or birth, but allegiance to our founding principles and faith in the idea that anyone — from anywhere — can write the next chapter of our story."
President Barack Obama
"I received a letter just before I left office from a man. I don't know why he chose to write it, but I'm glad he did. He wrote that you can go to live in France, but you can't become a Frenchman. You can go to live in Germany or Italy, but you can't become a German, an Italian. He went through Turkey, Greece, Japan and other countries. But he said anyone, from any corner of the world, can come to live in the United States and become an American."
President Ronald Reagan
"The bosom of America is open to receive not only the Opulent and respected Stranger, but the oppressed and persecuted of all Nations and Religions; whom we shall welcome to a participation of all our rights and privileges…"
President George Washington
"The land flourished because it was fed from so many sources–because it was nourished by so many cultures and traditions and peoples."
President Lyndon B. Johnson
"You who have been born in America, I wish I could make you understand what it is like [to] not be an American – [to] not have been an American all your life — and then, suddenly, with the words of a man in flowing robes to be one, for that moment and forever after. One moment you belong with your fathers to a million dead yesterdays — the next you belong with America to a million unborn tomorrows."
George Magar Mardikian
"Everywhere immigrants have enriched and strengthened the fabric of American life."
President John F. Kennedy
"People come here penniless but not cultureless. They bring us gifts. We can synthesize the best of our traditions with the best of theirs. We can teach and learn from each other to produce a better America…"
Mary Pipher
"Citizenship to me is more than a piece of paper. Citizenship is also about character. I am an American. We're just waiting for our country to recognize it."
Jose Antonio Vargas
"I'm troubled by [the immigration debate]. When [my family] came from England during the war, people said, "You are welcome here. What can we do to help?" I am a beneficiary of the American people's generosity, and I hope we can have comprehensive immigration legislation that allows this country to continue to be enriched by those who were not born here."
Secretary Madeleine Albright
"The United States should be an asylum for the persecuted lovers of civil and religious liberty."
Thomas Paine
"[Let] the poor the needy and oppressed of the Earth, and those who want Land, resort to the fertile lands of our western country, the second land of Promise, and there dwell in peace, fulfilling the first and great commandment."
President George Washington
"We the people of this continent are not afraid of foreigners because many of us were once foreigners."
Pope Francis
"Every aspect of the American economy has profited from the contributions of immigrants."
President John F. Kennedy
"A child on the other side of the border is no less worthy of love and compassion than my own child."
President Barack Obama
"No one leaves home unless home is the mouth of a shark."
Warsan Shire
"When you get to know a lot of people, you make a great discovery. You find that no one group has a monopoly on looks, brains, goodness or anything else. It takes all the people - black and white, Catholic, Jewish and Protestant, recent immigrants and Mayflower descendants - to make up America."
Judy Garland
"The American dream belongs to all of us."
Vice President Kamala Harris
"Our nation is the enduring dream of every immigrant who ever set foot on these shores, and the millions still struggling to be free… this idea called America, was and always will be a new world."
President George H.W. Bush
"Where we are as a nation is due to having an openness to the people of the world. It's incredibly important. I firmly believe that we cannot shut our borders to immigrants. I think a fair and just immigration policy is good for our country and good for our society."
Bob Iger
"We have a legal and moral obligation to protect people fleeing bombs, bullets and tyrants, and throughout history those people have enriched our society."
Juliet Stevenson
"Refugees are mothers, fathers, sisters, brothers, children, with the same hopes and ambitions as us — except that a twist of fate has bound their lives to a global refugee crisis on an unprecedented scale."
Khaled Hosseini
They are willing to fight for a country that they weren't even citizens of. I wish all Americans felt that way about their country."
Captain Kirk Thorsteinson
"As each new wave of immigration has reached America, it has been faced with problems... Somehow, the difficult adjustments are made and people get down to the tasks of earning a living, raising a family, living with their neighbors, and in the process, building a nation."
President John F. Kennedy
"We came to America, either ourselves or in the persons of our ancestors, to better the ideals of men, to make them see finer things than they had seen before, to get rid of the things that divide and to make sure of the things that unite."
President Woodrow Wilson
"I was once asked by a reporter why as a non-citizen of the United States, I volunteered to join the military and serve in Vietnam. I answered, 'I was always an American in my heart."
Alfred Rascón
"Nearly all Americans have ancestors who braved the oceans – liberty-loving risk takers in search of an ideal – the largest voluntary migrations in recorded history… Immigration is not just a link to America's past; it's also a bridge to America's future."
President George H.W. Bush
"Remember, remember always, that all of us, you and I especially, are descended from immigrants and revolutionists."
President Franklin D. Roosevelt
"We are a nation of immigrants. We are the children and grandchildren and great-grandchildren of the ones who wanted a better life, the driven ones, the ones who woke up at night hearing that voice telling them that life in that place called America could be better."
Senator Mitt Romney
"I had always hoped that this land might become a safe and agreeable asylum to the virtuous and persecuted part of mankind, to whatever nation they might belong."
President George Washington
"I've always argued that this country has benefited immensely from the fact that we draw people from all over the world."
Chairman Alan Greenspan
"When you enlisted into the armed forces you swore to support and defend a Constitution that did not yet fully apply to you. You chose to endure the same sacrifices as your fellow comrades in arms to preserve the freedom of a land that was not yet fully yours. You accepted that you might have to pay the ultimate price on behalf of a nation to which you did not fully belong. Now, you will officially become citizens of the United States, a country to which each of you has already borne true faith and allegiance in your hearts and your deeds."
General David Petraeus
"Immigrant families have integrated themselves into our communities, establishing deep roots. Whenever they have settled, they have made lasting contributions to the economic vitality and diversity of our communities and our nation. Our economy depends on these hard-working, taxpaying workers. They have assisted America in its economic boom."
Senator Edward M. Kennedy
"I take issue with many people's description of people being "illegal" immigrants. There aren't any illegal human beings as far as I'm concerned."
Dennis Kucinich
"I have witnessed time and again the bravery and valor of soldiers defending a country that they consider their adopted home. They are grateful for the opportunities the United States provides, and we are grateful for their sacrifices."
Secretary Colin Powell
"America was indebted to immigration for her settlement and prosperity. That part of America which had encouraged them most had advanced most rapidly in population, agriculture and the arts."
President James Madison
"What has happened to us in this country? If we study our own history, we find that we have always been ready to receive the unfortunate from other countries, and though this may seem a generous gesture on our part, we have profited a thousand fold by what they have brought us."
Eleanor Roosevelt
"My fellow Americans, we are and always will be a nation of immigrants. We were strangers once, too."
President Barack Obama
"As an immigrant, I chose to live in America because it is one of the freest and most vibrant nations in the world. And as an immigrant, I feel an obligation to speak up for immigration policies that will keep America the most economically robust, creative and freedom-loving nation in the world."
Rupert Murdoch
"It is said that the quality of recent immigration is undesirable. The time is quite within recent memory when the same thing was said of immigrants who, with their descendants, are now numbered among our best citizens."
President Grover Cleveland
"Shall we refuse the unhappy fugitives from distress that hospitality which the savages of the wilderness extended to our fathers arriving in this land? Shall oppressed humanity find no asylum on this globe?"
President Thomas Jefferson
"Nikola Tesla was an immigrant. So were Joseph Pulitzer and Albert Einstein and Igor Stravinsky. Rational, compassionate immigration reform is needed so that the next Teslas and Einsteins are not denied access to educational or entrepreneurial opportunities in the United States. The time has come."
John Green
"If we do not provide the same opportunities for future immigrants that were provided for our forefathers, it is an affront to our national ideals. We owe these servicemen more for the sacrifices that they have made for this country."
Senator John McCain
"Yes, we become stronger when men and women, young and old, gay and straight, native-born and immigrant fight together to create the kind of country we all know we can become."
Senator Bernie Sanders
If you have more immigration quotes, feel free to
share them with us on Twitter
. CitizenPath stands behind immigrants and their families. Every day, we're working to make the path a little easier. Our
online immigration services
help individuals navigate the immigration system. It's our honor to serve this role.