Why Americans Should
Embrace Immigration
A comprehensive look at the contributions of immigrants to virtually everything that's American
According to the
American Immigration Council
, 14 percent of the United States population is foreign-born. That's 44.7 million immigrants, more than any other nation. Is immigration a net detractor or net benefit for our country? The political debate would lead you to believe that we're divided on this issue. The facts are that immigration fuels much of America's creativity, growth and individualism. And the vast majority of Americans view immigration as a positive factor. This special report takes a closer look at immigrant contributions in the following areas:
Contrary to what the loudest rhetoric may indicate, Americans are largely pro-immigration. In a survey conducted by Gallup in the spring of 2020, more respondents told the firm immigration should increase, and not the other way around. In fact, close to 80 percent of respondents said immigration was a "good thing" for the country. And this includes categories of immigrants traditionally seen as "less competitive," such as refugees and asylum seekers.
Even with the coronavirus pandemic, evidence shows that while people support travel restrictions that could slow or stop the spread of the pandemic, that doesn't change the favorable opinions the majority of Americans have about immigration, and of immigrants themselves. 70 percent of respondents of an NPR/Ipsos poll, first conducted in 2018 and repeated in the summer of 2020, said that immigrants are "an important part of the American identity." In surveys conducted by the Pew Research Center, about two-thirds of Americans favor immigration because immigrants "work hard," and because of their talents.
Let's look at these contributions immigrants make through their skills, talent and diversity in their everyday work and lives in the United States. While the COVID-19 pandemic has highlighted the importance of immigrants in keeping essential industries running, immigrants have been valuable all along.
Immigrants are net contributors to job creation and wage growth. When we consider immigrants' contributions to the economy, we see that their positive impact is seen and felt in multiple ways across the U.S. economy. Unskilled labor fills a gap in farms and factories that America's aging population doesn't satisfy. Skilled labor must go through a labor certification process to ensure the available domestic workforce cannot be reasonably fill the job. Then, there's the matter of immigrant entrepreneurs who have literally generated millions of jobs through the creation of highly successful businesses. The founders for a jaw-dropping number of major American brands weren't born in the United States.
Immigrant Impact on Entrepreneurship and Job Creation
Immigrant business owners have created millions of American jobs through major corporations and countless small businesses. In the most recent analysis, nearly 45 percent of firms on the Fortune 500 list were founded by immigrants or their children. That's an astounding statistic. Remember, only 14 percent of the population is foreign-born. Some of these companies include Anheuser Busch, Capital One, Carnival Cruise Lines, Colgate, eBay, Goldman Sachs, Google, Kraft, Levi Strauss, LinkedIn, Nordstrom, Oscar Mayer, Procter & Gamble, Tesla, and YouTube, just to name a few. The list is significantly longer. It's an eye opening statistic.
But immigrants are major job creators on our nation's "main streets" too. Foreign-born entrepreneurs drive business creation through the thousands of small mom-and-pop stores that line our communities.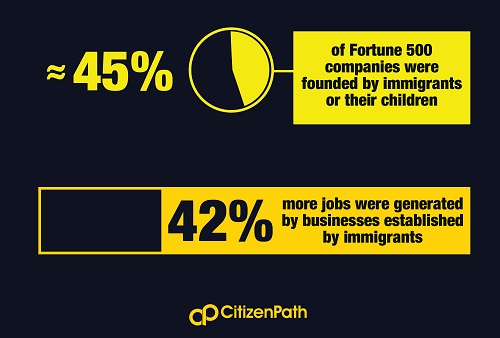 Not only do these companies generate jobs, but companies on the Fortune 500 list that were founded either by immigrants or the children of immigrants generate more than $6 trillion in revenue and 42 percent more jobs than the businesses established by U.S.-born individuals. That's a bigger economic revenue figure than the whole economy of some of the most industrialized countries in the world, like Germany and Japan. The value and economic importance of these companies to the U.S. economy is massive. You have to ask yourself, "Where would the American economy be without immigrant contributions?"
"Immigration is the entrepreneurial act of taking the risk of uprooting oneself and plunging into uncertainty."
Immigrants also start businesses at a higher rate than the U.S.-born Americans according to the Kauffman Foundation. They found that during the period studied, immigrants were about twice as likely to become entrepreneurs as the U.S.-born population. Of all new entrepreneurs, 29.5 percent were immigrants. While tech startups from highly-educated immigrants get much of the attention, the rate of entrepreneurship among immigrants with less than a college degree is actually higher than those with a college degree. Foreign-born persons are responsible for starting many of the "main street" businesses in your own town. These range from restaurants to gas stations to hotels.
There's a unique parallel between immigration and entrepreneurship. George Will, the conservative political columnist once wrote that, "Immigration is the entrepreneurial act of taking the risk of uprooting oneself and plunging into uncertainty."
Labor shortages in the U.S. market cost the economy about $3.1 billion a year according to a New American Economy study. Yet, in a study conducted in the summer of 2020 by experts from Northwestern University and the U.S. Census Bureau, the resounding conclusion is that bringing immigrants into the workforce "can expand labor supply and create greater competition for native-born workers." In addition to the improvement in quality of positions available for immigrants and native-born individuals alike, "immigrants may also start new firms, expanding labor demand."
Is it possible for an immigrant to add over a trillion dollars in value to the economy?
Google, only the fourth company to reach the trillion-dollar valuation, was co-founded by an immigrant. Born in Russia, Sergey Brin immigrated with his parents to the United States to escape Jewish persecution in 1979. While completing his doctorate in computer science at Stanford University in the 1990s, Brin would meet and collaborate with Larry Page. The two created a search engine out of their research project. That school project quickly turned into a massively successful business co-founded by the duo.
In 2020, Google Search, Google Play, YouTube, and Google advertising tools helped provide $426 billion of economic activity for more than 2 million American businesses, nonprofits, publishers, creators, and developers. Additionally, more than 17 million American businesses received requests for directions, phone calls, bookings, reviews and other direct connections to their customers from Google. That's impactful.
Today, in addition to its astronomical valuation, Google has over 100,000 employees in North America alone, showing how only one company co-founded by an immigrant has the potential to create enormous market value and multiple jobs that have had a ripple effect through the global economy.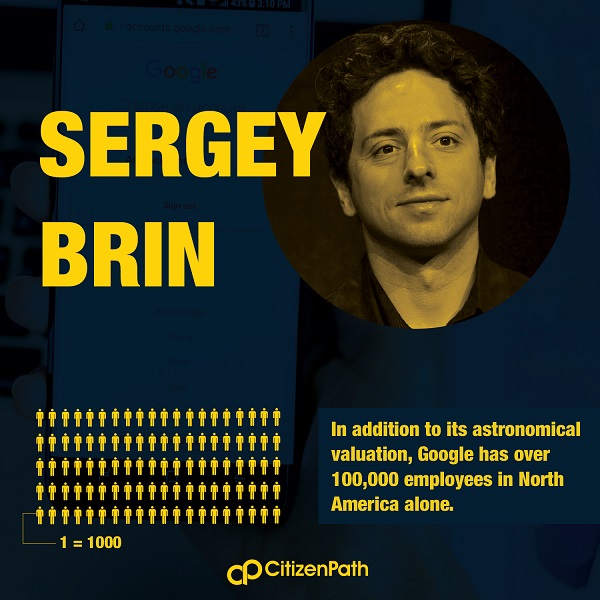 Wages Benefit from Immigration
Immigrants in the U.S. labor market not only keep American companies in check in terms of wages for local workers, but lead to better wages for all workers, immigrant or otherwise. In areas requiring lower-skilled workers, automation and outsourcing have inflicted more damage in wages than immigrants themselves, as it simply requires less manpower to perform certain tasks. These lower wages, however, deter American born workers from taking jobs in these low-skilled fields, hence requiring migrant workers to fill the vacant positions.
Overall, however, incorporating migrants into the workforce, regardless of their skill level, "increases consumption, spending, and investing, which leads to an increase in GDP and the economic growth."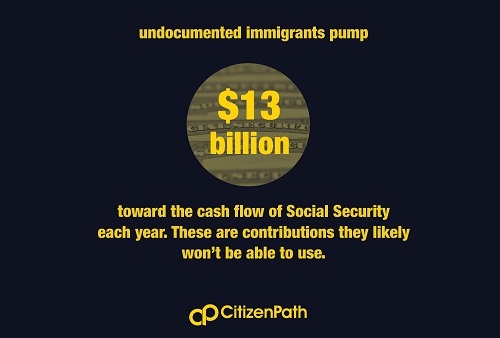 Furthermore, with the contributions immigrants make to Social Security, they secure the health of the fund for ageing Americans, ensuring that the contributions they made from their own wages make their way back to them in retirement. In fact, even immigrants that are not entitled to receive benefits due to their immigration status, are making significant contributions to a Social Security system they are not entitled to receive benefits from.
Estimates suggest that undocumented immigrants pump about $13 billion toward the cash flow of Social Security each year. These are contributions they likely won't be able to use. In a 2013 review of the impact of undocumented immigrants on Social Security, Stephen Goss, the chief actuary at the time, concluded that immigrants pay in more than they take out. He said, "We estimate that earnings by unauthorized immigrants result in a net positive effect on Social Security financial status generally."
Immigrants are often exceptional inventors and creators that drive "American" innovation. They've experienced challenges and adversity that forced them to come up with new solutions and often take a more difficult path than others. Some would say the immigrant experience drives ingenuity. It may also make them more empathetic, finding a better solution from the customer's perspective.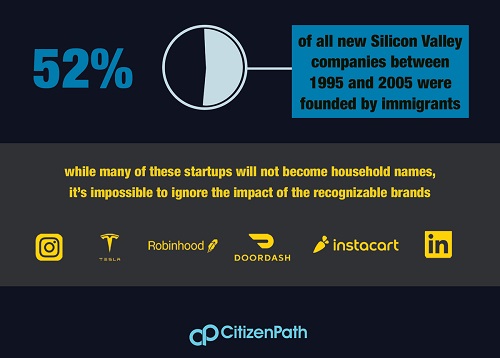 The immigrant workforce is more likely to have degrees in science, technology, engineering, and mathematics (STEM). This is evident in the recipients of the H-1B visa. In fact, immigrants are disproportionately likely to hold STEM degrees as compared to the native-born workforce.
What's more, immigrant entrepreneurs are responsible for more patents per capita than the native-born population. A U.S. Census Bureau study highlights that immigrants hold almost a quarter of the patents registered in the U.S., even though they account for less than 15 percent of the workforce.
This tells us that not only are immigrants coming into the U.S. job market relieving the labor shortage, but also creating new businesses and jobs.
"If immigrant America were a stock, you'd be an idiot not to buy it."
A stunning number of founders for American startups also immigrated to the United States. Immigrant founders started 52 percent of all new Silicon Valley companies between 1995 and 2005. And while many of these startups will not become household names, it's impossible to ignore the impact of the recognizable brands. We all know Tesla, Instagram, LinkedIn, DoorDash, Instacart, and Robinhood. Journalist Adam Bluestein once wrote, "If immigrant America were a stock, you'd be an idiot not to buy it."
From Alexander Graham Bell to Elon Musk, immigrants have a long history of invention. One immigrant in particular, Albert Einstein, has a name that's synonymous with genius. Here's a sampling of some other significant contributors to American innovation:
Economists know that innovation drives long-term economic growth. Consequently, Americans' living standards and job opportunities improve. Why would we want anything but an immigration policy that encourages the inflow of new ideas and invention? Our immigration policy is a direct input on our future.
Work meetings, parent teacher conferences, virtual happy hours, conferences, classes... if it involved two or more people meeting during the COVID-19 pandemic, it's likely that at least one of these video meetings happened on a platform many didn't know until the pandemic hit: Zoom.
After months of lockdowns and companies extending their flexible work arrangements, Zoom, thanks to its sleek features including breakout rooms, screen sharing, reactions, and waiting rooms, has become almost synonymous with virtual meetings and videoconferencing.
What most people may not have known before the pandemic is that Zoom was founded by a Chinese immigrant. After being denied a work visa a whopping eight times, Eric Yuan moved to California in 1997. Yuan was inspired by a talk Bill Gates gave in the 1990s about the possibilities the internet offered, and set his eyes on moving to the place where the Internet was conceived and saw its greatest growth: the United States. Yuan moved to the United States without being fluent in English, but being fluent in computer coding. His talents enabled him to get a job at Cisco, a lead company in computer networking. Yuan would eventually develop the beloved blue-icon app we know today. Zoom's valuation would skyrocket, making Eric Yuan one of the top 400 richest people in America.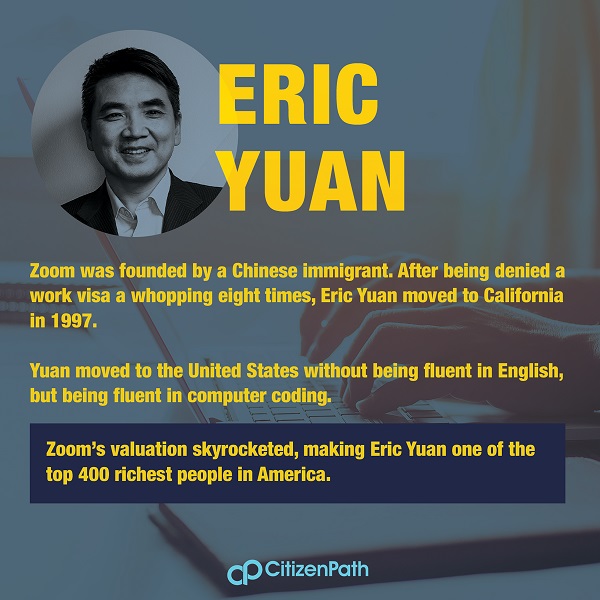 While not every  employment-based immigrant will invent a world-altering app, it does make you wonder how many hundreds of thousands of potential immigrants are stuck in the backlog of immigrant visas, and have the potential to innovate at such a scale.
Immigrant Contributions
to Society and Culture
Immigrants have always had a prominent role in shaping American identity and heritage. American culture is undeniably a blend of the world's customs, rituals, and traditions introduced through each wave of migration. And along the way, we've created some of our own. While Christian beliefs heavily influenced the founding fathers of the United States, the nation is adapting to the needs of other religions and cultures.
"People come here penniless but not cultureless. They bring us gifts. We can synthesize the best of our traditions with the best of theirs. We can teach and learn from each other to produce a better America…"
International Talent in Arts and Entertainment
Immigrants have played a disproportionate role in the development of the American performing arts. They have also made significant contributions in many other realms of artistic expression. Many artists embraced the freedoms and opportunities of American society.
Irving Berlin, who was born as Israel Baline in Russia, wrote "White Christmas" and "God Bless America," and numerous other standards. Mikhail Baryshnikov, another Russian American, is a dancer, choreographer, and actor, and considered by many to be one of the greatest ballet dancers in history. Max Steiner, an Austrian American music composer, composed over 300 film scores and was nominated for 24 Academy Awards (winning three). He worked on some of the greatest films of his time including: King Kong, Little Women, Casablanca and Gone with the Wind.
Frank Capra, whose films helped reinforce beliefs in the American dream, immigrated from Italy and won three Academy Awards in the 1930s. Alfred Hitchcock, the "Master of Suspense" is credited with pioneering many techniques in the psychological thriller genre. Samuel Goldwyn was a Polish American film producer who was best known for being a founder of the Metro-Goldwyn-Mayer (MGM) motion picture studio.
Today, Hollywood continues to be a melting pot for international talent. Mainstream pop culture names like Guillermo del Toro, Gal Gadot, Kunal Nayyar, Charlize Theron, and Sofía Vergara were all born as non-citizens. Even the beloved Alex Trebek of the gameshow "Jeopady!" fame was an immigrant.
Likewise, musicians Justin Bieber, Drake, Dave Matthews, Van Halen, Shakira and Enrique Iglesias were born abroad. Of course, this is a small sample of all the star power that now calls the United States home.
America is the Stage for Global Sports
Most sports were imported to the United States, but immigrant Americans have created sport and competed at the highest levels. The American sports culture is becoming increasingly international.
Back in 1901, a Swiss-born Frenchman named Louis-Joseph Chevrolet immigrated to the United States. The race car driver would go on to start a car company that bears his name. Dr. James Naismith was a Canadian American sports coach and the inventor of basketball. He wrote the original basketball rulebook, founded the University of Kansas basketball program, and is credited with the innovation of what is now a worldwide sport.
At last count, the National Basketball Association (NBA) had 107 international players from 41 countries, including well-known stars Giannis Antetokounmpo, Tristan Thompson, and Luka Dončić. American baseball has been loaded with international talent for several decades. Dozens of active major league players are foreign born, including José Altuve, Juan Soto, Yu Darvish, and Ronald Acuña Jr. Even uniquely American sports like football continue to bring in international talent that make the game more competitive.
The NBA awarded an immigrant as their Most Valuable Player in the last two consecutive years. Giannis Antetokounmpo, a Greek American, won the exclusive award over other fan favorites like LeBron James and James Harden. Antetokounmpo, who proudly uses the nickname "the Greek Freak," is adored by fans throughout the United States and the world.
Antetokounmpo was born in Greece to Nigerian parents in 1994. However, due to Greece's citizenship laws, he was stateless for the first 18 years of his life. While many of his friends had passports and IDs, Giannis had nothing to show where he belonged.
As an outstanding basketball player, Antetokounmpo began to attract attention as a teenager. The NBA noticed, and Antetokounmpo was selected by the Milwaukee Bucks in the first-round of the 2013 NBA draft. He would make his debut that same year at the age of 18 years, 311 days as one of the youngest NBA players ever. While only 26 today, Antetokounmpo has already accumulated two MVP awards and has been selected as an All-Star five times.
Antetokounmpo was able to help his entire family immigrate to the United States soon after his arrival. Greece also granted him citizenship. However, the United States is also proud to call him their own.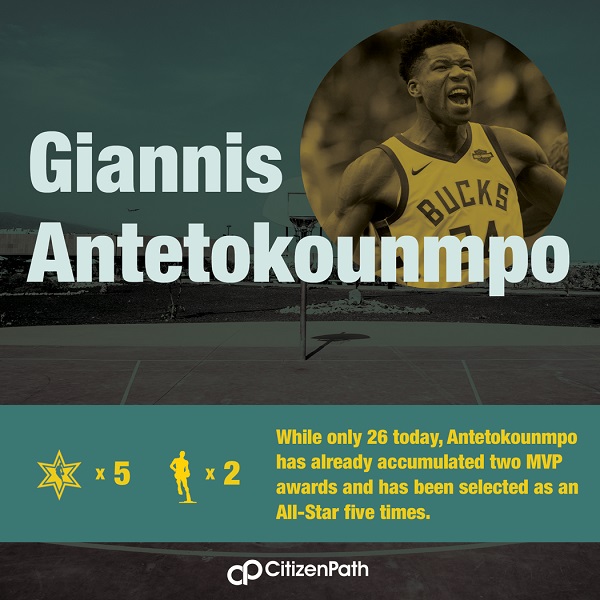 Food would be an extraordinarily boring category without the contributions of immigrants. There are entire books dedicated to the immigrant influences on American cuisine. Our food scene is a cornucopia of world flavors because it integrates just about everything. From samosas to sushi, American restaurants have a plethora of choices. Let's be thankful for the immigrant chefs and small business owners who share these flavors.
Early German immigrants brought staples like hamburgers and hotdogs to the American dinner table. Now, mainstream ethnic foods include Mexican, Chinese, Indian and Italian. But most metropolitan areas of the United States have a variety of other delicious choices from other countries.
Perhaps there's no food style more "American" than barbecue. The word barbecue comes from the language of a Caribbean Indian tribe called the Taino. Barbecue has been a component of Chinese cuisine for many years. And of course, there's also churrascaria cuisine.
Immigrants are serving and sacrificing for all of us; they have disproportionately served in some of the most at-risk jobs during the COVID-19 pandemic. Jobs in healthcare, food service, and hospitality make physical distancing difficult. It's personalized work that involves close physical contact. Foreign-born workers are a large percentage of the workforce in several of the sectors considered essential to the economy. Many of the jobs considered "essential" are not transferable to the work-from-home environment, leaving immigrant workers and minorities more vulnerable to COVID-19 and extended unemployment as a result of layoffs.
The Organization for Economic Cooperation and Development (OECD) points out that immigrants are "overrepresented in the sectors most affected by the pandemic." In the United States, less than 30 percent of the foreign-born workers are in a job that they could do from home, making them more vulnerable to a pandemic. Unfortunately, this has translated to a higher rate of infections and deaths. The same OECD report refers to statistics reported from the Centers for Disease Control pointing at the death rates from COVID-19 in the United States; 41 percent of reported deaths were Hispanic people. Despite this, immigrants are charging forward across the spectrum of essential services, and they're making a big impact.
"Every aspect of the American economy has profited from the contributions of immigrants."
Immigrants Contribute Disproportionately in Healthcare
Already, foreign-born workers make significant contributions to healthcare for Americans. There are an estimated 2.8 million immigrant healthcare professionals, playing a vital role on the front lines of the COVID-19 crisis. In fact, approximately 28 percent of physicians and surgeons are immigrants. Health aids (25 percent) and nurses (15 percent) are other medical occupations with a large percentage of foreign-born individuals.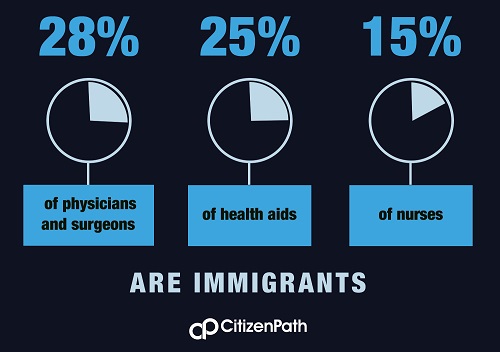 The healthcare workforce includes both lawfully present and undocumented immigrants. According to the Center for American Progress, over 200,000 workers in the healthcare sector are unlawfully present in the United States, including doctors, nurses, and home health aides. There are an additional 190,000 undocumented workers responsible in part for keeping healthcare facilities open and functioning through critical custodial and administrative work.
Doctors and healthcare professionals are a category where the United States will continue to need professionals in the upcoming years. Baby boomers – born in the 1950s and 60s – are aging and developing more health conditions. By 2032, the Association of American Medical colleges estimates there will be a shortage of more than 120,000 doctors in the United States.
With the right immigration policy, Americans stand to benefit from the contributions from immigrant healthcare professionals.
Vaccines & Pharmaceuticals
Operation Warp Speed, the U.S. government effort promoting vaccine research to combat COVID-19, was initially led by an immigrant. Moncef Slaoui, a Moroccan-born Belgium American, is a respected vaccine researcher who was tasked by President Trump to lead this monumental effort. In part through his leadership, the U.S. was able to introduce multiple vaccines in record time. In fact, eight of the companies developing treatments and vaccines for COVID-19 have directly benefited from the efforts of employment-based green card holders.
While vaccines were being developed, medical research staff was busy developing treatments for those falling sick to COVID-19. The American Community Survey points out there are over 130,000 immigrants working in the pharmaceutical industry in the United States. In 2018, that was a quarter of the whole industry's workforce. More than half have an advanced degree – making it likely that an immigrant has a hand in developing the medication that helps you get better, COVID or otherwise. Immigrants also make a significant portion of workers manufacturing medical equipment – a quarter to be exact – including the precious personal protective equipment keeping everyone, but especially healthcare workers, safe. Furthermore, immigrants comprise a significant share of pharmacy retail workers. Over 140,000 immigrants work in pharmacies across the United States, out of which at least half are pharmacists or pharmacy technicians.
The first two COVID-19 vaccines approved by the FDA and available for use were developed and put on the market thanks to the work of Pfizer and Moderna, two pharmaceutical companies founded by immigrants.
Noubar Afeyan was born in Lebanon to Armenian parents but was forced to flee the country due to a civil war. After immigrating to Canada, Afeyan continued his education in the United States, earning a chemical engineering degree at McGill University and Ph.D. in biochemical engineering at the Massachusetts Institute of Technology. His passion for science and discovery has lead to over 100 patented inventions and the creation of more than 40 companies. Afeyan is now well recognized for co-founding Moderna, the biotechnology company that develops and manufacturers pharmaceuticals, including a leading COVID-19 vaccine. He has said, "One of the only unfortunate advantages Armenians have had by having gone through a genocide and having spread around the world is that we do have an experience of escaping and of immigrating and of constantly restarting."
Pfizer, one of the world's largest pharmaceutical companies, was also started by an enterprising immigrant. Charles Pfizer immigrated from Germany and co-founded the company in 1849 with his German-born cousin, Charles F. Erhart. The company started as a chemical business but found great success producing penicillin during World War II. In the current era, Pfizer partnered with a German company, BioNTech, to develop a vaccine for the COVID-19 outbreak. Ironically, two of BioNTech's founders immigrated from Turkey to Germany before starting the company.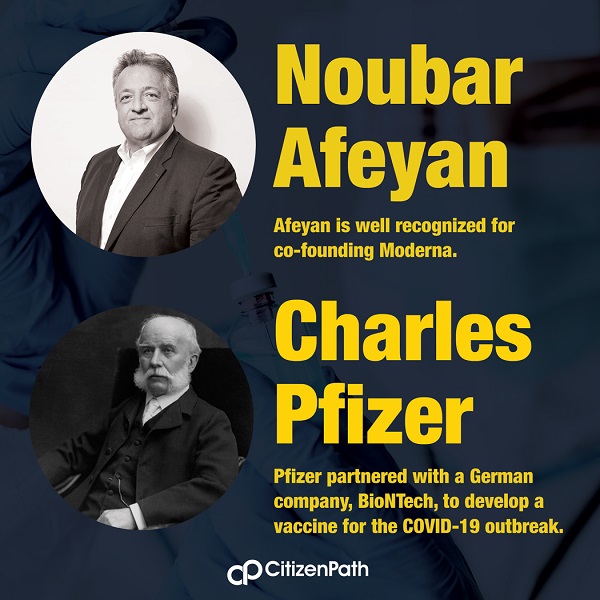 To put the success of these vaccines into perspective, let's compare it to the flu shot we typically get in the fall each year. The flu shot only has about 65 percent effectiveness, yet it's considered widely successful. The Pfizer and Moderna vaccines, both of which use mRNA technology, have proven to be over 90 percent effective in preventing COVID-19 infections.
Farmworkers were critical workers even before the pandemic. The agriculture industry is labor intensive. It's a type of work that many Americans don't want. Immigrants have stepped up to supply that labor. The USDA estimates that 73 percent of agricultural workers are foreign-born. Farmworkers' low wages have helped keep inexpensive food on the table for American families.
But there's a chronic shortage of farmworkers. This threatens the nation's farmers and America's food supply. By definition, this is an existential threat to national security. The legal means to temporarily supplement the domestic workforce is insufficient. Consequently, many undocumented immigrants fill these jobs each year.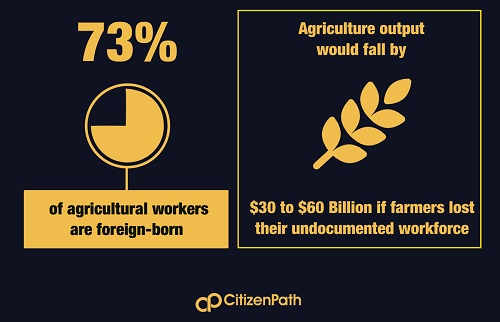 According to the American Farm Bureau Federation, agriculture output would fall by $30 to $60 billion if farmers lost their undocumented workforce. That's why U.S. Representatives Zoe Lofgren (D-CA) and Dan Newhouse (R-WA) reintroduced the Farm Workforce Modernization Act to modernize the H-2A visa program and establish a pathway to legal status for certain undocumented farmworkers.
Putting Food on our Tables
In the early days of the COVID-19 crisis, we looked to the food service supply chain to keep us fed. Immigrants make up almost 22 percent of the nation's workers in the food sector. This includes jobs in food processing, wholesale, grocery and restaurants.
Restaurants and other food service providers have been some of the hardest hit by the pandemic. Nearly one out of three chefs and cooks in the industry are foreign-born.
Yet, the industry is finding a way to get Americans their food. Let's thank immigrant founders of DoorDash and Instacart. These companies have offered underemployed Americans flexible work and provided an affordable convenience to consumers throughout the pandemic. Yony Xu immigrated from China and helped his mother wash dishes in the restaurant where she worked. He would go on to co-found DoorDash with Evan Moore, Andy Fang and Stanley Tang. DoorDash was responsible for 45 percent of all food delivery orders in 2020, according to Edison Trends. Born in India and raised in Canada, Apoorva Mehta is the founder of Instacart, a company enabling Americans to order groceries online.
Immigrant contributions to leisure and hospitality are enormous. Foreign-born workers represent nearly 20 percent of the industry. This workforce will suffer some of the most long-term damage from the pandemic and resulting economic slowdown.
Immigrant workers earn more than $83.6 billion annually in the leisure and hospitality industry.
Public services and military service may be high water marks for patriotism. In its purest form, public service is about helping others and promoting the greater good of a nation. Service members show genuine courage for love of country and sometimes make sacrifices unmatched in the private sector. That's why when immigrants service, we should really take notice. "They were willing to fight for a country that they weren't even citizens of. I wish all Americans felt that way about their country," said Chaplain (Capt.) Kirk Thorsteinson of the 3rd Battalion, 297th Infantry Regiment at a 2007 naturalization ceremony at Camp Arifjan, Kuwait.
"They were willing to fight for a country that they weren't even citizens of. I wish all Americans felt that way about their country."
Serving You in Government
Immigrants have been historically underrepresented in U.S. politics. There are at least a few reasons. First, there is an explicit preference for U.S. citizens in government work. In 1976, President Gerald Ford issued Executive Order 11935 which stipulated that the federal government cannot hire non-citizens into competitive service jobs (about three-quarters of federal jobs) unless no qualified U.S. citizens are available. What's more, naturalized citizens who immigrated as adults are probably already firmly entrenched in a private sector job. Further, the constitution creates a high hurdle for foreign-born individuals who want to serve in a higher office. An immigrant who is elected to office in the House of Representatives must be a U.S. citizen for at least seven years, be age 25 or older, and living in the state where they are elected. In the U.S. Senate, the constitution requires nine years of citizenship for an individual who is at least 30 years of age and lives in the represented state when elected. For these reasons, the pool of immigrants available to serve in government is extraordinarily low.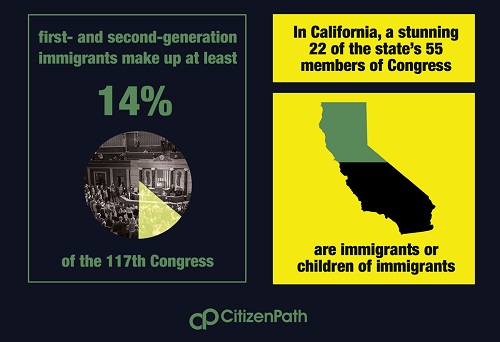 Despite these challenges, first- and second-generation immigrants make up at least 14 percent of the 117th Congress. Western states appear most likely to elect immigrant lawmakers. In California, a stunning 22 of the state's 55 members of Congress are immigrants or children of immigrants. Our most recent class of U.S. Representatives includes Young Kim (R-CA 39th District), Michelle Steel (R-CA 48th District), Marilyn Strickland (D-WA 10th District), Carlos A. Giménez (R-FL 26th District), and Victoria Spartz (R-IN 5th District). All are foreign-born and join a Congress that includes established leaders like Senator Mazie Keiko Hirono (D-HI) and Senator Ted Cruz (R-TX).
Even past and present positions in the president's cabinet have been filled by immigrants like Alejandro Mayorkas (Secretary of DHS), Madeleine Albright (Secretary of State), Elaine Chao (Secretary of Transportation and Secretary of Labor), Henry Kissinger (National Security Advisor and Secretary of State), and General John Shalikashvili (Chairman of the Joint Chiefs of Staff).
Thousands of immigrants serve in a variety of positions in national, state and local government. Immigrant contributions to the public sector even extend to outer space. Kalpana Chawla, Franklin Chang Díaz, and Michael López-Alegría have all served as astronauts for NASA. Kalpana Chawla gave her life in the Space Shuttle Columbia accident of 1997.
Proud to Serve in the Armed Forces
Since the Revolutionary War, immigrants have been a vital part of the United States military and the nation's defense. In fact, each year about 8,000 non-citizens enlist in the U.S. armed forces. According to the U.S. Defense Department, there are currently 30,000-plus non-citizens serving on active duty. More than 4,100 of these dedicated soldiers deployed to Iraq and Afghanistan in all branches of the U.S. military. Since September 2002, USCIS has naturalized over 139,000 members of the military.
Military service has been a way for many foreign-born individuals to give back and earn a path to citizenship. Lance Cpl. Jose Gutierrez was an undocumented Guatemalan American Marine rifleman dreaming to become a U.S. citizen and architect. He was killed in action in Iraq and was awarded U.S. citizenship posthumously. Hyman George Rickover was a Polish American four-star admiral who is known as the "Father of the Nuclear Navy." He directed the original development of naval nuclear propulsion and controlled its operations for three decades.
Unfortunately, naturalizations have fallen in recent years. In part, this is due to the suspension of programs like MANVI. The program allowed certain immigrants to enlist if they had skills considered vital to the national interest.
Generally, enlistment guidelines require recruits to be U.S. citizens or lawful permanent residents. But this may have to change. The armed forces are finding it more difficult to meet recruiting goals. In 2018, the Army missed its recruiting goal for the first time since 2005. As FWD.us reported, newer policies have made it harder for immigrant recruits to justify service.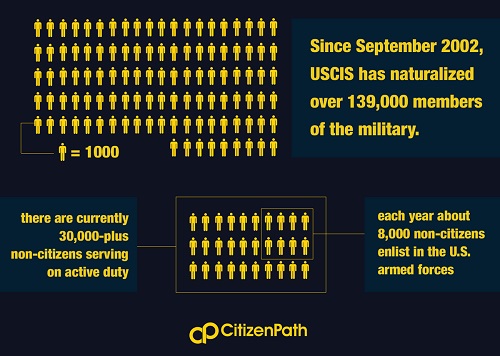 Foreign-born engineers who immigrated have also made massive military contributions through the private sector. Wernher von Braun famously left Germany during World War II and was a leading figure in the development of American rocket technology. English American engineer John Holland is credited with developing the first submarine to be formally commissioned by the U.S. Navy. And Russian American Igor Sikorsky was an aircraft designer who invented the helicopter.
Father of the Nuclear Navy
Today, the U.S. Navy maintains the largest fleet of nuclear-powered aircraft carriers and submarines in the world. Compared to conventional diesel-electric vessels, nuclear-powered ships can operate at high speeds for very long periods of time. They also don't need refueling during a normal lifetime. This operational advantage may not have been possible without the leadership of an immigrant named Hyman G. Rickover.
Born in Poland, Rickover's family fled persecution and immigrated to the United States as refugees in 1905. He graduated from the U.S. Naval Academy near the top of his class and advanced quickly through the ranks. Along the way, he also earned a master's degree in electrical engineering.
After serving in World War II, Hyman Rickover became a part of a small group that believed nuclear energy could be used in naval vessels. Unsupported by his supervisors, Hyman persevered and eventually found support from senior naval leadership. That would lead to his appointment as the Director of the Nuclear Power Division, Bureau of Ships, and a large degree of control of the development of a nuclear-powered submarine. Congress would ultimately authorize the construction of Nautilus, the first nuclear submarine. Nautilus would go on to break numerous records and revolutionize the way naval ships like submarines and aircraft carriers are powered. These contributions to naval progression eventually led to Rickover's appointment as an admiral and earned him a title as the "Father of the Nuclear Navy."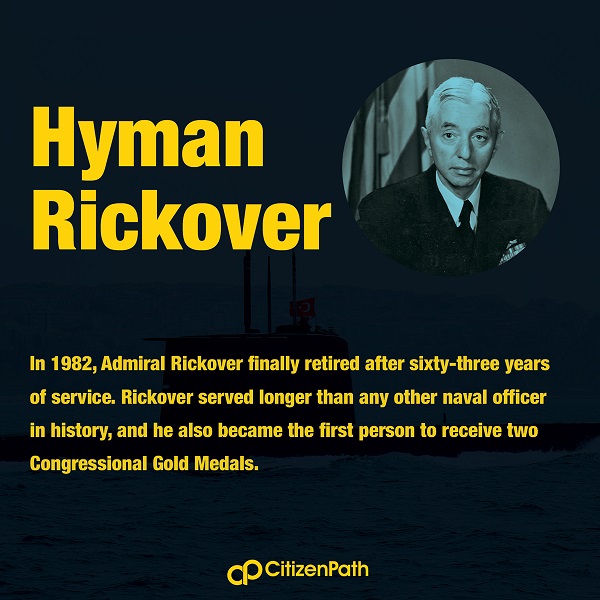 In 1982, Admiral Rickover finally retired after sixty-three years of service. Rickover served longer than any other naval officer in history, and he also became the first person to receive two Congressional Gold Medals.
"I had always hoped that this land might become a safe and agreeable asylum to the virtuous and persecuted part of mankind, to whatever nation they might belong."
There is no doubt that immigrants, regardless of their status, place of origin, skill level, language proficiency, or time in country, contribute significantly to make our America better. The American economy agrees. The American people agree. It's part of American identity. Immigrant contributions have a sizable footprint on American success since the foundation of the United States and into the present day.
Immigrants and their families have continued to apply technology and innovation to the immigration process itself, to facilitate the flow of immigrants' unlimited potential into the United States. CitizenPath is one of such companies, focusing on guiding immigrants and their families through the application process to provide a seamless, errorless experience. See how it works >>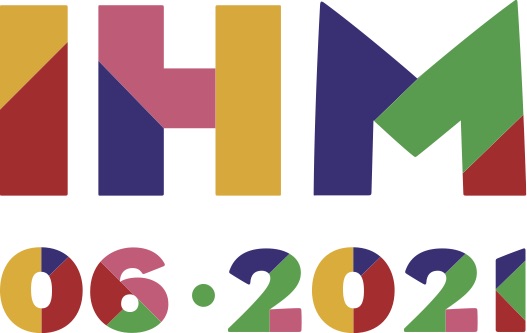 June is Immigrant Heritage Month. We're giving special attention to the contributions made by immigrants. Help us recognize the contributions that immigrants have made, and continue to make, to our nation. Share this article or share your own story using the hashtags #CelebrateImmigrants and #ImmigrantHeritageMonth.