K-1 Visa Path to a Marriage-Based Green Card
A foreign citizen may use the K-1 visa to travel to the United States for the purpose of marriage to his or her U.S. citizen fiancé. Once married to the U.S. citizen sponsor, the foreign citizen may apply for permanent residence – represented by a green card — inside the United States.
It's one of two fundamental ways for a U.S. citizen and foreign citizen to unite in the United States. Alternatively, the couple could marry outside the United States and the foreign spouse would immigrate as an immediate relative (spouse of a U.S. citizen) through consular processing.
We've assembled a detailed K-1 visa overview that provides a look at the different steps in the path to a green card. In this process, the petitioner is a U.S. citizen fiancé, and the beneficiary is the foreign national fiancé. If you're ready to get started, skip to how CitizenPath can help.
Requirements for K-1 Fiancé Visa
Only the fiancé of a U.S. citizen has a qualifying relationship for the K-1 visa process. The fiancé of a lawful permanent residents does not qualify. Additionally, the couple must satisfy all three of the following requirements:
Be legally free to marry and intend to marry within 90 days of the fiancé's admission to the United States.
Have met each other in person within the two years immediately before filing the petition, unless the U.S. citizen petitioner establishes that either:


The requirement to meet in person would violate strict and long-established customs of the foreign national's culture or social practice, and that any and all aspects of the traditional arrangements have been or will be met in accordance with the custom or practice; or
The requirement to meet in person would result in extreme hardship to the U.S. citizen.

Meet the requirements set in the International Marriage Broker Regulation Act of 2005.
Form I-129F, Petition for Alien Fiancé
Before the foreign fiancé may apply for the K-1 visa, the U.S. citizen must file a petition that establishes a qualifying relationship. In other words, there's a process to confirm that there's a legitimate relationship that includes an evaluation of the requirements listed above.
The process begins with the U.S. citizen filing an I-129F petition package with U.S. Citizenship and Immigration Services (USCIS). The primary document in this package is Form I-129F, Petition for Alien Fiancé. Generally, it will include:
Proof of U.S. citizenship
Evidence any previous marriages have been terminated
Passport-style photo
Evidence of in-person meeting with fiancé
Evidence of intention to marry
Additional supporting documents may be necessary. Therefore, refer to your USCIS instructions or your personalized filing instructions from CitizenPath. When you prepare your petition through CitizenPath, we will generate personalized filing instructions based on your specific situation. Our instructions provide detailed guidance on supporting documents, samples, how to organize the package, and where to mail it.
A similar process is available to U.S. citizens and lawful permanent residents that want to bring a spouse (as well as any children of the spouse) to the U.S. This process begins with the petitioner filing Form I-130, Petition for Alien Relative. Unlike the K-1 visa, this path is available to the spouses of permanent residents also. Learn more in consular processing.
Should I immigrate through a K-1 or CR-1/IR-1 Visa?
If you are considering a marriage-based green card, there may be more than one option. And there are trade-offs between immigrating as a spouse and fiancé. Explore your paths to immigrate based on different factors such as cost, marriage status and location.
Prepare for Consular Interview
Provided that the petition package is well prepared with all supporting evidence, USCIS will typically approve an I-129F in 4 to 6 months. Upon approval, USCIS moves your case to the
National Visa Center
(NVC). The NVC will do a background check, and then your case will be forwarded to the respective U.S. embassy or consulate. At this point, the foreign fiancé may proceed with the K-1 visa application (DS-160) and medical exam. The embassy will schedule an interview soon.
Submit the K-1 Visa Application
Submit the online nonimmigrant visa application (
DS-160
). You can only find the application on the U.S. State Department website. Any eligible children that will accompany the K-1 fiancé must also submit separate applications. Answers must be provided in English. The U.S. citizen fiancé may assist or act as an interpreter through this process for the foreign national fiancé. Be sure to print the DS-160 confirmation page for the interview.
Get the Medical Examination
Every applicant, regardless of age, must undergo a medical examination which must be performed by an authorized panel physician. The U.S. embassy will provide directions including a list of approved physicians. Although some vaccinations are not required for K-1 visa issuance, they will be necessary when adjusting status to green card holder following the marriage. Therefore, it makes sense to get them at this time.
The K-1 visa interview will take place at a U.S. embassy or consulate near the beneficiary. The K-1 applicant and generally any children that will receive K-2 visas should attend. In some cases, the U.S. citizen may attend, but it is not required.
The embassy will provide the applicant with a letter that includes a list of items to bring. Typically, the applicant will need to take the following items:
Form DS-160, Online Nonimmigrant Visa Application
Passport valid for at least six months beyond intended period of stay in the U.S.
Police certificates from your present country of residence and all countries where you have lived for six months or more since age 16
Medical examination
Form I-134, Affidavit of Support
Passport-style photos (2)
Evidence any previous marriages have been terminated
Evidence of bona fide relationship with the U.S. citizen petitioner
Visa fees
The consular officer will interview the beneficiary to verify the validity of the relationship. For a more detailed overview of how to prepare and what to take to the consular interview, read K-1 Interview Checklist.
The applicant will generally have a decision at the end of the interview. In some cases, the K-1 visa may be provided the same day. However, the visa is typically delivered by courier to the applicant within one week.
The K-1 visa holder has 6 months to use the visa to enter the United States. Couples should use this time (if necessary) to do any final wedding planning. If several family members plan to travel, this window of time gives you time to coordinate.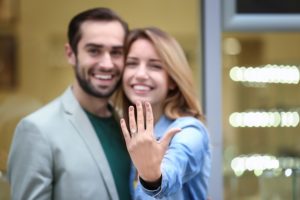 The U.S. embassy will provide the visa holder with a package of documents typically called the "visa packet." Upon arrival to the United States, the K-1 entrant will give the visa packet to the Customs and Border Protection (CBP) officer at the port of entry.
After admission to the United States, the foreign citizen must marry the U.S. citizen within 90 days. The K-1 visa cannot be extended beyond the 90-day period. If there is no marriage, the foreign citizen is required to depart the United States by the 90th day. Of course, most marriages go on as planned. Typically, the foreign citizen spouse plans to stay permanently in the United States. In this case, he or she must apply for a green card through a process called adjustment of status.
The entire K-1 visa timeline from petition to K-1 visa may take 6 to 9 months for typical applicants. Understanding the steps in this timeline is even more critical for engaged couples because of wedding plans. Planning for wedding ceremonies that involve a K-1 visa entrant generally require some flexibility. It's difficult to know exactly when the embassy will schedule an interview and issue the K-1 visa. For a closer look at processing times and steps, take a look at the K-1 processing time.
For the fastest processing, ensure that you meet the requirements and submit a well-prepared petition. Small mistakes and oversights can result in a time-consuming Request for Evidence. CitizenPath can help you navigate this process.
Adjustment of Status (K1 Visa to Green Card)
In simple terms, adjustment of status is the process of applying for a green card from inside the United States. An adjustment of status application typically includes several forms submitted together. The green card timeline may take about one year. During this time, the foreign spouse is able to obtain work authorization and travel abroad, provided he or she submits the correct paperwork as a part of the adjustment of status package.
Upon approval of the adjustment of status through a K-1 entry, the foreign spouse becomes a permanent resident of the United States. Subsequently, USCIS will issue a green card as evidence of this status. Permanent resident status gives a person the right to live permanently and work in the United States.
Costs for K-1 Path to a Green Card
In addition to the initial I-129F petition, there are other costs associated with a K-1 fiancé visa. There is an additional cost for the actual visa application and also an immigration medical exam. To clarify, the medical exam must be conducted by a physician approved by the embassy. Costs can vary based on country and typically fall in the range of $50 to $300. Finally, foreign citizen spouses who plan to stay in the United States must adjust status to permanent residence. These costs are spread out over about a year.
USCIS, NVC or U.S. Consulate Item
Government
Fee
CitizenPath
Fee
Form I-129F, Petition for Alien Fiancé
$535
$119
DS-160 Visa Application
$265
N/A
Form I-134, Affidavit of Support
N/A
N/A
Medical Exam
N/A
N/A
Adjustment of Status Package
I-485, Application to Adjust Status
I-864, Affidavit of Support
I-765, Application for Employment Authorization
I-131, Application for Travel Document
I-693, Report of Medical Examination
$1,225
$366
Total for Typical Adult Applicant
$2,025
$485*
*Includes some non-essential forms that can removed for a cost savings
Similar services from an attorney generally cost in excess of $5,000 (plus government fees). CitizenPath is an exceptional solution for do-it-yourselfers that want the reassurance they're doing everything correctly. Users answer simple questions and receive ready-to-sign forms and detailed filing instructions. In addition to your prepared forms, CitizenPath provides you with a set of personalized filing instructions. Our filing instructions are customized to your answers in the application so you know what to do for your specific situation. The filing instructions provide detailed directions on supporting documents, how to organize your application, and where to mail it.
Form I-129F, Petition for Alien Fiancé
Use Form I-129F (Petition for Alien Fiancé) to start the immigration process for a fiancé. Only a U.S. citizen may file the I-129F petition for a foreign national fiancé. Each year from 2017-2020, USCIS has denied a higher percentage of I-129F petitions. Therefore, it's important to get it right.
each year an average of
I-129F petitions are filed*
out of these
get rejected*
CitizenPath's self-directed service makes preparing Form I-129F easy. Designed by lawyers, our platform will help you eliminate the common errors that create delays, rejections and even denials. The low-cost service also provides alerts if you answer a question in a way that might be a problem. It only takes a few minutes, and you'll be able to file Form I-129F to help your fiancé obtain a K-1.
The online service is a powerful, do-it-yourself tool that puts you in control. And we've got your back -- CitizenPath provides live customer support and guarantees that USCIS will approve your petition.



We're going to ask you a few questions to make sure you're eligible and preparing the correct form.




Our software will guide you through the I-129F petition using simple step-by-step instructions.




Once you're completely satisfied, you'll be able to print your I-129F and customized filing instructions.