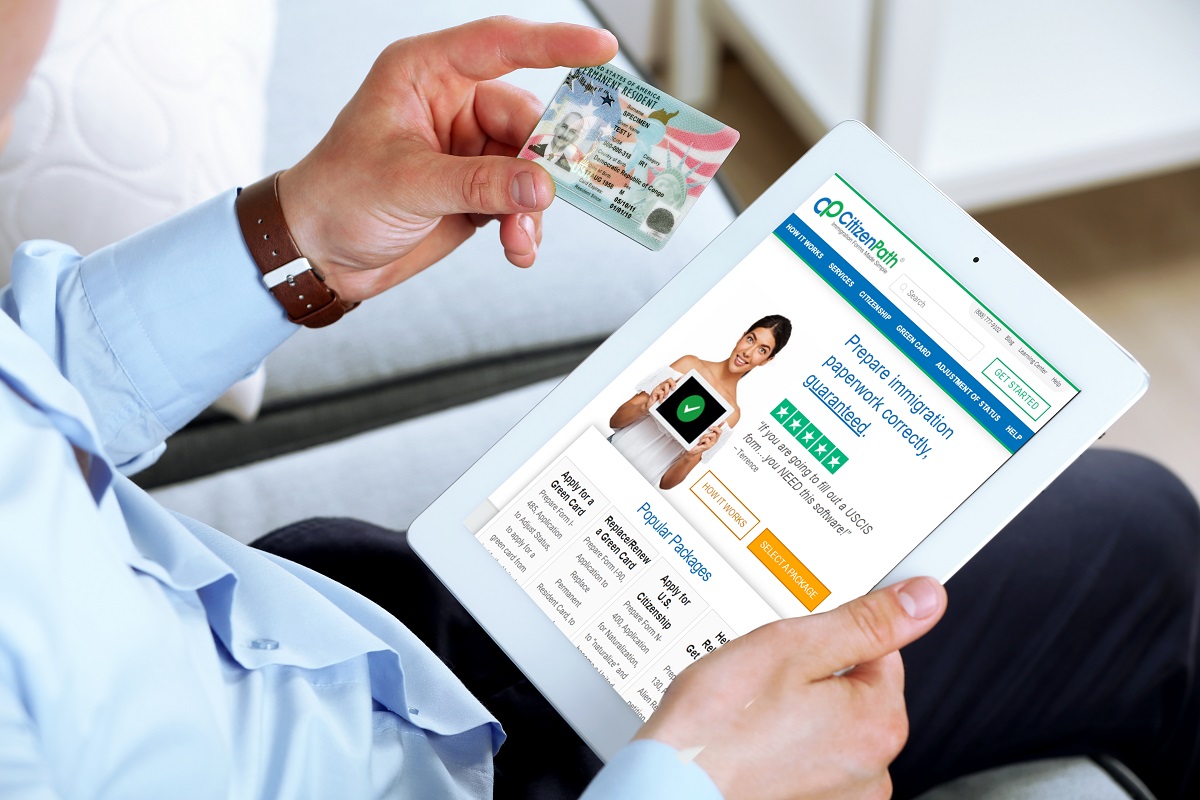 A green card, formally known as a permanent resident card, is proof of your permanent resident status in the United States. It also serves as a government-issued photo identification document and proof that you are eligible to live and work in the United States. It's important to keep your card up-to-date. Without a valid card, it may be difficult for you to prove that you are a permanent resident, and this could also affect your ability to reenter the U.S., accept employment, and take care of other important responsibilities.
When to Renew a Green Card
It's best to start the green card renewal process six months (but no less than five months) before the expiration date on the card. You don't want to submit it too early or too late for various reasons.
Renew a Green Card Too Late
If your card expires, you could be without valid proof of permanent resident status. You won't lose permanent resident status as a result of an expired green card, but you will not be able to prove your status for important events such as:
Employment: A green card provides proof of your right to work in the United States. Employers are required to check.
Travel: Valid, unexpired proof of permanent residence is required to re-enter the United States after traveling abroad.
Driver's License: Most states will not renew a driver's license without a valid, unexpired green card.
Home Mortgage: Home lenders require proof of permanent residence when you obtain a home loan or re-finance a home.
Renew a Green Card Too Early
USCIS has indicated that they will likely reject your application if you submit it more than six months prior the expiration date. Therefore, the ideal time to begin the green card renewal process is five to six months prior to the expiration date of your current green card.
My Card Expired Years Ago
At CitizenPath, we often hear from anxious customers who are concerned because their card expired a long time ago. The good news is that there is no penalty for an expired green card. There is no extra fee that you have to pay. Even if the card has already been expired for 10 years, the solution is to file a green card renewal application. In fact, you don't lose permanent resident status when a card expires. Your status stays intact, but your proof of that status is expired.
Application to Renew a Card
If you have a 10-year green card, you'll need to file Form I-90, Application to Replace Permanent Resident Card. Despite the name, you may also use this form to renew a card. Individuals with a 2-year conditional green card must follow a different procedure described below.
USCIS does offer online filing for this form. However, what you save in filing time can cost you later. Mistakes, oversights and omissions are the overwhelming reason for processing delays and Requests for Evidence. These delays can add up to several months very quickly. That's why submitting a clean, well-prepared application package is more important than ever. CitizenPath helps our customers with the green card renewal process with online software designed by immigration attorneys. The affordable web-based process makes it easy to prepare Form I-90. We also guarantee USCIS approval. It's like insurance to make sure your green card renewal is processed quickly. Learn more >>
Outside the United States
If you're outside the United States, you cannot renew a green card. That's because there is generally a required biometric appointment, and USCIS will only mail the card to the U.S. address. Therefore, you generally must file once you return to the U.S.
Provided that you've been abroad for less than one year (or two years with reentry permit), you can likely return with an expired card. Check with your airline to confirm they will allow you to board with an expired green card. U.S. Customs and Border Protection does allow this, and most airlines will accommodate you. If they will not accept your expired green card, you may need to file Form I-131A at a U.S. embassy to request special carrier documentation.
However, individuals who have been absent from the U.S. for one year or more without a reentry permit have generally abandoned their permanent resident status. If this is your situation, consult with an immigration lawyer to determine if you may be eligible for a returning resident visa. If not, you may be required to apply for a green card once again.
Supporting Documents for Green Card Renewal Application
In addition to Form I-90, you will need to submit a few documents that support your application. Many people may be able to simply send a photocopy of their existing green card (front and back) and the current USCIS filing fee.
The list of supporting documents for your specific situation can vary. That's because it depends on your answers in Form I-90. For example, if you've had a name change after marriage or divorce, you must submit proof of that legal name change. Generally, a marriage certificate, divorce decree or other legal name change document will do.
In addition to your prepared Form I-90, CitizenPath provides you with a set of personalized filing instructions. Our filing instructions are customized to your answers in the application so you know what to do for your specific situation. The filing instructions provide detailed directions on supporting documents, how to organize your application, and where to mail it.
Card Renewal Processing Time
It's currently taking several months for most permanent residents to get a new card after submitting the green card renewal application. USCIS now processes all I-90 applications at the Potomac Service Center.
This time line may concern you. (You must submit your renewal application no more than 6 months before the expiration date, but it will likely take longer to get a new card.) After accepting your application for processing, USCIS will mail you a receipt notice. This letter will extend the validity of your green card for a period of 24 months beyond it's current date. You may use your expired card along with the letter until your new green card arrives.
Several CitizenPath customers are reporting processing times of less than one month. USCIS is waiving the biometrics appointment, and our customers are receiving green cards in about four weeks. For a more detailed and typical look at what happens after filing Form I-90, see the I-90 processing time line.
Conditional Green Card Renewal Process
Conditional permanent residents cannot "renew" a green card. Instead, they must remove the conditions on residence.
If you've obtained permanent resident status through marriage or investment, you likely have a conditional green card that's valid for a period of two years. In order to remove the conditional status and convert to a 10-year green card, you must file a different form. If your conditional residence (and conditional green card) is expiring within the next 90 days, do not file this application. Instead, file:
Renewing a Green Card After an Arrest
If you have any arrest, criminal offense (misdemeanor or felony), or past immigration violation, we always recommend that you speak to an immigration attorney before filing a green card renewal application. USCIS will likely discover this information during a routine background check.
The way that immigration law treats certain offenses can change over time. What's more, immigration law may require more severe consequences than the state law. Some crimes are deportable.
What to Do When Form I-90 Gets Denied
For the most part, renewing a green card is straight forward, and you're approval is guaranteed when you use CitizenPath to prepare the Form I-90. However, USCIS does sometimes deny green card renewal applications and the denial rate has been increasing.
There is a process to fight an I-90 denial. You'll need to submit a motion to request that USCIS reconsider it's decision. Before you do this, it's incredibly important to understand the basis for the denial. For example, criminal offenses, previous immigration violations, and submitting the incorrect form can all be reasons for a denial. We highly recommend that you work with an immigration attorney to determine the cause and formulate the best response.
Escape the Green Card Renewal Process through Naturalization
Naturalization is the best way to avoid the entire green card renewal process. After you become a U.S. citizen, you'll never have to pay a USCIS fee again. To become a U.S. citizen, you'll need to meet certain eligibility requirements. Then, submit Form N-400, Application for Naturalization.
There are a variety of free resources to help you prepare for the citizenship test and interview. You'll find sample test questions and a necessary vocabulary list.
Although no one can know what happens next, one thing seems certain — USCIS will continue to increase the fees for services.
CitizenPath provides simple, affordable, step-by-step guidance through USCIS immigration applications. Individuals, attorneys and non-profits use the service on desktop or mobile device to prepare immigration forms accurately, avoiding costly delays. CitizenPath allows users to try the service for free and provides a 100% money-back guarantee that USCIS will approve the application or petition. We provide support for Green Card Renewal (Form I-90), Naturalization Application (Form N-400), and several other immigration services.
Want more immigration tips and how-to information for your family?
Sign up for CitizenPath's FREE immigration newsletter and
SAVE 10%
on our immigration services