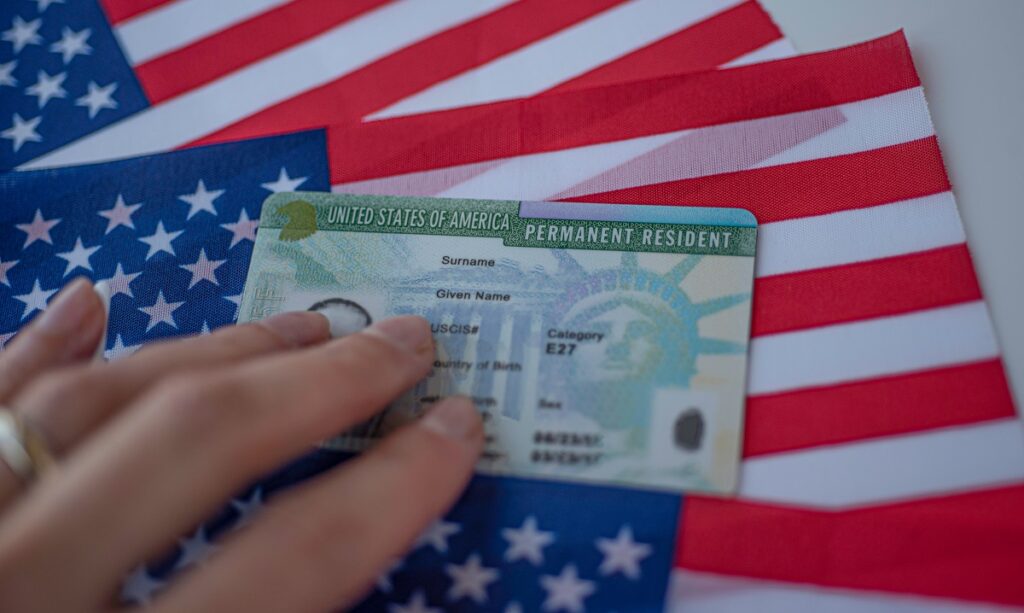 In the current environment, individuals who appear foreign-born are increasingly being asked for proof of status. In fact, permanent residents are required by law to carry valid, unexpired proof of permanent resident status. Permanent residents with an expired (or expiring within six months) card, should generally submit a green card renewal application to U.S. Citizenship and Immigration Services (USCIS) as soon as possible. If you're willing to spend a few minutes preparing, you'll find the process simple to take care of right away.
If you've been a permanent resident for at least five years (or a permanent resident while married to a U.S. citizen for the last three years), you may be able to skip the green card renewal application and proceed to U.S. citizenship. Over your life time, you'll save money by avoiding the green card renewal fee. You'll also have the security that comes with citizenship. See if you meet the requirements to naturalize as a U.S. citizen.
How to Renew a Green Card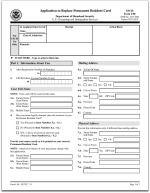 The green card renewal application is formally known as USCIS Form I-90, Application to Replace Permanent Resident Card. Most applicants must file Form I-90 and a $540 filing fee with USCIS. (A fee waiver may be available for certain individuals who have received a means-test benefit or have an income at or below 150% of the poverty level.)
You may access the application and instructions directly from USCIS.gov or use CitizenPath.com. CitizenPath was designed by immigration attorneys as an affordable way to prepare USCIS forms correctly. Most people don't need an attorney, but CitizenPath gives you the reassurance you're doing everything right. There's even an approval guarantee. Learn more about CitizenPath's green card renewal package >>
You'll also need to submit a photocopy of your existing card with the application. Depending on your answers on Form I-90, you may need to submit additional supporting documents. If you're preparing your I-90 with CitizenPath, you'll receive specific guidance on supporting documents, how to organize your green card renewal application package, and where to mail it.
Reasons Not to File a Green Card Renewal Application
Not everyone with an expired or expiring green card must file Form I-90. Only permanent residents with a 10-year green card should file Form I-90. Additionally, individuals outside the United States may have other complications.
Conditional Green Card
If you recently obtained your green card through marriage or through certain financial investments, you may have a 2-year conditional green card. Do not file Form I-90 to renew this type of card. You likely need to remove the conditions on residence first.
Expired Card While Outside the United States
If you're outside the United States and realize your card has expired, you may be able to return to the U.S. without any extra steps. Generally, you may board a U.S.-bound flight with an expired green card as long as you've been outside the United States for less than one year. Customs and Border Protection allows airlines to board travelers with expired green cards. However, we highly recommend that you contact your airline to confirm the carrier's policy does not prevent you from boarding. Upon return to the U.S., you can submit the green card renewal application.
If your absence from the United States has exceeded one year, you have likely abandoned your permanent resident status. This is a more serious problem. Contact an immigration attorney to evaluate if a returning resident visa may be available for your situation.
My Card Expired Years Ago
At CitizenPath, we often hear from anxious customers who are worried that their card expired for a long time. The good news is that there is no penalty for an expired green card. There is no extra fee that you have to pay. Even if the card has already been expired for 10 years, the solution is to file a green card renewal application.
In fact, you don't lose permanent resident status when a card expires. Your status stays intact, but your proof of that status is expired.
RECOMMENDED: Expired Green Card Creates 5 Big Problems
Green Card Renewal Timeline
It's currently taking approximately 6 to 10 months for most permanent residents to get a new card after submitting the green card renewal application. USCIS now processes all I-90 applications at the Potomac Service Center.
This time line may concern you. (You must submit your renewal application no more than 6 months before the expiration date, but it may take 10 months to get a new card.) After accepting your application for processing, USCIS will mail you a receipt notice. This letter will extend the validity of your green card for one year beyond it's current date. You may use your expired card along with the letter until your new green card arrives.
For a more detailed look at what happens after filing Form I-90, see the I-90 processing time line.
Renewing a Green Card After an Arrest
If you have any arrest, criminal offense (misdemeanor or felony), or past immigration violation, we always recommend that you speak to an immigration attorney before filing a green card renewal application. USCIS will likely discover this information during a routine background check.
The way that immigration law treats certain offenses can change over time. What's more, immigration law may require more severe consequences than the state law. Some crimes are deportable.
What to Do When Form I-90 Gets Denied
For the most part, renewing a green card is straight forward, and you're approval is guaranteed when you use CitizenPath to prepare the Form I-90. However, USCIS does sometimes deny green card renewal applications and the denial rate has been increasing.
There is a process to fight an I-90 denial. You'll need to submit a motion to request that USCIS reconsider it's decision. Before you do this, it's incredibly important to understand the basis for the denial. For example, criminal offenses, previous immigration violations, and submitting the incorrect form can all be reasons for a denial. We highly recommend that you work with an immigration attorney to determine the cause and formulate the best response.
RECOMMENDED: Green Card Renewal Denial Rate Explodes in Recent Years
About CitizenPath
CitizenPath provides simple, affordable, step-by-step guidance through USCIS immigration applications. Individuals, attorneys and non-profits use the service on desktop or mobile device to prepare immigration forms accurately, avoiding costly delays. CitizenPath allows users to try the service for free and provides a 100% money-back guarantee that USCIS will approve the application. We provide support for the Citizenship Application (Form N-400), Green Card Renewal (Form I-90), and several other USCIS forms.