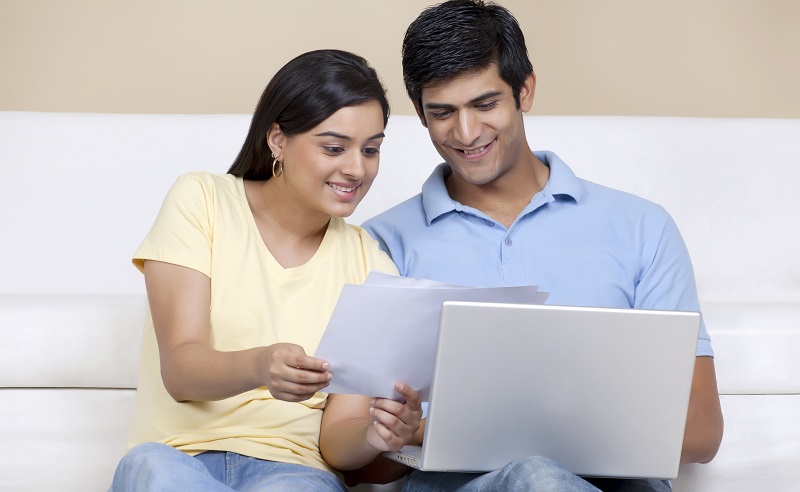 If you recently received a Form I-797 Notice of Action from U.S. Citizenship and Immigration Services (USCIS), it's simply a "form" of communication. USCIS, like many government organizations, uses form numbers to identify various documents.
You may be familiar with applications from USCIS that have a form number. But even documents such as a green card have an official form number (Form I-551). Virtually every document they send you has a form number. This includes letters, notices, approvals and other types of communication.
USCIS uses several different types of Form I-797 to communicate with customers or convey an immigration benefit. It has many different purposes. Form I-797 is not a form you can fill out. Nonetheless, Form I-797, Notice of Action, may communicate very important information about your case.
Form I-797, Notice of Action Explained
USCIS issues this base I-797 Notice of Action when it approves an application or petition. You may also hear people refer to it as an "approval notice." The Form I-797 Notice of Action is an official letter of approval that can serve as proof of certain immigration benefits and may be used as evidence in some cases. It's an important document that you should save in a safe place.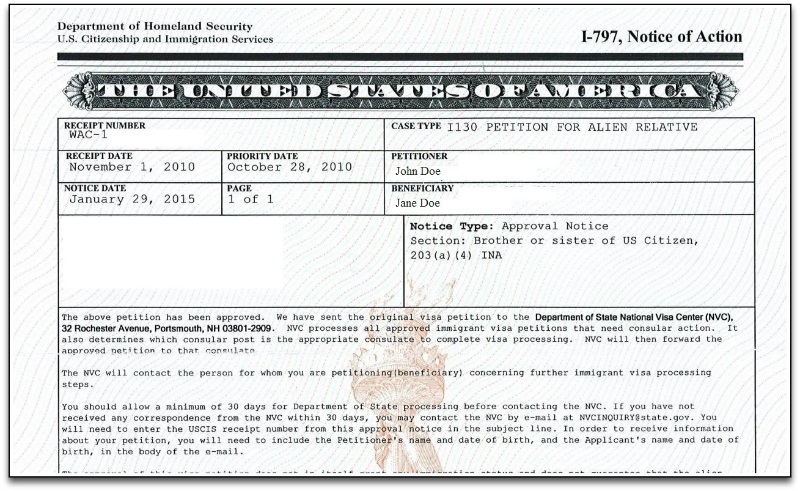 For example, the Form I-797 Notice of Action pictured above is an approval notice for an I-130 petition.
Form I-797A, Notice of Action
USCIS issues Form I-797A to applicants as a replacement Form I-94 arrival/departure record. The most common reason for issuing Form I-797A is an address change. The I-797A is an approval for the address change and is evidence of the applicant's lawful presence in the United States. An applicant can continue their stay in the U.S. through the specified date listed on the I-94 that is located at the bottom portion of Form I-797A.
Form I-797B, Notice of Action
Form I-797B is issued for the approval of an alien worker petition but does not include an I-94 arrival/departure record. USCIS issues I-797B to applicants who are currently residing in the United States and also to applicants applying from their home country. Applicants who receive Form I-797B and do not currently reside in the U.S. must go for visa stamping in their home country in order to enter the U.S.
Form I-797C, Notice of Action
USCIS will send Form I-797C, Notice of Action, to a customer in order to communicate information related to notices of:
Receipt Notice: USCIS issues a receipt notice following the filing of a petition or application. The letter confirms receipt of the case by USCIS as well as payment of filing fees. It also contains a receipt number to track the case online.
Rejection Notice: A rejection notice is issued when a filing is not accepted for filing due to incomplete information for acceptance for processing, incorrect information, or incorrect payment.
Transfer Notice: USCIS occasionally transfers cases to other offices to improve processing times. A transfer notice informs petitioners and applicants when files are relocated to another USCIS office.
Re-open Cases: A notice of reopening advises that a previously-denied case has been reopened and is being processed.
Appointment Notice: Appointment notices may be for biometric, interview or other types of USCIS appointments. The letter communicates the appointment date and time for the applicant.
If you receive an I-797C receipt letter, it will contain a receipt number. Use the receipt number to check the status of your case. The receipt letter is a letter that proves an applicant has submitted a benefit request; USCIS has not determined whether that applicant is eligible for an immigration benefit. For example, after successfully filing Form N-400 to become a naturalized U.S. citizen, USCIS will mail you Form I-797C as confirmation that they have received and accepted your application. It does not mean that USCIS has approved your application for naturalization.

When you receive Form I-797C in the mail, read it carefully. Failure to act on a required action can lead to a delay in your case.
RECOMMENDED: USCIS Receipt Number Explained
Form I-797D
Form I-797D is the letter that comes with certain benefit cards. If USCIS mails a permanent resident card (green card) or employment authorization card (work permit), it will be accompanied by Form I-797D.
Form I-797E, Notice of Action
Form I-797E, Notice of Action, is more commonly known as a Request for Evidence (RFE). The letter is a request for additional documentation to support an application or petition that you've filed with USCIS. If you receive this letter, it's your responsibility to submit the evidence requested in Form I-797E.
Read the notice carefully and submit the evidence within the time frame stated on the Form I-797E. Failure to respond or submit the evidence as requested will delay your case and may result in a denial.
RECOMMENDED: How to Respond to a USCIS Request for Evidence (RFE) Correctly
Form I-797F, Transportation Letter
Form I-797F is a transportation letter that's issued overseas to allow applicants to travel to the United States. It's typically issued to lawful permanent residents (green card holders) who are outside the U.S. and whose green card is lost, stolen or mutilated. Permanent residents who have been outside the United States for less than one year, may obtain a transportation letter by filing Form I-131A, Application for Travel Document (Carrier Documentation).
About CitizenPath
CitizenPath provides simple, affordable, step-by-step guidance through USCIS immigration applications. Individuals, attorneys and non-profits use the service on desktop or mobile device to prepare immigration forms accurately, avoiding costly delays. CitizenPath allows users to try the service for free and provides a 100% money-back guarantee that USCIS will approve the application or petition. We provide support for the Petition to Help a Relative Obtain a Green Card (Form I-130), Citizenship Application (Form N-400), and several other commonly used USCIS forms.
Note to Reader: This post was originally published on October 10, 2017, and has been modified with improvements.
Want more immigration tips and how-to information for your family?
Sign up for CitizenPath's FREE immigration newsletter and
SAVE 10%
on our immigration services