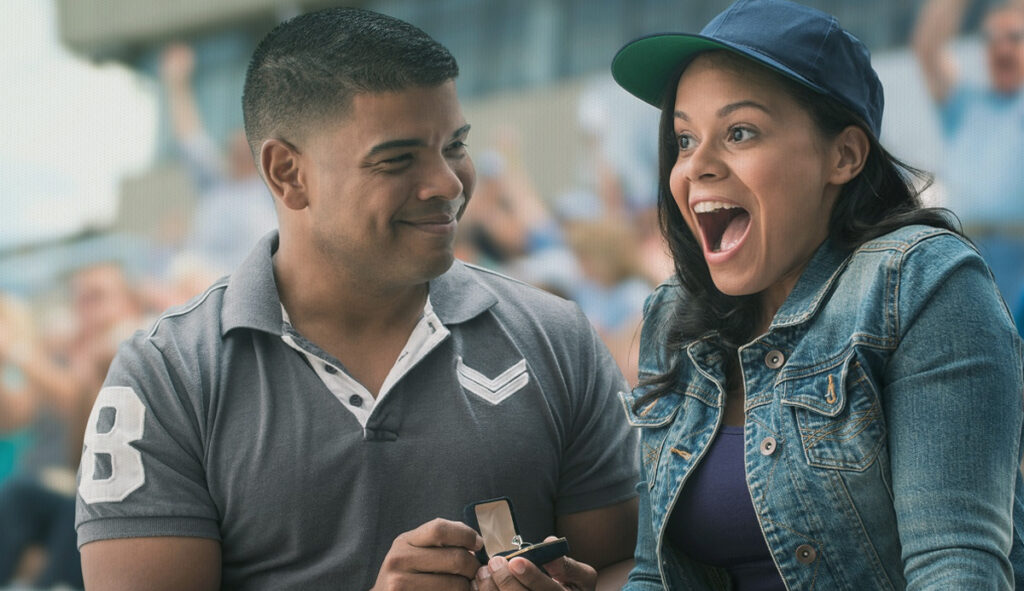 For the typical couple pursuing a fiancé visa (K-1), it's their first exposure to the U.S. immigration system. It can be an overwhelming process at first glance. But with a little patience and diligence, helping a fiancé immigrate to the United States is possible without the cost of an attorney. The U.S. citizen starts the process by filing a visa petition. Once approved, the foreign citizen fiancé may apply for the visa and a green card. Along the way, there are various fiancé visa requirements.
Most people that satisfy the fiancé visa requirements receive an approval. However, you don't want to be one of the thousands to receive a denial. In fiscal year 2020, USCIS denied nearly 23 percent of petitions before they even reached the embassy level. Use this article as an overview to start your journey. As long as you don't have a criminal history or previous immigration violations, you can do this.
The Big Picture – Immigrating through a Fiancé
There are various steps in the K-1 visa process. However, the journey can be divided into three major components: petitioning the fiancé for a visa; applying for the visa; and finally applying for permanent residence (green card).
Form I-129F Petition Requirements
The first step toward obtaining a K-1 visa is for the U.S. citizen to file Form I-129F, Petition for Alien Fiancé. Unfortunately, a permanent resident cannot file Form I-129F. Therefore, the petitioner must either become a U.S. citizen through naturalization or get married outside the United States and then petition the spouse for an immigrant visa.
In addition to the actual Form I-129F, the U.S. citizen petitioner must also submit the following items as part of the package:
USCIS Filing Fee
You must pay the petition fee at the time of filing.
Proof of U.S. Citizenship
You'll need to submit a photocopy of your U.S. birth certificate, U.S. passport, naturalization certificate or other evidence of citizenship.
Evidence that any Previous Marriages have been Terminated
In short, you must submit proof that your previous marriages (if any) have ended. A divorce decree or death certificate is sufficient.
Passport-Style Photo
All petitioners must submit a photo of themselves taken according to State Department standards for passport-style photos.
Evidence of In-Person Meeting with Fiancé
You must prove that you have physically met your fiancé at least one time within the last two-year period. Online meetings do not count toward this requirement.
Evidence of Intention to Marry
There must be evidence that the couple plans to get married within the 90-day window allowed by a K-1 visa based on a bona fide marriage.
USCIS may require additional items based on the petitioner's answers in Form I-129F. For more detailed guidance on evidence, read evidence to submit with Form I-129F. When you prepare your petition through CitizenPath, we will generate personalized filing instructions based on your specific situation. In addition to a ready-to-sign petition, you'll know exactly which items to submit in your petition package. We even guarantee your success.
Fiancé Visa Requirements
Once USCIS approves the I-129F petition, the U.S. Department of State will have additional fiancé visa requirements. USCIS will transfer the case to the National Visa Center (NVC). The beneficiary (foreign fiancé) will need to submit the following items to the NVC or U.S. embassy that is requesting them:
Form DS-160, Online Nonimmigrant Visa Application
Passport valid for at least six months beyond intended period of stay in the U.S.
Police certificates from your present country of residence and all countries where you have lived for six months or more since age 16
Medical examination
Form I-134, Affidavit of Support
Passport-style photos (2)
Evidence any previous marriages have been terminated
Evidence of bona fide relationship with the U.S. citizen petitioner
Each U.S. embassy may have slightly different fiancé visa requirements and may request additional evidence. The consular officer may ask for additional information, such as photographs and other evidence of a bona fide relationship with the U.S. citizen.
RECOMMENDED: Biggest Mistakes in the K-1 Visa Process
Applying for a Green Card after Entry
One of the fundamental requirements of a fiancé visa is that you marry within 90 days of entering the United States. (If the foreign national chooses not to marry, he or she must depart the U.S. before the 90-day period ends.) Assuming that you've married within this time frame and plan to stay in the U.S., applying for permanent residences (commonly known as green card status) is the next step.
Adjustment of Status
By itself, marriage to a U.S. citizen provides no immigration status. The foreign national must formally request a change to his or her immigration status based on the new qualifying relationship to a U.S. citizen. This process of applying for a green card inside the United States (based on lawful presence through a visa) is called adjustment of status. The K-1 entrant must submit more forms to establish these benefits. It's a big job, but CitizenPath can help make the process much easier.
While waiting for the green card approval, individuals with a pending application may generally work and travel outside the United States. There are additional applications but no extra USCIS fees.
Application Package for the Green Card
The typical adjustment of status package for a K-1 entrant will include the following items:
I-485, Application to Adjust Status
I-693, Report of Medical Examination and Vaccination Record
I-864, Affidavit of Support
Two passport-style photos
Copy of your government issued photo identification
Copy of your birth certificate
I-94, Arrival/Departure Record
Copy of passport page with nonimmigrant visa
Copy of passport page with admission (entry) or parole stamp
Evidence of your marriage to the U.S. citizen within 90 days
Copy of Form I-129F approval notice
This is a typical list of items in an adjustment package. USCIS requires additional forms for employment and travel authorization. Use CitizenPath to prepare these forms and get specific directions on the supporting documents to submit for your situation. For a more extensive explanation of this process, see our article about Adjustment of Status Through a K-1 Visa Entry.
RECOMMENDED: K-1 Visa Processing Time Line
The journey through all the fiancé visa requirements can be exhausting at times. But if you've found the right partner, it's totally worth it. Fortunately, the entire journey to a green card (and U.S. citizenship) is spread out. You don't have to do everything at once. Plus, CitizenPath is here to make it easy and affordable. Get started on your fiancé visa petition.
Want more immigration tips and how-to information for your family?
Sign up for CitizenPath's FREE immigration newsletter and
SAVE 10%
on our immigration services