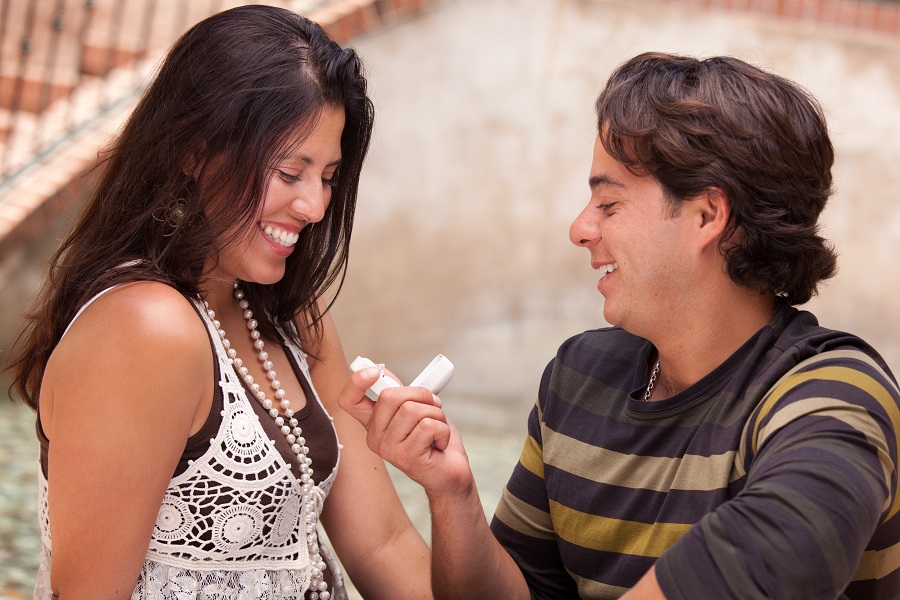 The K-1 fiancé visa is one of the most requested U.S. visas. The U.S. Department of State issues the K-1 to the foreign national fiancés of U.S. citizens for the purpose of entering the United States for marriage. Once married, the foreign national may adjustment status to permanent resident (green card holder). However, mistakes in the K-1 visa process can ruin those plans. Minor oversights may only delay the process, but other mistakes can create long-term immigration problems.
Although most visa requests are granted, it's good to know the common pitfalls that caused problems for others. We've outlined five of the biggest mistakes in the K-1 visa process. Before preparing Form I-129F, Petition for Alien Fiancé, review these avoidable problems.
Submitting a Poorly Prepared Petition
Sometimes it's the small things that can significantly delay a petition or even cause a denial. In most cases, simple errors and omissions in the Form I-129F will cause a rejection. Although the petitioner can easily resubmit the petition, it generally creates a significant delay in the K-1 visa process. Each year USCIS rejects thousands of forms because people simply forget to sign them.
Take the time to provide accurate and truthful answers on the petition. Read the I-129F instructions thoroughly so that you understand the intent of the question and how your answers may affect the outcome.
CitizenPath was designed by immigration attorneys to make the process of preparing Form I-129F easy and avoid the common mistakes that cause delays and rejections. In addition to your prepared form, CitizenPath provides you with a set of personalized filing instructions. Our filing instructions are customized to your answers in the petition so you know what to do for your specific situation. The filing instructions provide detailed directions on supporting documents, how to organize your petition, and where to mail it.
Not Disclosing IMBRA Facts
The International Marriage Broker Regulation Act (IMBRA) of 2005 is a U.S. law intended to provide protections for immigrants and U.S. citizens. Relationships arranged through IMBs can potentially create volatile situations. Foreign nationals – often women – seek entry to the United States. U.S. citizens – often men – seek a marriage. Unfortunately, the leverage that the U.S. citizen holds over the intending immigrant can be the impetus for some abusive situations. The basic provisions of the IMBRA:
Prohibit the marketing of any client under the age of 18;
Require IMB to perform a background check of the U.S. client and share the findings with the information with the foreign national in the foreign client's primary language;
Require that a U.S. citizen disclose certain crimes when filing Form I-129F, Petition for Alien Fiancé; and
Put limits on the number of times a U.S. citizen can petition a foreign fiancé.
The law itself could force immigration officials to deny a K-1 visa. If the U.S. citizen has failed to share information about a criminal history or past petitions with the foreign national fiancé, the disclosure of the information to the foreign national could result in a canceled engagement.
Immigration officials will collect the U.S. citizen's fingerprints as part of the K-1 visa process.
Evidence of Eligibility for K-1 Visa Process
In addition to "being" eligible, the couple must present evidence of eligibility. Failing to present decent evidence of eligibility is one of the more common mistakes in the K-1 visa process. For the foreign national to qualify for the fiancé visa, the couple must meet the following conditions. They must:
Have met in-person at least once within the last two years;
Intend to marry within 90 days of the foreign national entering;
Be legally able to marry in the state where the wedding will be held;
Have a good faith relationship that's led to marriage proposal; and
Include a U.S. citizen fiancé petitioner (not a lawful permanent resident) that is petitioning the foreign national.
CitizenPath's service covers these requirements with detailed filing instructions to make sure you include adequate evidence. We also provide a sample K-1 declaration that addresses many of these criteria.
Not Being Prepared for K-1 Interview
In addition to the evidence in the I-129F visa petition, immigration officials want proof that your engagement is the real thing. Marriage is one of the most abused paths to permanent residence. Therefore, USCIS and consular officers will look for factors that can be red flags for marriage fraud. Factors that can trigger additional questioning include:
Engaged a very short time after initial meeting
Significant cultural differences
Large difference in age
Different religions
No common spoken language
Very little physical time together
Most people have nothing to worry about. However, it's extremely helpful to understand the types of questions that immigration officials will ask the K-1 applicant. Some applicants who are surprised by the questions may appear guarded or anxious. Most K-1 applicants will interview without the U.S. spouse. Take the time to review typical questions and be prepared for the interview.
RECOMMENDED: K-1 Fiancé Visa Interview Questions
Passing the 90-Day Deadline
Once the foreign national's K-1 visa is approved and he or she enters the United States, there's a 90-day deadline to marry and adjust status to permanent resident. This is an extremely tight deadline to plan a wedding and submit some complicated paperwork. It's important to have an understanding of the K-1 visa processing time line and be flexible.
The K-1 visa process stipulates that the foreign national must marry the U.S. citizen within 90 days of entering the U.S. For most, this time line makes it difficult to have a large wedding at a popular venue. Coordinating travel for immediate family members will be challenging enough. Therefore, it may be more practical to plan a simple ceremony. If you would like to celebrate with a larger group of family and friends, plan a reception or party at a later date.
What's more, the K-1 visa holder must file Form I-485, Application to Adjust Status, soon after the wedding if he/she will stay in the United States. The adjustment of status package will include other forms as well. The typical adjustment of status package based on a K-1 entry includes the following forms:
I-485, Application to Register Permanent Residence or Adjust Status
I-944, Declaration of Self-Sufficiency
I-864, Affidavit of Support
I-693, Report of Medical Examination and Vaccination Record
I-765, Application for Employment Authorization
I-131, Application for Travel Document
RECOMMENDED: Adjustment of Status Through a K-1 Visa Entry
Other Mistakes in the K-1 Visa Process
Of course, it should go without saying that the misrepresentation of facts will result in a visa denial. Being truthful throughout the K-1 visa process is important. Even if immigration officials don't initially catch a lie, it can haunt the applicant later. For example, at the time of applying for a green card, USCIS officers may review previous visa cases. They will deny the green card if new information makes it apparent that a visa was fraudulently obtained previously. If at any point you feel as though a truthful answer on a visa application make be problematic, contact an immigration lawyer for guidance.
About CitizenPath
CitizenPath provides simple, affordable, step-by-step guidance through USCIS immigration applications. Individuals, attorneys and non-profits use the service on desktop or mobile device to prepare immigration forms accurately, avoiding costly delays. CitizenPath allows users to try the service for free and provides a 100% money-back guarantee that USCIS will approve the application or petition. We provide support for the K-1 Fiancé Visa Petition (Form I-129F), Application to Adjust Status (Form I-485), and several other immigration services.
Note to Reader: This post was originally published on November 6, 2018, and has been modified with improvements.