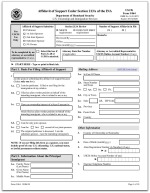 Form I-864, Affidavit of Support, is required for most family-based immigrants and some employment-based intending immigrants to show that they have adequate means of financial support and are not likely to become a public charge. The law does not require other categories like asylum/refugee, special immigrants, or diversity visas to submit the Form I-864.
It's a contract between a sponsor and the U.S. government. The sponsor promises to support the intending immigrant if he or she is unable to do so on their own.
RECOMMENDED: Public Charge Rule Explained
Eligibility to Be a Sponsor
A sponsor completes Form I-864, Affidavit of Support, on behalf of the intending immigrant. Generally, the sponsor must:
Be a U.S. citizen, U.S. national or lawful permanent resident age 18 or older;
Have income 125% above the federal poverty line; and
Prove the United States is his or her country of domicile.
RECOMMENDED: Income Requirements to Sponsor a Green Card Holder
Did you know minor mistakes on your Form I-864 Affidavit of Support can cause costly delays and rejections?
Prepare your I-864 quickly and correctly with CitizenPath. The attorney-reviewed software guides you through the affidavit and provides help to answer questions like this one. And personalized filing instructions help you to submit the affidavit today knowing that
you did everything right
! No credit card or signup required to try it.
Get started now >>
Who Prepares Form I-864 Affidavit of Support
At the time of applying for a green card, the following immigrants are required by law to submit Form I-864 completed by the sponsor:
All immediate relatives of U.S. citizens (spouses, unmarried children under 21 years of age, and parents of U.S. citizens 21 years of age and older);
All family-based preference immigrants (unmarried sons and daughters of U.S. citizens, spouses and unmarried sons and daughters of lawful permanent residents, married sons and daughters of U.S. citizens, and brothers and sisters of U.S. citizens 21 years of age and older); and
Employment-based preference immigrants in cases only when a U.S. citizen, lawful permanent resident, or U.S. national relative filed the immigrant visa petition or such relative has a significant ownership interest (five percent or more) in the entity that filed the petition.
[contentblock id=kb_inline_ad]
Form I-864 Exemptions
As mentioned, most all family-based (and even some employment-based) immigrants must have an I-864 sponsor. There are some exemptions for certain people in these categories. The following types of intending immigrants do not need to file Form I-864:
Any intending immigrant who has earned or can receive credit for 40 qualifying quarters (credits) of work in the United States. In addition to their own work, intending immigrants may be able to secure credit for work performed by a spouse during marriage and by their parents while the immigrants were under 18 years of age. The Social Security Administration (SSA) can provide information on how to count quarters of work earned or credited and how to provide evidence of such on the SSA website.
Any intending immigrant who will, upon admission, acquire U.S. citizenship under section 320 of the Immigration and Nationality Act (INA), as amended by the Child Citizenship Act of 2000 (CCA);
Self-petitioning widows or widowers who have an approved Form I-360, Petition for Amerasian, Widow(er), or Special Immigrant; and
Self-petitioning battered spouses and children who have an approved Form I-360.
However, if you do qualify for one of the exemptions above, it's necessary to communicate to the U.S. government by submitting Form I-864W, Intending Immigrant's Affidavit of Support Exemption, instead of Form I-864.