5 Green Card Travel Tips to Avoid Re-Entry Problems and Permanent Residence Abandonment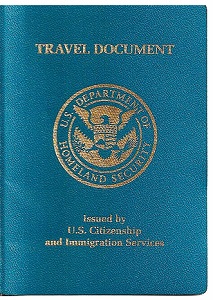 As a lawful permanent resident of the United States, your obligations for maintaining your immigration status in the United States are fairly simple. You need to notify USCIS within 10 days of moving by using Form AR-11 and renew your green card every 10 years with Form I-90. International green card travel can introduce some new hazards.
Permanent residents are free to travel outside the United States, and temporary travel generally does not affect your permanent resident status. As the term "resident" suggests, your status comes with the expectation that you will live (make your home) in the U.S. If you spend too much time abroad, you could lose your right to a green card.
Here are five tips to understand before traveling abroad:
Basic Maintenance

On several occasions each year, permanent residents are denied re-entry to the United States. When seeking to re-enter the United States after international green card travel, you will need to present a valid, unexpired green card at the port of entry. A U.S. Customs and Border Protection (CBP) officer will review your card and any other identity documents you present (e.g. passport, foreign national I.D. card, or U.S. driver's license).

Unfortunately, many permanent residents forget or neglect to maintain their permanent resident cards. The simplest mistake is forgetting to renew a green card. Most green cards must be renewed every 10 years. Plan early – it will generally take at least 10 to 12 months to obtain a new card.

Some green cards do not expire. This can contribute to another problem. Dated photos or damaged cards can make the CBP officer's job difficult. Remember, re-entry at the U.S. port of entry is at the CBP officer's discretion. If the officer can't read the card because it is distorted or the photo is so old that you can't be recognized, there is the possibility of being denied entry. It is your responsibility to ensure the card is legible and accurate.

In the case that you are allowed to re-enter the U.S. with an expired green card (if travel was less than one year), you will most likely also be forced to pay a reentry fee on top of the green card renewal fee. This can get very expensive. What's more, it will create a significant delay and potentially other legal problems. If your green card needs to be renewed or replaced, use Form I-90, Application to Replace Permanent Resident Card.

RECOMMENDED: I Need to Travel Abroad but my Green Card is Expired!

Understand Continuous Residence

As a permanent resident of the United States, you are welcome to travel abroad. However, any trip longer than six months could interrupt your continuous residence for the purposes of naturalization. If you plan to naturalize as a U.S. citizen, USCIS Form N-400 (Application for Naturalization) requires you to document your international green card travel from the prior five years. Any absence from the United States that is six months or more in duration will create a problem.

RECOMMENDED: Travel Abroad Affects N-400 Citizenship Eligibility

The absence can break your continuous residence. Continuous residence means that the green card holder has actually lived in the United States and made it a home. For many people, making a life in the U.S. includes employment and building ties to the community. Most applicants will be required to have five years of continuous residence before filing Form N-400. Trips that exceed six months may disrupt this requirement. One simple solution is to cut your trip short so that it is less than six months. But don't cut it too close. Remember that international travel delays could add another week to your trip. Learn more about continuous residence.

If your green card travel creates an absence from the U.S. for one year or more, you will disrupt your continuous residence. But there is even bigger risk.

Abandonment of Permanent Resident Status

Traveling abroad as a permanent resident for a period of one year or more will disrupt continuous residence. (Exceptions are made for certain people such as those working for the U.S. government.) More importantly, you will be at risk for abandoning your permanent resident status.

Lengthy trips put you under greater scrutiny for abandonment. When re-entering the United States, a CBP officer will likely interview you. If it is determined, that you did not intend to make the U.S. your permanent home, you will be found to have abandoned your permanent resident status. Absences of one year or more will put you under increased scrutiny. But abandonment may be found to occur in shorter trips if it is believed you did not intend to make the U.S. your permanent home. Factors that may help you overcome this conclusion include evidence that you:

Own a home or have a long-term lease in the U.S.
Continue to maintain U.S. employment
File U.S. income taxes
Have family and community ties in the United States
Any other factors that help establish green card travel was temporary

If you must make a trip abroad for a period of at least one year but no more than two years, it is highly recommended that you acquire a re-entry permit. In addition to serving as a valid entry document after long absences, re-entry permits provide evidence of your intent to return. You may apply for a re-entry permit by filing Form I-131, Application for Re Entry Permit.

RECOMMENDED: Reentry Permit for Permanent Residents

Lost or Stolen Green Card

In some cases you may have made all the proper arrangements but find that you don't have a green card for re-entry. Each year, hundreds of travelers have their green cards lost or stolen.

If you've lost a green card outside the U.S., you'll need to obtain a special document to board a transportation carrier and re-enter the United States. File Form I-131A, Application for Travel Document (Carrier Documentation), in person at the nearest U.S. Embassy or Consulate. Upon returning to the U.S., you will be required to replace your lost or stolen green card by using Form I-90, Application to Replace Permanent Resident Card.

Avoid the Hassles – Apply for U.S. Citizenship

One of the great advantages of becoming a U.S. citizen is the ability to travel with a U.S. passport. What's more, you won't have to worry about green card travel or re-entry permits.

It's probably more inexpensive than you think. In the long term, USCIS filing fees for naturalization are far less expensive that maintaining permanent resident status. It's more cost-effective to become a U.S. citizen. Want to see how significant the savings can be? Use our Citizenship Cost Calculator.
If you are ever denied re-entry by a CBP officer, you do not have to accept the officer's decision as final. You have the right to present your case in Immigration Court. Only an Immigration Judge has the authority to make a final decision about whether you abandoned your status. If you find yourself in this situation, contact an experienced immigration attorney immediately.
Ready to evaluate naturalization as a U.S. citizen? Visit the Citizenship Resource Center for additional information, including eligibility requirements. Use the Citizenship Cost Calculator to compare the cost of citizenship with remaining a permanent resident.
About CitizenPath
CitizenPath provides simple, affordable, step-by-step guidance through USCIS immigration applications. Individuals, attorneys and non-profits use the service on desktop or mobile device to prepare immigration forms accurately, avoiding costly delays. CitizenPath allows users to try the service for free and provides a 100% money-back guarantee that USCIS will approve the application or petition. We provide support for the Application for Carrier Document (Form I-131A), Green Card Renewal (Form I-90), the Citizenship Application (Form N-400), and several other popular forms.
Note to Reader: This post was originally published on June 2, 2015, and has been modified with improvements.