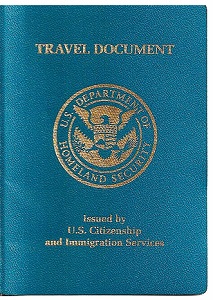 A Reentry Permit is a travel document that looks similar to a passport and can function like a passport. Lawful permanent residents or conditional permanent residents who plan to travel outside the United States for more than one year, but less than two years, may apply for a Reentry Permit.
It's a multiple use travel document, meaning that it can be used several times (during the valid period) to reenter the United States.
File Form I-131, Application for Travel Document, from within the United States to apply for a permit.
How a Reentry Permit Helps
A Reentry Permit has two basic functions:
The travel document allows a U.S. permanent resident to reenter the United States after traveling abroad for longer than one year but less than two years.
It also can serve like a passport for a U.S. permanent resident if he/she has no passport and cannot obtain it from the country of his/her nationality.
Without a Reentry Permit, a permanent resident that is outside the country for more than a year will most likely be denied reentry into the U.S. on the ground that he/she has abandoned his or her permanent resident status. After a one year absence from the United States, a green card is not valid for reentry. The permit is intended to prevent this problem.
RECOMMENDED: Benefits of a Reentry Permit for Permanent Residents
Application for Reentry Permit
To obtain a Reentry Permit, the applicant should file Form I-131, Application for Travel Document. You must file Form I-131 while you are physically present in the United States. It will generally take at least 90 days for USCIS to approve the request. Expedited processing may be available for certain applicants.
Mistakes on your I-131 Application for Travel Document can cause costly delays or a denial.
Prepare your I-131 correctly and affordably with CitizenPath. The attorney-reviewed software guides you through the application and provides help to answer questions like this one. And personalized filing instructions help you to submit the application today knowing that
you did everything right
! No credit card or signup required to try it.
Get started now >>
Period of Validity
In general, a Reentry Permit issued to a permanent resident is valid for two years from the date of issuance. However, the period of validity can vary for certain permanent residents with extensive time outside the country as well as conditional residents.
USCIS will not renew or extend Reentry Permits. If your permit expires, you'll need to apply for a new one. For security reasons, USCIS will not issue a new permit to someone who already has a valid one in his or her possession. If you have a valid permit in your possession, you will need to send it in when you apply for a new one. You do not need to send in an expired permit.
If your circumstances force you to be outside the United States for extended periods of time, seek advice from an immigration lawyer that can analyze your specific situation and recommend how to maintain your permanent residence.
Not a Cure All
Obtaining a Reentry Permit doesn't make a permanent resident "immune" from abandonment issues. Even with this travel document, permanent residents can be at risk of losing permanent resident status through abandonment. Permanent residents must continue to maintain ties to the United States and the travel must be temporary in nature.
RECOMMENDED: Green Card Abandonment: Risks of Travel Abroad
Even with a Reentry Permit, a permanent resident's absence of more than 180 days from the United States may disrupt the 5-year continuous residence requirement for naturalization. Instead, some permanent residents may be eligible to file Form N-470, Application to Preserve Residence for Naturalization Purposes. Use this form if you are a lawful permanent resident who must leave the United States for a period of one year or longer for certain employment purposes and you want to preserve your status as an immigrant in order to pursue naturalization.