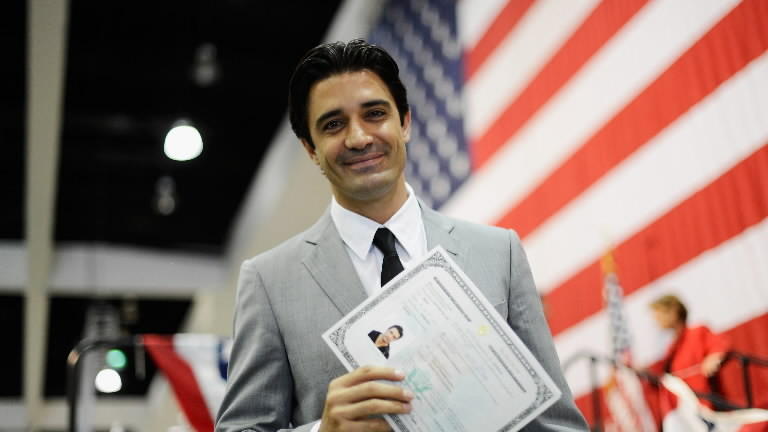 Proponents of U.S. citizenship will often point out the patriotic and emotional benefits of naturalization. These are all valid reasons, but naturalizing as a U.S. citizen is just downright practical for permanent residents. We discuss just three of the practical benefits of U.S. citizenship.
Individuals with lawful permanent resident status (green holders) often weigh the value of becoming a naturalized U.S. citizen. Many are satisfied with the ability to live and work in the United States, but many others want more. The Constitution and laws of the United States give many rights to both citizens and non-citizens living in the United States.
There are several rights and privileges afforded only to U.S. citizens, but consider these three practical benefits of U.S. citizenship:
Less Expensive

In the long term, USCIS filing fees for naturalization are far less expensive than maintaining permanent resident status. It's more cost-effective to become a U.S. citizen.

The current USCIS fee for replacing or renewing a green card is $540. A permanent resident will pay $540 to renew a green card, and will have to do it again in another 10 years. Don't forget, if the green card is lost, stolen or damaged, it will cost another $540 to replace it. What's more, USCIS fees keep rising. Over just the last 10 years USCIS fees for green card renewal have increased significantly.

On the other hand, the one-time USCIS fee for the naturalization application is $725. Sure, this is a bit more expensive in the short term, but U.S. citizenship is good for a lifetime. Over the course of many years, it is significantly less expensive. After all, you won't ever have to pay another USCIS fee again! The difference is staggering. Use the Citizenship Cost Calculator to compare.

Do you know how much you'll pay for
green card renewal over a lifetime?


Use the Citizenship Cost Calculator to see the staggering cost of green card renewal fees compared to naturalizing as a U.S. citizen.

Try it now >>




RECOMMENDED: Expired Green Card Creates 5 Big Problems

Priority Service

When it comes to traveling abroad and immigrating other family members, U.S. citizens get the VIP service. There's no comparison. Those who want to travel outside the United States or petition more family members to immigrate to the U.S. will get priority over permanent residents.

U.S. citizens have the privilege of helping family members immigrate much faster than permanent residents can. That's because the number of immediate relative (spouses, unmarried children and parents) immigrant visas is unlimited. There is no cap. On the other hand, family preference immigrant visas are for relatives of lawful permanent residents. Unfortunately, there are a limited number of visas issued for each category. As a result, there can be very long wait times that span several years.

What's more, a child born abroad to a U.S. citizen parent or parents may acquire U.S. citizenship at birth. This is not the case for permanent resident parents.

There are tremendous benefits of obtaining a U.S. passport. A U.S. passport will allow a traveler entry into most countries around the world without a hassle. Specific countries that work with the United States on the Visa Waiver Program will allow entry to U.S. passport holders for a specific amount of time, so you won't need to purchase a visa to travel there. A U.S. passport allows a U.S. citizen to get assistance from the American government when overseas.

Certainty

Few people expect to be arrested for a crime. But the risks for a permanent resident are much higher. Permanent residency can be revoked. Many crimes can result in deportation of a permanent resident or at least create major (and expensive) problems just to renew a green card.

Every time a permanent resident reenters the United States after traveling abroad, reentry is at the discretion of a Customs & Border Protection officer. That CBP officer has the power to refuse entry and make life miserable for the permanent resident. An old photo or discrepancy of information could create another time-consuming and expensive headache. Under the new public charge rule, CBP officers can even find permanent residents inadmissible if they've been outside the U.S. for more than 6 months and meet certain conditions.

On the other hand, citizenship is good for life. Citizenship cannot be revoked unless there is substantial evidence of a crime against the state.
RECOMMENDED: Green Card Renewal Denial Rate Explodes in Recent Years
These are just three practical benefits of U.S. citizenship. Of course, there are several more great benefits to becoming a U.S. citizen through naturalization:
Voting
Only U.S. citizens can vote in federal elections. Most states also restrict the right to vote, in most elections, to U.S. citizens. This is a powerful right that gives U.S. citizens the ability to steer the American government on decisions related to immigration reform, healthcare and more.
Becoming Eligible for Federal Jobs
Most jobs with government agencies require U.S. citizenship.
Becoming an Elected Official
Some naturalized citizens want to take a more active role governing America. Many elected offices in this country require U.S. citizenship.
Showing your patriotism
Becoming a U.S. citizen is a way to demonstrate your commitment to your new country.
Financial Aid
In many cases only U.S. citizens are eligible for the financial aid grants made by the government, including college scholarships.
About CitizenPath
CitizenPath provides simple, affordable, step-by-step guidance through USCIS immigration applications. Individuals, attorneys and non-profits use the service on desktop or mobile device to prepare immigration forms accurately, avoiding costly delays. CitizenPath allows users to try the service for free and provides a 100% money-back guarantee that USCIS will approve the application or petition. We provide support for the Citizenship Application (Form N-400), Green Card Renewal (Form I-90), and several other commonly used USCIS forms.
Note to Reader: This post was originally published on October 17, 2017, and has been modified with improvements.