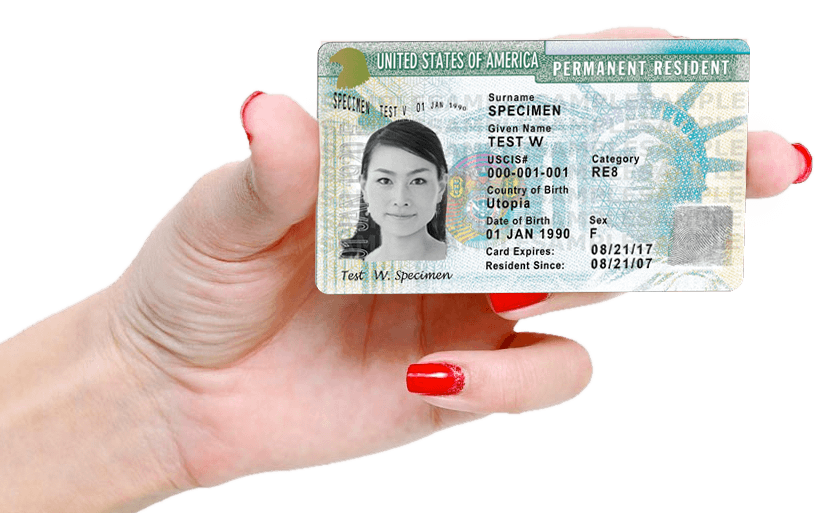 Permanent residents use Form I-90, Application to Replace Permanent Resident Card, to apply for the replacement or renewal of an existing Permanent Resident Card (green card). If you're not familiar with the application, you may have one of many green card renewal questions.
That's why many permanent residents use CitizenPath to prepare Form I-90. The low-cost, do-it-yourself software was designed by immigration attorneys to make the application easy and help applicants avoid mistakes. Customer support is also available to answer many of your green card renewal questions. Get started for free. Only pay if you're eligible. Try it now >>
Failing to keep an up-to-date green card can make it difficult to travel internationally or to prove your eligibility for employment in the United States.
RECOMMENDED: Expired Green Card Creates 5 Big Problems
Green Card Renewal Questions
Based on our experience with thousands of permanent residents, here are some of the most common green card renewal questions and answers.
When should I renew my green card?

Answer: Most U.S. green cards expire every ten years. It's best to file Form I-90 for a green card renewal 6 months before the expiration date on the green card. If that date has passed, you will not lose your permanent residence. But you should apply for a green card renewal as soon as possible. Do not file Form I-90 for a green card renewal earlier than six months before the expiration date; USCIS may reject your application and mail it back to you. See more about when to renew a green card.

Some older green cards do not have an expiration date. At this time USCIS does not require the renewal of these cards as long as "I-551" is printed in small typeface in the corner of the card. If your card has "I-151" printed on it, it's no longer valid. But even a valid, older green card can still create problems if the card is damaged or the photo is out-of-date.

RECOMMENDED: Risks of International Green Card Travel

What is Class of Admission?

Answer: Form I-90 (Part 1, Question 14) asks you to indicate your class of admission. Class of admission is the immigrant visa category that was used to admit an immigrant to the U.S. as a permanent resident or conditional permanent resident.

Most people can find it on the front of the green card. However, different versions of the green card place in the information in different spots. When you prepare your Form I-90 on CitizenPath, we provide a drop-down list of valid class of admission codes and illustrations of various green cards so that you can correctly identify your class of admission.

Likewise, Date of Admission refers to the date that you were granted permanent resident or conditional permanent resident status. Be careful – Date of Admission is not necessarily the same date you physically entered the United States. Use the "Resident Since" date on your green card.

CitizenPath Guarantees Your I-90 Will Be Approved
When you prepare your green card renewal on CitizenPath, we provide simple, step-by-step instructions and alerts to help you avoid costly delays. We even guarantee USCIS will approve your application. No credit card is required to start.
How do I determine the location that I applied for an immigrant visa or adjustment of status?

Answer: If you filed for an immigrant visa, this is the location of the U.S. Embassy or consulate where you originally obtained your visa. If you filed an Application to Adjust Status (Form I-485) because you were already in the United States, this is the location of the USCIS office where you filed. When you prepare your Form I-90 on CitizenPath, we provide additional support and diagrams to help you answer this question.

How much does it cost to renew my green card?

Answer: Total USCIS fees for green card renewal are $540 ($455 filing fee plus $85 biometric fee). In some cases the fees are waived for green card replacement. You can easily determine your total fees by going to our USCIS fees page.

Can't afford the USCIS fees? Low-income applicants and those going through a financial hardship may qualify for a fee waiver. To qualify, you must meet at least one of the following conditions:

You or qualified members of your household are currently receiving a means-tested benefit. A means-tested benefit is one for which the individuals' income/resources determine eligibility and/or the benefit amount.
Your household income is at or below the 150% poverty level at the time you file. Check the current poverty levels for this year at: Form I-912P, HHS Poverty Guidelines for Fee Waiver Requests.
You are experiencing a financial hardship that prevents you from paying the filing fee, including unexpected medical bills or emergencies.

For more information, see the USCIS website fee waiver page or download Form I-912, Request for Fee Waiver.

Can conditional permanent residents use I-90 for green card renewal?

Answer: No, conditional permanent residents should not use Form I-90 for green card renewal. They should only use Form I-90 to replace a green card for reasons such as lost, stolen, damaged, biographic information has changed, or USCIS error on data. The form should not be used by conditional permanent residents that want to renew their status or remove the conditions of their residence. There are two possibilities for conditional permanent residents with expiring green cards:

How long does it take to renew my green card?

Answer: Filing any government form can be daunting. However, it only takes about 15 minutes to prepare Form I-90 on CitizenPath. The website was created by attorneys — so you get simple, step-by-step guidance to eliminate mistakes and costly delays. Your green card renewal can be it the mail today.

Once you have properly filed Form I-90, it may take 10-12 months receive your new green card. It could take longer. You can see what happens after filing the green card renewal application in Form I-90 Processing Time Line.

Is there a way to avoid the cost of green card renewal?

Answer: Yes. If you've already been a permanent resident for five years (or a permanent resident married to a U.S. citizen for the past three years), you may be eligible for U.S. citizenship. As a citizen, you'll never have to pay for green card renewal again, and you get the benefits of becoming a U.S. citizen. See if you are eligible to apply for citizenship through naturalization with Form N-400, Application for Naturalization.

The cost benefits of naturalization are staggering! The green card renewal fee keeps climbing. Use the Citizenship Cost Calculator to compare the cost of becoming a U.S. citizen to the cost of remaining a permanent resident.
How CitizenPath Helps with Green Card Renewal
CitizenPath provides simple, step-by-step guidance through Form I-90 so that you can prepare the application for green card renewal with confidence in about 15 minutes. Here's why people are using CitizenPath:
Created by expert attorneys
Pictures and simple explanations to make the application easy
Alerts if your answer to a question could be problematic
Simplified filing instructions just for you
Neatly prepared Form I-90 (ready to sign and send)
Friendly customer service if needed
CitizenPath gives you the convenience of getting it done quickly and the confidence of doing it right. There's no credit card or sign up required to get started. Try it now.