If you are familiar with the U.S. immigration system, you've noticed that government agencies like U.S. Citizenship and Immigration Services (USCIS) have a form number for various documents. Form I-551 is simply the internal identification number given to a specific immigration document. You may also see it used as an I-551 stamp or ADIT stamp.
In this case, the document is a permanent resident card. Form I-551 is the form number for a green card. It is proof of a foreign national's immigration status to live and work permanently in the United States. If you look closely, you'll see that "I-551" is printed in the upper left corner of the backside of the current green card.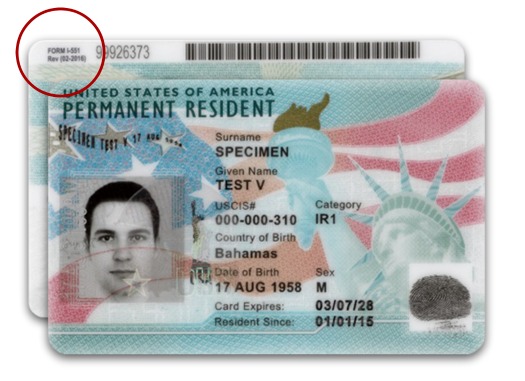 But Form I-551 may be printed on documents other than the green card. Temporary proof of permanent residency can be on an immigrant visa (for a new immigrant) or on a passport (for an immigrant who has lost a green card).
RECOMMENDED: Your Green Card Number Explained
Mistakes on USCIS forms can cause costly delays or a denial.
Prepare your application correctly and affordably with CitizenPath. The attorney-reviewed software guides you through immigration forms and provides help to answer questions like this one. And personalized filing instructions help you to submit the application today knowing that
you did everything right
! No credit card or signup required to get started.
Try it before you buy it >>
Temporary Form I-551 for New Immigrants
If you have been granted permanent residence at a U.S. embassy, a consular officer will place an immigrant visa inside your passport before you depart for America. A machine-readable immigrant visa (MRIV) usually has the following text on it: "UPON ENDORSEMENT SERVES AS TEMPORARY I-551 EVIDENCING PERMANENT RESIDENCE FOR 1 YEAR."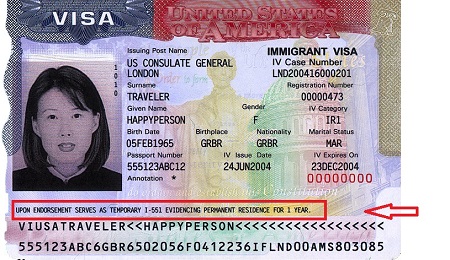 When a new immigrant first enters the United States, a Customs and Border Protection (CBP) officer will stamp the passport with an admission stamp that indicates you have permanent resident status. The stamp will also include the date you entered the U.S. Your foreign passport with the MRIV is evidence of permanent residence status for one year from the date of admission. However, you should receive your 10-year green card within approximately 4 to 8 weeks of entry.
I-551 Stamp in Passport for Lost Green Cards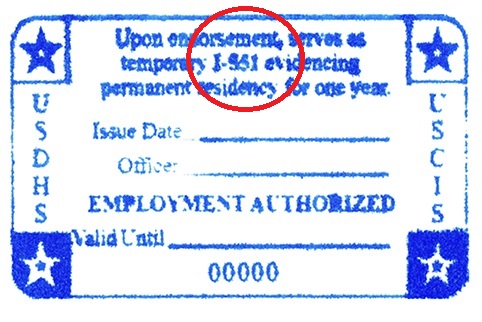 USCIS may issue a temporary Form I-551 for permanent residents who have a lost, stolen or destroyed green card. Generally, this is a stamp that gets placed inside your foreign passport. An example is displayed to the right.
Also known as the Alien Documentation, Identification & Telecommunications (ADIT) stamp, this "I-551 stamp" may be necessary if you need proof of your status while waiting for the new card to arrive. If you have a lost, stolen or destroyed green card, here's how to obtain the I-551 stamp:
File Form I-90

You must begin the process to replace the permanent card first. Although it will take several months to get the new card, you'll need proof of filing Form I-90 to get temporary proof. CitizenPath provides a low-cost service designed by immigration attorneys that helps you prepare the application quickly and correctly. We guarantee approval. Get start here >>

Obtain the I-90 Receipt Number

In order to get your appointment, you'll need proof that you filed Form I-90. USCIS will mail you Form I-797C Notice of Action (receipt letter) approximately 2 to 4 weeks after filing. If you've filed G-1145 with your form, you'll also get a receipt number by text or e-mail more quickly.

Schedule ADIT Stamp Appointment at USCIS

Call USCIS at 1-800-375-5283 and request an ADIT stamp appointment (temporary I-551) in your passport. The call center can schedule for an appointment at an office near you. Be prepared to explain why you can't wait for the card to arrive. For example, you may need proof of permanent resident status for employment or to reenter the U.S. after an upcoming trip abroad.

Attend Appointment for USCIS ADIT Stamp

Appear at your local USCIS office for the scheduled appointment. Be sure to take the following items to the appointment:

Valid, unexpired passport
InfoPass appointment notice (if applicable)
Form I-797 Notice of Action (I-90 receipt letter)
Copy of lost card (if available)

If your request is urgent, take additional documents as evidence of your need for the I-551 stamp (ADIT stamp). Examples include airline tickets, travel itinerary, letter from lender, doctor's letter about sick relative or death certificate, company letter, etc.
Regardless of the document type — unexpired physical green card or temporary document — Form I-551 is valid proof of permanent resident status for the purpose of employment and reentry to the United States after travel abroad (of less than one year). Employers should accept an unexpired Form I-551 — card or stamp — as a valid I-9 document.
RECOMMENDED: Green Card Renewal Denial Rate Explodes in Recent Years