When filing most USCIS applications and petitions, there is a space requesting a USCIS online account number.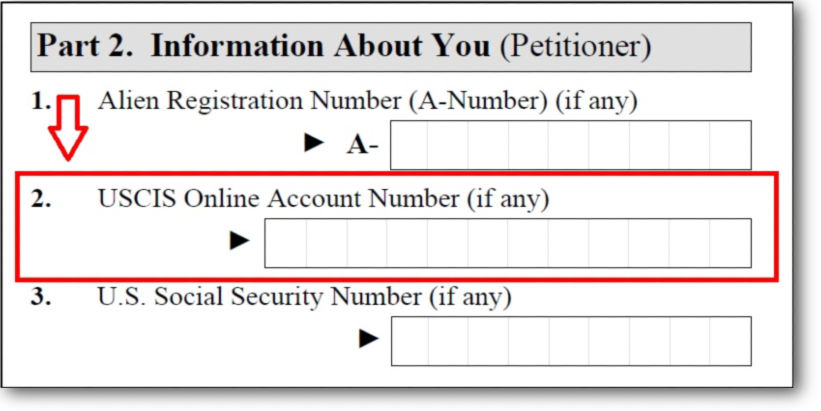 Over the past several years, U.S. Citizenship and Immigration Services (USCIS), the nation's immigration agency, has been transitioning to an online system. That has spurred the need for a USCIS online account number for persons with an account. Not everyone has an account or even needs an account. We'll explain if this is something you need and how to create one if necessary.
USCIS Online Account Number Explained
USCIS is promoting the use of an online account to manage your cases and interaction with the immigration agency. Each person's account has a unique 12-digit account number. The USCIS online account number is not the same as an alien registration number (A-Number) or receipt number. Rather, it's a unique number that identifies your account only.
Some of the benefits of maintaining a USCIS online account include:
Get your current case status and the history of your case;
Respond to Requests for Evidence (RFEs);
Receive notifications and case updates; and
Manage your contact information.
USCIS online account numbers are not just assigned to immigrants. Petitioners, who may be natural-born citizens could have an account. Likewise, attorneys also may create an account to manage clients' cases online.
If you choose not to access your USCIS online account, USCIS will still process your application or petition in their online filing system. You will receive notifications and updates about your form by mail through the U.S. Postal Service. Plus, you can track the status of your case without the online account. Simply visit the USCIS case status page and plug in your receipt number.
Mistakes on USCIS forms can cause costly delays or a denial.
Prepare your application correctly and affordably with CitizenPath. The attorney-reviewed software guides you through immigration forms and provides help to answer questions like this one. And personalized filing instructions help you to submit the application today knowing that
you did everything right
! No credit card or signup required to get started.
Try it before you buy it >>
Where to Find Your USCIS Online Account Number
If you previously filed certain paper forms, USCIS may have mailed you a USCIS Online Account Access Notice. You can find the USCIS online account number at the top of this notice.
If you previously filed an application, petition, or request using the USCIS online filing system, they issued you the number electronically.
However, not having the number is not a reason to be anxious. If you are unsure if USCIS has ever issued you a number, it's okay to file a form with the "USCIS Online Account Number" field empty. You may also create a new account.
RECOMMENDED: Tips for Preparing USCIS Immigration Forms
How to Create an Online Account Number
If you would like to establish a USCIS online account number before you file an application or petition, you can sign up on the USCIS website.
You can also add paper-filed cases to your account. Click on "My Account" and then "Add a paper-filed case" in the drop-down menu. Enter your receipt number, and you can then see your case status and history.
If you did not file your case online but have a receipt number that begins with "IOE" and the Online Access Code you received on your USCIS Account Access Notice, you can add the case to your account and be able to see case status and history, send secure messages, view notices, upload additional evidence, and respond to Requests for Evidence.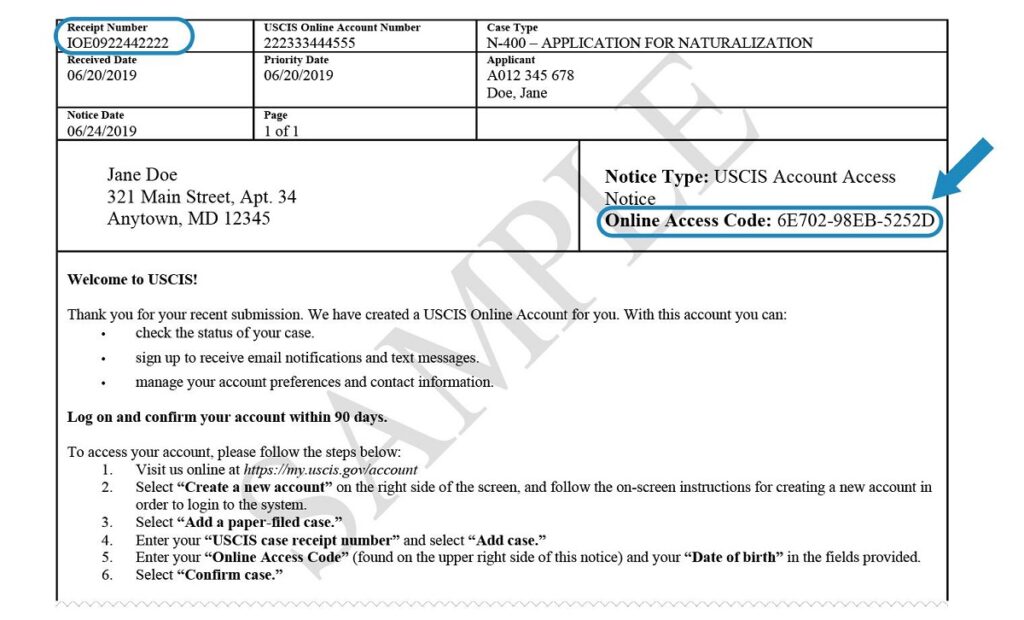 For more detailed instructions, refer to USCIS instructions.
New Immigrants and Receiving an Initial Green Card
After the U.S. embassy grants an immigrant visa, incoming immigrants can create an USCIS online account when they pay the USCIS immigrant fee. This will make it easier to track the status of the new green card. USCIS will provide electronic notifications, case updates, and new immigrants can update a mailing address.
To create a USCIS online account, you will need to verify your identity by correctly answering questions about your personal immigration history. USCIS recommends that you have several documents available to verify your account:
Passport
Immigrant visa
Copy of your visa application
Copy of the immigrant petition (Form I-130)
Even if you do not create an online account, you can still track the status of your green card using Case Status Online. Keep your receipt number from your USCIS immigrant fee payment. Your receipt number will begin with the letters "IOE." You'll need the receipt number to track your case.
---
Once you have been issued a USCIS online account number, keep it in a safe place for use on future applications.
RECOMMENDED: 3 Things You Need To Know About Taxes Before Moving To The U.S.