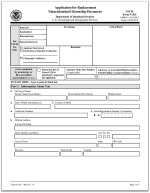 U.S. citizens may use Form N-565, Application for Replacement Naturalization/Citizenship Document, to replace a Certificate of Naturalization or Certificate of Citizenship. Both are documents that provide official proof of U.S. citizenship.
Only use this application if the U.S. government previously issued you a citizenship document. If the original certificate was lost, stolen or requires corrections, the N-565 application is the formal request to U.S. Citizenship and Immigration Services (USCIS) to replace the document.
U.S. citizens may use Form N-565 to request a replacement:
Certificate of Naturalization
Certificate of Citizenship
Declaration of Intention
Repatriation Certificate or
Original special certificate of naturalization as a U.S. citizen to be recognized by a foreign county
Do not file Form N-565 for the following reasons:
Mistakes on your N-565 application can cause costly delays or a denial.
Prepare your N-565 correctly and affordably with CitizenPath. The attorney-reviewed software guides you through the application and provides help to answer questions like this one. And personalized filing instructions help you to file your application today knowing that
you did everything right
! No credit card or signup required to try it.
Get started now >>
Common reasons to replace a citizenship document include:
Certificate was lost, stolen or destroyed.
Certificate was damaged/mutilated.
Citizen's name has changed since the document was issued.
Certificate contains incorrect information.
RECOMMENDED: Immigration Papers: Your Proof of Immigration Status