A Certificate of Naturalization is a document to prove that the person named on the certificate has obtained U.S. citizenship through naturalization. Naturalization refers to the process in which a person not born in the United States voluntarily becomes a U.S. citizen. For foreign-born persons, naturalization is the most common way to become a U.S. citizen. This document is different than a Certificate of Citizenship.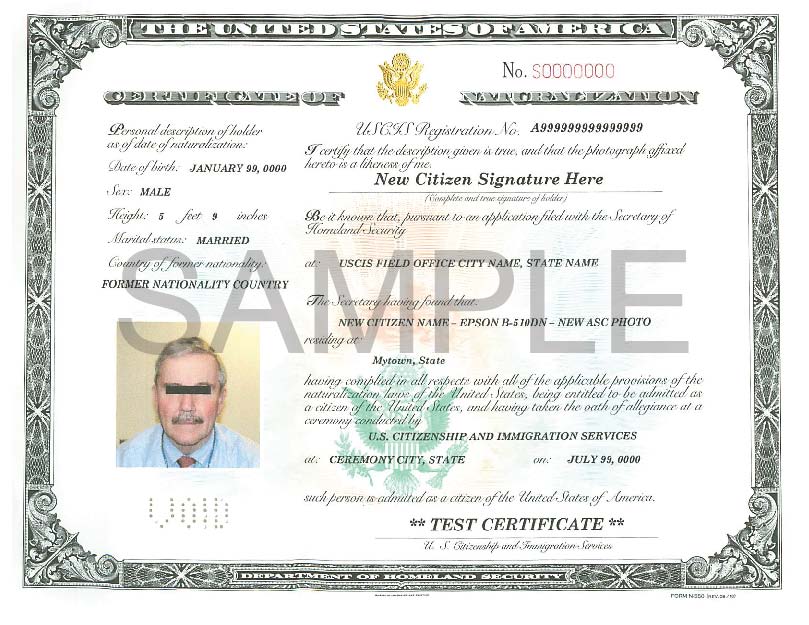 Your naturalization document should contain the label "Form N-550" or "Form N-570" in the bottom margin.
Obtaining an Initial Naturalization Certificate
Initially, a person obtains a certificate by filing Form N-400, Application for Naturalization, with U.S. Citizenship and Immigration Services (USCIS) and completing the naturalization process. Generally, this form must be submitted by permanent residents who meet the eligibility requirements. USCIS typically issues the certificate after an officer approves the Application for Naturalization and the applicant has taken the Oath of Allegiance.
CitizenPath takes the confusion out of applying for a Certificate of Naturalization. Our affordable service was designed by knowledgeable attorneys to make the process easy. Learn more >>
RECOMMENDED: Eligibility for U.S. Citizenship through Naturalization
Replacing a Certificate of Naturalization
U.S. citizens who want to replace a Certificate of Naturalization may file Form N-565, Application for Replacement Naturalization/Citizenship Document, with USCIS. You can replace a certificate for the following reasons:
Certificate was lost, stolen, destroyed or mutilated
Certificate is incorrect due to a USCIS typographical/clerical error
Name has legally changed
Gender has legally changed
CitizenPath takes the confusion out of replacing your certificate. Our affordable service was designed by knowledgeable attorneys to make the process easy. Learn more >>
RECOMMENDED: Certificate of Naturalization Replacement Process
Mistakes on your N-565 application can cause costly delays or a denial.
Prepare your N-565 correctly and affordably with CitizenPath. The attorney-reviewed software guides you through the application and provides help to answer questions like this one. And personalized filing instructions help you to file your application today knowing that
you did everything right
! No credit card or signup required to get started.
Try it before you buy it >>
Contents of Certificate
The Certificate of Naturalization contains information identifying the person and confirming his or her U.S. citizenship through naturalization. Specifically, the certificate contains:
Certificate number (generally a red 6- to 8-digit alpha numeric number)
Date of issuance (date the holder became a U.S. citizen)
USCIS registration number (A-number)
U.S. citizen's full name
Marital status
Place of residence
Country of former nationality
Photograph
Signature of applicant; and
Other descriptors: sex, date of birth, and height
The document also includes a Department of Homeland Security seal as well as a statement and signature by the USCIS Director indicating that the applicant complied with all the eligibility requirements for naturalization under the laws of the United States.
Certified True Copy of Certificate
When a naturalized U.S. citizen needs to have a certificate "authenticated" by the U.S. State Department for use by foreign governments or embassies, USCIS can copy the document and certify it as a true copy. "Authentication" is a term used by the U.S. Department of State and other governments to describe what USCIS refers to as Certified True Copies. When you require USCIS to authenticate a naturalization certificate, be sure to use the term "Certified True Copy." For more information on requesting a Certified True Copy, visit the USCIS website.
Obtaining a U.S. Passport
When applying for a U.S. passport, you may use the naturalization certificate as evidence of U.S. citizenship. You'll need to provide a photocopy of your certificate as one of the passport requirements when submitting the application for a U.S. passport (DS-11).