Common reasons why a family-based application for permanent residence may be denied by USCIS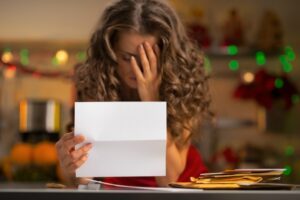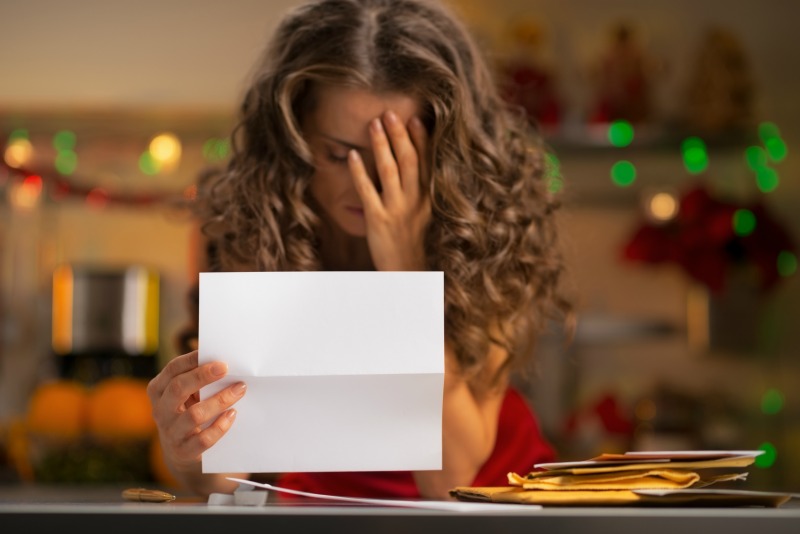 Each year the U.S. government allows thousands of people to enter the United States with permanent resident status. Permanent residence is symbolized with a card, most commonly referred to as a green card. But the government also denies thousands of green card applications. There are several possible factors for a green card application denial. The reasons vary from no basis for eligibility to grounds of inadmissibility to failure to properly deal with the application requirements.
Each year U.S. Citizenship and Immigration Services (USCIS) denies an estimated 8-10% of green card applications. In fiscal year 2016, data shows that USCIS received a total of 869,292 petitions for alien relatives (Form I-130), but also denied 59,496.
During the same period, USCIS received 338,013 family-based applications to adjust status (Form I-485) and denied 31,662 applications. Family-based applications for a green card are based on a family relationship with a U.S. citizen or lawful permanent resident.
This article is focused on USCIS denials of
family-based applications for green card
. The article does not address the additional paths to obtain a green card (i.e. employment, investment, lottery, etc.), but many of the denial reasons may be the same.
Ineligibility Reasons for a Green Card Application Denial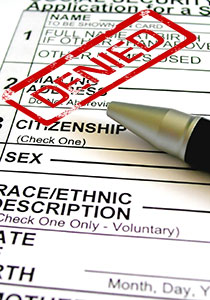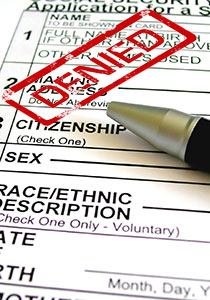 Eligibility for a family-based green card is very narrowly defined. That means there is very little room for interpretation. The good news is that you can quickly determine if you are eligible for a family-based green card.
U.S. citizens and lawful permanent residents can petition for a limited list of family members. But not all family members are eligible for this privilege. U.S. citizens may petition a spouse, son, daughter, brother, sister or parent. A lawful permanent resident may only petition a spouse or unmarried son or daughter.
Generally, it is impossible to directly obtain a green card for one's grandparents, aunts, uncles, nieces, nephews, and more extended relationships.
Immediate Relatives
An unlimited number of immigrant visas (green cards) can be issued to immigrants who are immediate relatives of U.S. citizens. Although there is "no wait" for an immediate relative immigrant visa, there is still a process that will most likely take several months. Immediate relatives include spouses, children and parents of U.S. citizens. But rules apply to each relationship type:
spouses of U.S. citizens, including recent widows and widowers and, as of 2013, same-sex couples whose marriage is legal in the state or country where it took place
unmarried people under the age of 21 who have at least one U.S. citizen parent
parents of U.S. citizens, if the U.S. citizen child is over the age of 21
stepchildren and stepparents, if the marriage creating the stepparent/stepchild relationship took place before the child's 18th birthday, and
parents and children related through adoption
Petitioning a relative with an adoptive relationship can be tricky. The adoption must have taken place before the child reached the age of 16. All immigration rules governing natural parents and children apply to adoptive relatives, but there are some additional procedures to be followed. When petitioning a relative with an adoptive relationship, it's generally best to consult with an immigration attorney.
Fiance(e)s of U.S. citizens are also just a few steps away from a green card. The couple may get married outside the U.S., and then the foreign spouse may apply as the spouse as a U.S. citizen. But if the fiancé is overseas and the couple wants to get married in the U.S. before applying for a green card, they must first apply for a temporary visa called a K-1 fiancé visa.
Family Preference
The family preference categories for an immigrant visa include other relationships to U.S. citizens and lawful permanent residents. A limited number of green cards are available to family preference applicants. Applicants will likely wait many years to get a green card. Family preference is prioritized in the following order:
Family first preference :unmarried people, any age, who have at least one U.S. citizen parent
Family second preference 2A: spouses of green card holders and unmarried children under age 21
Family second preference 2B: unmarried sons and daughters (who are over age 21) of green card holders.
Family third preference: married people, of any age, who have at least one U.S. citizen parent
Family fourth preference: sisters and brothers of U.S. citizens where the citizen is over 21 years old
If you don't fit the immediate relative or family preference categories above, do not apply. Your petition will certainly get denied. Small lies and fabrications of the truth will complicate your problems. If USCIS determines that you lied, the green card application denial will adversely affect the intending immigrant's future attempts to immigrate to the United States.
Inadmissibility Reasons for a Green Card Application Denial
Even if you fit an eligibility category, a ground of inadmissibility can cause a green card application denial. It's rather obvious that spies and terrorists will be denied a green card, but ordinary people with certain ailments and financial situations can also get denied. Applicants must demonstrate that they don't pose a danger to U.S. society on financial, health, security, immigration violation, or criminal grounds.
Financial

The U.S. relative that sponsors you will need to show sufficient income or assets to support you at 125% of the U.S. poverty guidelines (in addition to supporting his/her own family). If you can't support yourself, this measure helps to ensure that you won't depend on government assistance. To review the current poverty guidelines levels, see Form I-864P.

Health

The U.S. government will also require you to get a medical examination conducted by a USCIS designated physician. The examination is required to establish that an applicant is not a public health risk such as a carrier of a disease that presents a public health risk, or having a dangerous physical or mental disorder. See Form I-693.

Immigration Violations

Your immigration history will be reviewed. Immigration officials will likely deny your green card application if you have overstayed a visa by six months or more, or if you have ever entered the country unlawfully. The government will also seek to determine if the parent's visa (if applicable) has ever been misused.

Criminal Record

You will certainly run into problems if you have committed certain crimes, like aggravated felonies, drug crimes, or acts of terrorism.
A waiver, a form of legal forgiveness, may be available in some cases, but these require careful analysis and documentation, best provided by an immigration attorney.
| | |
| --- | --- |
| Classes of Inadmissibility | Waiver Available? |
| People with communicable diseases like tuberculosis | |
| People with physical or mental disorders that may cause harm to themselves or others | |
| Drug abusers or addicts | |
| Drug traffickers | |
| People without proper vaccinations | |
| People with convictions for crimes involving moral turpitude | |
| People who have violated immigration laws | |
| Prostitutes | |
| People with multiple criminal convictions | |
| Spies | |
| Terrorists | |
| Nazis | |
| People likely to become dependent on need-based government assistance | |
Everyone who applies to enter the United States is checked for inadmissibility. If your situation may include any of the above conditions, please consult with an immigration attorney before attempting to file any USCIS form.
Application Mistakes Can Cause Green Card Application Denial
Obtaining a green card is not a simple matter of filling out a form. The collection of forms must be prepared carefully, and the applicant must file them in certain steps with specific supporting documents. The U.S. government may deny applications due to inconsistencies, mistakes, incomplete facts and failing to follow the directions. In some cases, inconsistencies can be perceived as lies and result in a green card application denial.
There are options for people that want help in the preparation process. CitizenPath's low-cost online software helps people fill out the applications with simple directions and a process that checks for common errors. CitizenPath will even guarantee that USCIS accepts the applications.
Immigration attorneys will also help applicants prepare forms with personal guidance through the process. Attorneys can also represent a client in court or more complicated cases. Of course, attorney costs can add up quickly.
Appealing a Green Card Application Denial
USCIS has been known to make errors, and even lawyers occasionally make a mistake that results in a denial. There is an appeal process, but many lawyers prefer to re-file the application. (Appealing a decision can end up costing more time and money.) Regardless, any case that initially results in a denial is more complicated. Get the help of an experienced immigration attorney to guide you through the process.
If you applied for a green card inside the United States (i.e. by filing Form I-485), you can file Form I-290B with USCIS to appeal the denied green card application. The appeal must be filed within 30 days of the notification of the decision (or 33 days if you received the notification by mail) along with the applicable filing fee.
If you applied for a green card outside the U.S. (i.e. through a U.S. consulate abroad), you will have to ask the principal consular officer to review your case. If the officer desires, he or she can get a second opinion from the State Department. However, if the office upholds the decision to deny a green card, there is no appeal available. Generally, you must start the case over again by refiling the I-130 petition.
About CitizenPath
CitizenPath provides simple, affordable, step-by-step guidance through USCIS immigration applications. Individuals, attorneys and non-profits use the service on desktop or mobile device to prepare immigration forms accurately, avoiding costly delays. CitizenPath allows users to try the service for free and provides a 100% money-back guarantee that USCIS will accept the application or petition. We provide support for the Petition for Alien Relative (Form I-130), Petition to Remove Conditions of Residence (Form I-751), Citizenship Application (Form N-400), and several other USCIS forms.