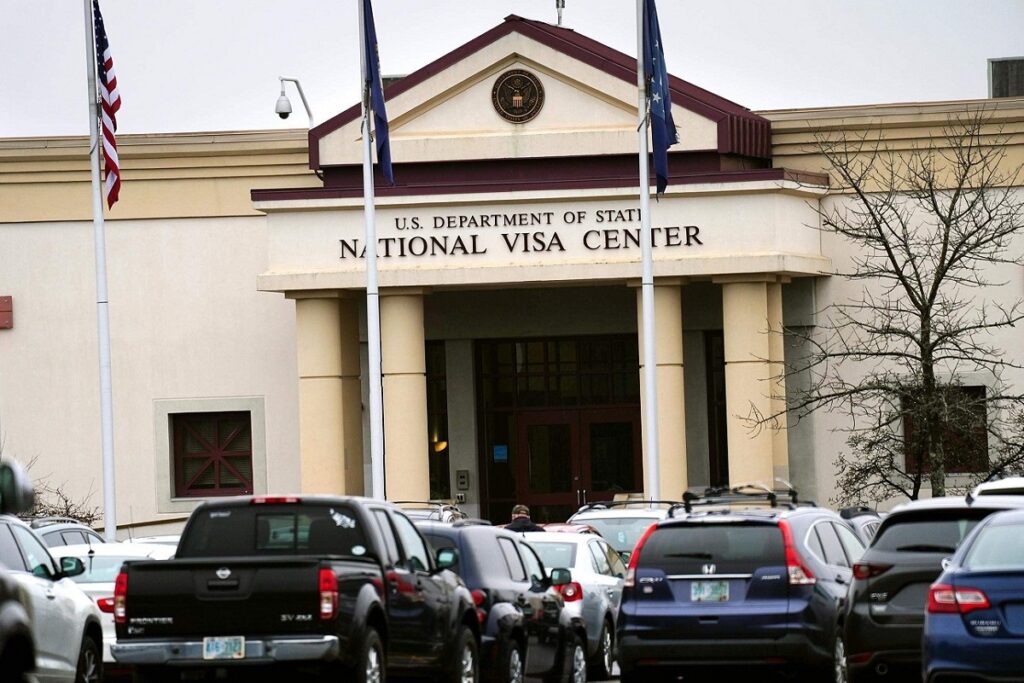 The National Visa Center (NVC) is the part of the U.S. Department of State that performs pre-processing tasks for visas on behalf of U.S. embassies. Located in Portsmouth, New Hampshire, the NVC does much of the basic processing for immigrant visas (green cards) to take the burden off each embassy. However, they also handle some nonimmigrant visa types.
If you're filing a family-based petition such as Form I-130 for a relative or Form I-129F for a fiancé, here's what you should know about the National Visa Center.
Once U.S. Citizenship and Immigration Services (USCIS) approves a visa petition, they need to move the case to the U.S. State Department for consular processing. Consular processing encompasses the activities to complete the visa overseas. Common examples of visa petitions include the following forms:
I-129F, Petition for Alien Fiancé
I-130, Petition for Alien Relative
I-140, Petition for Alien Worker
Other forms like Forms I-360, I-526, I-600, and I-800 may be sent to the National Visa Center as well.
After USCIS approves a petition, they will send you a Notice of Approval (I-797). At the same time, USCIS will move the files to the NVC. (It may take a month or more for the NVC to receive your case from USCIS.) Upon receipt, the NVC will give your case a unique NVC case number and send you a letter notifying you that they have your petition and what to do next.
However, an approved petition does not necessarily mean that the NVC will begin processing the green card. To start, the beneficiary must have an immigrant visa immediately available.
National Visa Center Case Status
To see how long it is currently taking the National Visa Center to process cases like yours, check their NVC timeframes page:
The NVC timeframes page only describes the general processing time for all cases. To reach a reasonable expectation for your case, it's important to understand how it will be processed.
Generally, the petitions for immediate relatives (spouse, parents and unmarried children under 21 of U.S. citizens) don't spend much time at the NVC. That's because there is no annual limit on the number of immigrant visas issued to immediate relatives.
On the other hand, family-based preference categories and employment categories do have a wait in most cases. Congress set a limit on the number of immigrant visas issued in these categories each year. Consequently, there are typically more visas requested than there are available each year. The case may sit for months or even several years until an immigrant visa becomes current.
When USCIS receives a visa petition for these categories, they provide a "priority date" on the receipt notice. For example, after filing Form I-130, USCIS responds with Form I-797C, Notice of Action, also known as a receipt notice.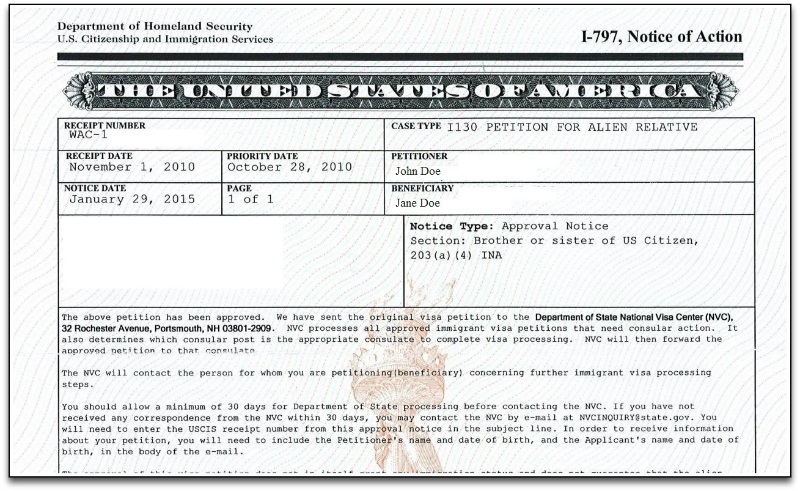 The receipt notice contains a priority date. When your priority date meets the most recent cut-off date in the State Department's monthly visa bulletin, it becomes "current." Once a case is close to becoming current, the NVC will start processing the next steps.
RECOMMENDED: How the Visa Bulletin Works
What Happens When a Priority Date is Current
If your priority date is before the most recent cut-off date, or is likely to become current soon, the National Visa Center will:
Request that you pay visa application fees.
Collect the visa application (DS-260) and supporting documentation such as Form I-864 Affidavit of Support.
Hold your visa petition until an interview can be scheduled with a consular officer at a U.S. embassy or consulate.
National Visa Center Contact Information
You can reach the NVC by phone or email. Normal operating hours are Monday through Friday from 7:00am to 12:00 midnight Eastern Standard Time.
Phone: (603) 334-0700
Email Form: Public Inquiry Form
Be patient. NVC response times for email inquiries generally take 1 to 3 weeks. It may take them some time to answer your questions. Carefully submit your inquiry with all necessary information. The public inquiry form is also the appropriate way to inform the NVC of an address change that affects the petitioner or beneficiary. Phone-based customer service is available to immigrant visa inquiries only. During the COVID-19 outbreak, NVC has temporarily suspended nonimmigrant support.
NVC Doesn't Touch Adjustment of Status Cases
The National Visa Center only works with cases related to consular processing. USCIS handles all adjustment of status cases for individuals who are inside the United States. If you opted for adjustment of status on Form I-130, Petition for Alien Relative, USCIS will not forward your case to the NVC. Instead, they will send it to the local USCIS office in the United States that was listed on the I-130 petition. But what if you opted for consular processing on Form I-130 and subsequently changed your mind? You are likely eligible to adjust status is you are:
Lawfully present in the U.S. through a lawful entry;
Have an approved visa petition; and
The visa petition is current.
Even if you opted for consular processing, you may proceed with adjustment of status. Once you file Form I-485 to adjust status, USCIS will recall the case from the National Visa Center. If you received a welcome letter from the NVC asking about your intentions, this is also an appropriate time to indicate that you've decided to file Form I-485 inside the United States. You do not need to pay any NVC fees.
Upgrade Petition After Becoming a U.S. Citizen
As you know from reading above, petitions for immediate relatives have a higher priority category. Therefore, you may want to "upgrade" a petition if your recently became a U.S. citizen. If you filed a petition for your spouse and/or children when you were a lawful permanent resident and you are now a U.S. citizen, the type of immigrant visa that your family members can receive will change. In order to make this change, you must submit proof of citizenship to the National Visa Center so they can revise your family member's visa category. Scan and save one of the following items as a PDF or JPG file:
A copy of the biodata page of your U.S. passport; or
A copy of your certificate of naturalization.
Send the proof of citizenship to the NVC as an attachment via the Public Inquiry Form.
RECOMMENDED: Upgrade an I-130 Petition After Naturalization
About CitizenPath
CitizenPath provides simple, affordable, step-by-step guidance through USCIS immigration applications. Individuals, attorneys and non-profits use the service on desktop or mobile device to prepare immigration forms accurately, avoiding costly delays. CitizenPath allows users to try the service for free and provides a 100% money-back guarantee that USCIS will approve the application or petition. We provide support the Family-Based Immigrant Petition (Form I-130), Adjustment of Status Application (Form I-485), and several other immigration packages.