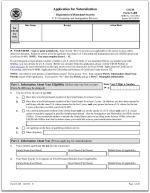 Permanent residents use Form N-400, Application for Naturalization, to apply for U.S. citizenship through the naturalization process.
Naturalization refers to the process in which a person not born in the United States voluntarily becomes a U.S. citizen. For foreign-born persons, naturalization is the most common way to become a U.S. citizen. Nearly a million people naturalize a year and now enjoy the benefits of U.S. citizenship.
Naturalization Requirements
The permanent resident must meet certain requirements before he or she is eligible to apply for naturalization with Form N-400. Generally, applicants must be 18 years old and fall into one of the following three basic eligibility categories
Have been a permanent resident for the past 5 years | Learn more
Currently married to and living with a U.S. citizen and have been married to and living with that same U.S. citizen for the past 3 years | Learn more
Currently serving in the U.S. armed forces (or will be filing your application within 6 months of an honorable discharge) and have served for at least 1 year | Learn more
The vast majority of applicants fall into one of the categories above. But there are additional eligibility categories which you can find in Chapter 4 of the USCIS Guide to Naturalization.
RECOMMENDED: 5 Paths to Citizenship That Most People Don't Know About
Cost to File N-400
The cost to naturalize with Form N-400 is more than filing a green card renewal, but significantly less than remaining a permanent resident over a lifetime. There is also a fee waiver and partial fee waiver for certain qualified individuals. Learn more about costs of filing Form N-400.
RECOMMENDED: How to Get U.S. Citizenship at a Reduced Cost
Did you know minor mistakes on your Form N-400 application can cause costly delays and rejections?
Prepare your N-400 quickly and correctly with CitizenPath. The attorney-reviewed software guides you through the application and provides help to answer questions like this one. And personalized filing instructions help you to file your application today knowing that
you did everything right
! No credit card or signup required to try it.
Get started now >>
What Happens After Filing Form N-400
The processing time for Form N-400, Application for Naturalization, can vary from 8-12 months for the majority of applicants. Most people will need to attend three separate appointments: a biometric appointment, naturalization interview, and the oath ceremony.
RECOMMENDED: N-400 Processing Time