How do I attach additional records to my I-130 petition?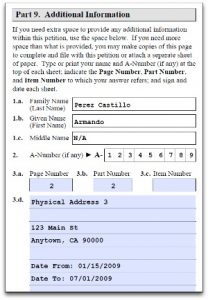 In many cases you may have more information than will fit into the standard space provided on Form I-130, Petition for Alien Relative. This is common for petitioners with several previous addresses or employers.
If possible, you should make use of Page 12, Part 9 of Form I-130. Add any additional information which did not fit in other parts of the form. See this example for Part 9 Additional Information.
When Part 9 isn't sufficient, CitizenPath has an I-130 Attachment Template.
I-130 Attachment Template
The I-130 Attachment Template is only for use in situations that the Part 9 Additional Information is not sufficient to address your needs. CitizenPath provides a downloadable Microsoft Word template.

The template is a starting point. You can delete sections that you do not need. If you are creating your own attachment sheet, be sure to include your full name and alien registration number on each sheet. You can also modify the template to work with Form I-130A.
Did you know minor mistakes on your Form I-130 can cause costly delays and rejections?
Prepare your I-130 petition quickly and correctly with CitizenPath. The attorney-reviewed software guides you through the petition and provides help to answer questions like this one. And personalized filing instructions help you to file your petition today knowing that
you did everything right
! No credit card or signup required to try it.
Get started now >>
How to Submit the I-130 Attachment Sheet(s)
When filing your I-130 petition, include this sheet directly behind your completed Form I-130. Mail the petition to the address that corresponds with your state (as described on USCIS.gov) or refer to your CitizenPath filing instructions.