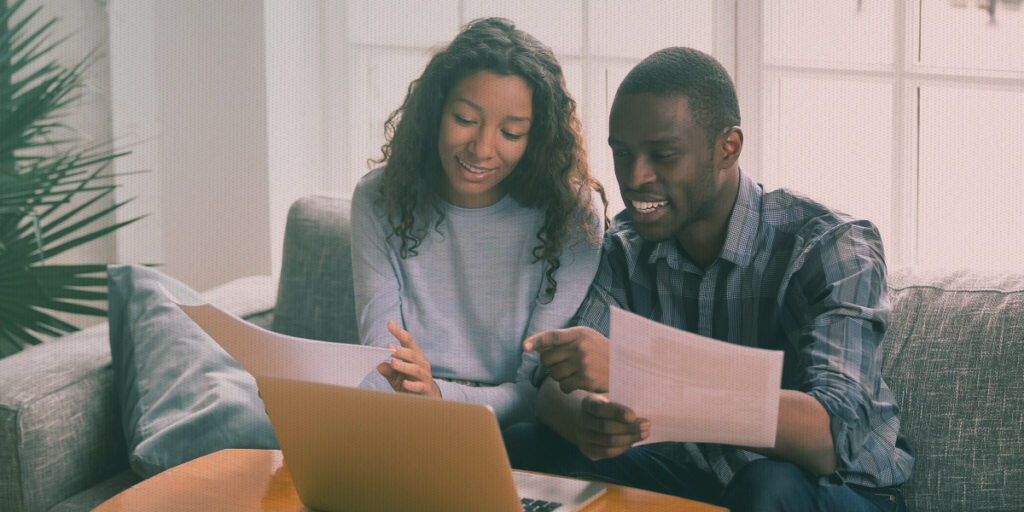 If you're planning to help a spouse immigrate to the United States, you'll likely need to file Form I-130 (Petition for Alien Relative) and Form I-130A (Supplemental Information for a Spouse Beneficiary) with U.S. Citizenship and Immigration Services (USCIS). It's the start of an immigration journey, and it won't always be simple. It's wise to educate yourself on the process and requirements to minimize the potential for problems and delays. After all, a quick approval of the spouse petition is the goal to help your husband or wife immigrate.
USCIS forms and requests for benefits can be deceptively simple. Many people assume that the immigration agency will request additional information if necessary or point out problems. Often, this isn't the case. The burden is on filers to prove you are eligible for benefits. CitizenPath has on online service backed by live customer support to help you through the process. In the case of a spouse petition, there are several things that could go wrong. Here are five problem areas to appreciate as you prepare a spouse's petition.
Insufficient Evidence of a Bona Fide Marriage
When you file a spouse petition for a green card, you'll also need to submit several supporting documents. This includes any documentation that backs up the facts you are stating on the actual I-130 petition.
When petitioning a spouse, it's not adequate to submit only a marriage certificate to prove the merits of the marriage. USCIS wants proof that you have a genuine relationship that was entered into for the purposes of spending your lives together. The burden is on the petitioner to prove the "bona fides" of the marriage. In other words, you must submit evidence that backs up your claim that you have a real marriage.
USCIS is always on the look out for potential green card fraud. It is fraudulent to get married simply for the purpose of evading immigration laws. Therefore, USCIS wants to see that the married couple is truly in it for love.
If you're not sure what to submit with your petition, use CitizenPath to prepare Form I-130, Petition for Alien Relative. Our filing instructions will explain exactly which supporting documents to submit for your situation.
RECOMMENDED: Best Evidence of Bona Fide Marriage to Support a Spousal I-130 Petition
Failing to Document the Termination of Previous Marriages
You'll need to prove you have a genuine marriage, but you'll also need to prove that you terminated any previous marriages. If you and your spouse were never married before, this does not apply to you.
If either you or your spouse were previously married, submit copies of documents showing that all prior marriages were legally terminated. Examples of acceptable documents include:
A certified copy of the divorce or annulment decree
A copy of the death certificate (if the marriage was terminated due to the death of a spouse)
When preparing Form I-130, you'll need to supply the date for these events. Don't guess. Get a copy of the document so that you can provide an accurate answer. If you've lost the decree or certificate, you may generally request copies of these vital records from the court or local government offices where it occurred.
Omitted or Inaccurate Information
When you file a spouse petition for a green card, it's important that you take the time to ensure the information you provide is accurate and complete. Discrepancies, inaccuracies, and outright omission can sometimes lead to serious problems.
Misrepresentation during the green card process can be catastrophic for the beneficiary. In other words, it can lead to the spouse getting a denial.
There are situations that incomplete information is acceptable. For example, you may not remember the exact date that you started a job. You can provide your best estimate, so long as it is truthful. But other times, inaccurate information can be costly. If you're not sure, just ask.
Filing for an Undocumented Spouse
It may or may not be advisable to file a petition for an undocumented spouse. This depends on several circumstances. When using the term "undocumented," we're describing someone who is physically present inside the United States without a lawful immigration status.
Being undocumented can generally happen in two different ways. The person may have entered unlawfully because he or she never had permission to enter the U.S. Alternatively, a person can enter with a valid visa or parole that expires. If the visitor never leaves, he and she also become undocumented.
This distinction is important when applying for a green card from inside the United States. In order to file Form I-485 to adjust status to permanent resident (green card holder), the beneficiary generally must have a lawful entry. In other words, the beneficiary must have initially entered legally, even if that status is now expired. Individuals without a lawful entry should expect a more complicated process that requires a request for an I-601A waiver with the assistance of an attorney.
Spouse of a U.S. Citizen
The spouse of U.S. citizen who has a lawful entry can typically file an adjustment of status application package that includes the spouse petition. This is a relatively straight forward process as long as the beneficiary doesn't have a criminal history or other significant immigrant violations. Spouses of U.S. citizens are considered immediate relatives and are often exempted from problems related to the period of unlawful presence (provided they did not depart the United States.)
RECOMMENDED: Marrying an Undocumented Immigrant and the Immigration Hurdles
Spouse of a Lawful Permanent Resident
The spouses of lawful permanent residents are not in the immediate relative category. Instead, immigration law puts them in the family preference category, and the same exemptions are not available. It may be significantly more difficult for the undocumented spouse of a green card holder to obtain a green card. Any period of unlawful presence in the United States can be problematic.
Even filing a standalone spouse petition (Form I-130) for a person without legal immigration status could put them at risk. By sharing the individual's status and address, the petition exposes the individual to potential removal proceedings.
Falling out of Status
Once you've filed the spouse petition for a green card, it may be necessary for the intending immigrant to maintain status.
Filing Standalone I-130
When a U.S. citizen or lawful permanent resident files an I-130 petition for spouse, it doesn't trigger any immigration status for the beneficiary. The beneficiary doesn't gain an immigration status when USCIS approves the spouse petition. The petition establishes that there is a qualifying relationship and reserves a visa number. The immigrant visa and status are not available to the beneficiary until the government grants the immigrant visa (green card).
If your spouse is in the United States with a non-immigrant status, it's critical that they maintain status
Filing Concurrent I-130 and I-485
If your spouse is eligible to file the petition concurrently with the green card application, there's less of a need to maintain a non-immigrant status. But it may be the smart approach if possible.
When USCIS accepts an adjustment of status application, the beneficiary becomes an "adjustment of status applicant" with the legal right to remain in the United States. The beneficiary may not be required to maintain his or her previous non-immigrant status, but there are advantages to keeping in good status.
For example, a beneficiary who is visiting on a B-2 visa cannot extend that status. He or she would have to recommit to a non-immigrant intent. This would be misrepresentation, because the beneficiary's intent is to immigrate at this point. It is not appropriate to extend B-2 status when adjusting status.
However, a non-immigrant F-1 student could continue to attend school and stay within the terms of the F-1 visa. An H-1B employee could continue to work for the same employer and stay within the terms of H-1B status. In a worst-case scenario that USCIS denies the green card application, the beneficiary has maintained non-immigrant status and may stay in the United States.
Again, this option isn't available to everyone in every non-immigrant status.
RECOMMENDED: Maintaining Status After Filing Form I-485
About CitizenPath
CitizenPath provides simple, affordable, step-by-step guidance through USCIS immigration applications. Individuals, attorneys and non-profits use the service on desktop or mobile device to prepare immigration forms accurately, avoiding costly delays. CitizenPath allows users to try the service for free and provides a 100% money-back guarantee that USCIS will approve the application or petition. We provide support for the Petition for Alien Relative (Form I-130), Adjustment of Status Application (Form I-485), and several other USCIS forms.
Want more immigration tips and how-to information for your family?
Sign up for CitizenPath's FREE immigration newsletter and
SAVE 10%
on our immigration services