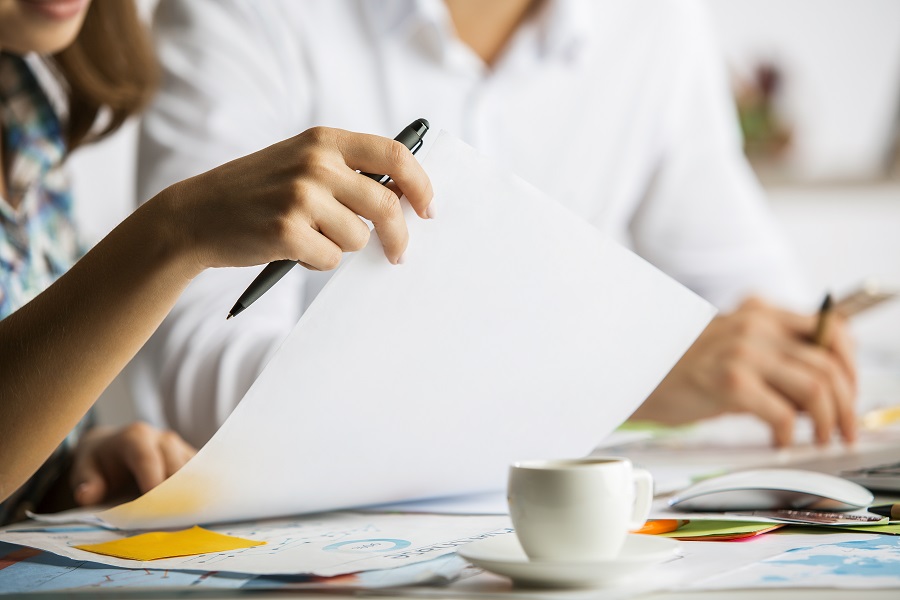 Intending immigrants who want to prepare Form I-485, Application to Register Permanent Residence or Adjust Status, face a challenge. The Form I-485 instructions can be extraordinarily intimidating. After all, there are 42 pages of instructions for the green card application. What's more, other forms are typically filed concurrently as a part of the adjustment of status package. In some cases, an innocent mistake can result in significant delays, long-term immigration problems, or even an I-485 denial.
The consequences of deviating from the I-485 instructions can be significant. U.S. Citizenship and Immigration Services (USCIS) recently published a policy memo that provides guidance to USCIS officers who make decisions about your adjustment of status application. The revised policy broadens their ability to deny an I-485 application without first issuing a Request for Evidence (RFE) or Notice of Intent to Deny (NOID) when required initial evidence was not submitted or the evidence of record fails to establish eligibility. Therefore, it's essential that you follow the Form I-485 instructions exactly or use a service like CitizenPath that can help you prepare your Form I-485 and related forms.
Options for Preparing Form I-485
The gold standard for preparing any immigration forms is to use an experienced immigration attorney. Depending on the case, attorney fees can be $1,500-$5,000 (not including USCIS fees). For individuals with complex situations, criminal offenses, or serious immigration violations, using an lawyer is the best option. But most people with straight-forward situations don't need a lawyer.
That's why CitizenPath created a cost-effective solution for preparing Form I-485 and the entire adjustment of status package. The service was designed by experienced immigration attorneys for people with straight-forward cases. The smart software even allows our customers to prepare Form I-130, Petition for Alien Relative (and Form I-130A) at the same time if needed. Our software makes the process easy. It provides alerts if we detect a problem. And we guarantee that USCIS will accept your application… or your money back. Maybe best of all, it's free to get started. You don't pay for our service until you're done. Try it now >>
Form I-485 Instructions
We compiled some basic step-by-step I-485 instructions for your convenience. We've skipped over simple items and focused on the areas the most people need help. When preparing your I-485 application on CitizenPath, you'll find more extensive directions.
Part 1: Information About You
For Your Current Legal Name use the name that appears on your passport, unless you have changed it. For example, you may use your new married name if your recent marriage legally changed your name. You'll need to submit a copy of the marriage certificate as evidence of the name change. In Other Names provide any other names, including a maiden name, that you have used.
Always use a Mailing Address where you can reliably receive mail from USCIS. Certain applicants who are victims of crime or abusive situations may use an Alternate and/or Safe Mailing Address. You may use a Post Office box or other mail box service. If you receive mail at someone else's home, enter that person's name in the "In Care Of" line.
Your Place of Last Arrival into the United States is generally the port of entry where you were inspected by a U.S. Customs and Border Protection (CBP) officer. It can be an airport, seaport or land border crossing. However, it should be a U.S. location. So if you were inspected by U.S. immigration officials in another country, use the location where you actually entered the United States. Generally, you must have a lawful entry. This means that you had valid documentation (i.e. visa, refugee status, etc.) and made face-to-face contact with the CBP officer. However, at some border entries, visitors may be "waved" across while in their cars. This also counts as a lawful entry as long as you had the proper documentation (e.g. Visa Waiver Program).
Most people can find their 11-digit Form I-94 Arrival-Departure Record Number and other particulars on the I-94 Website. Asylees, refugees, or applicants who entered through a land border crossing may be provided with a paper-based Form I-94 instead. Canadian visitors who were waved across while in their cars generally do not have an I-94 record. Only certain classes (such as immediate relatives) may adjust status if the "Expiration Date of Authorized Stay" is in the past. For example, the spouse of a U.S. citizen can adjust status after a visa overstay. If you are unsure, use CitizenPath or speak to an immigration attorney before proceeding.
Part 2: Application Type or Filing Category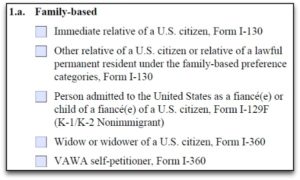 Check one box that indicates the Application Type or Filing Category. At this point, you'll need to understand the basis of your eligibility. Most people adjust status through a family-based category. Determine if you are an immediate relative or family-based preference category. Foreign spouses who entered on a K-1 visa (or their K-2 dependents) would apply in their own category. The vast majority of applicants do not apply for adjustment based on the Immigration and Nationality Act (INA) section 245(i).
If you are filing Form I-485 concurrently with the visa petition, you may skip Information About Your Immigrant Category. On the other hand, you'll need to provide details about your pending or approved visa petition if it was previously filed. Depending on your application type, the visa petition could be Forms I-130, I-140, I-360, I-589, I-590 or I-730.
Most people are principal applicants. A derivative applicant is an intending immigrant who cannot be directly petitioned for, but who can acquire the ability to adjust status through the principal applicant. The spouse and/or unmarried child (under the age of 21) of an applicant generally receive the same or similar immigration benefits (green card) as the principal.
Part 3: Additional Information About You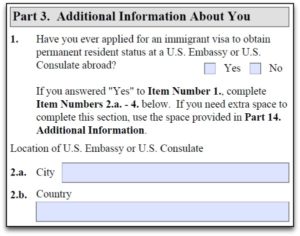 Indicate if you have ever applied for an immigrant visa to obtain permanent resident status at a U.S. embassy or consulate. If you have ever been refused or denied a visa, understand the reason why and how it may affect your current application. Speak to an immigration attorney if necessary.
According to the I-485 instructions, you should provide five years of Address History and Employment History (inside or outside the United States). Enter complete addresses and relevant dates. Estimate the date to the best of your ability if you cannot remember the exact date. If you need extra space, you'll need to add the others to Part 14 Additional Information on the last page. This information will be used to do a background check. Employment is not a requirement for eligibility. Indicate "Unemployed" if you have not worked during any period. However, if you've been employed inside the United States, be sure that you were authorized to work.
Part 4: Information About Your Parents
Provide information about your parents. This information will be used for a background check. If the information is unknown or your parent is deceased, you may indicate so.
Part 5: Information About Your Marital History
Most of this section should be self-explanatory. Its importance is elevated if you are applying for permanent residence on the basis of marriage. In particular, you'll want to provide accurate information about your current and former spouses (if applicable) and provide evidence that any previous marriages have ended.
Part 6: Information About Your Children
Provide details about all of your living children, regardless of age. As per the Form I-485 instructions, children includes biological, step and adopted sons and daughters. Even if your children will not be immigrating, list them here.
Part 7: Biographic Information
USCIS uses this information for identification and statistical information. As you may have noticed, Hispanic/Latino is provided as a choice for ethnicity, but it is not provided as a choice for race. This is because USCIS (and the U.S. government) do not define Hispanic/Latino as a race. For race, you must choose one or more of the values provided in the list. There is no wrong answer. You may answer the question with the race(s) you most closely identify.
Adjustment applicants with origins from Cuba, Mexico, Puerto Rico, South or Central America, or any other Spanish culture or origin should choose the race(s) that fits best for your situation. Many Hispanic applicants select "white" but others choose "black" or "American Indian." (You may choose more than one.) There is no one single answer that works for all Hispanic people. The answer is individual to you.
Part 8: General Eligibility and Inadmissibility Grounds
There are a variety of ways that USCIS can find an intending immigrant to be "inadmissible" to the United States. Part 8 covers this topic.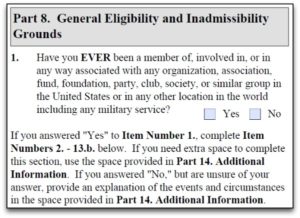 List your present and past membership in or affiliation with all organizations in the United States or any other country. Include any military service. Examples include religious organizations, professional associations, political groups and social clubs. USCIS may evaluate your affiliations with certain organizations that may be illegal or against the general principles of American democracy. Use your best judgement to determine if your involvement with a group or organization conflicts with these principles. If you are unsure, talk to an attorney.
You should answer every question honestly and accurately. If you believe a truthful answer could create a problem on the application or you are unsure of your answer, speak to an immigration attorney before filing Form I-485.
Part 9: Accommodations for Individuals With Disabilities and/or Impairments
USCIS will provide reasonable accommodations for qualified individuals with disabilities and impairments that will help them fully participate in USCIS programs and benefits. Reasonable accommodations will vary based on each individual's disability or impairment. If you believe that you need USCIS to accommodate your disability and/or impairment, indicate "Yes" where applicable and describe the accommodation you require.
Part 10: Applicant's Statement, Contact Information, Declaration, Certification, and Signature
Indicate if you have prepared Form I-485 on your own or through the assistance of an interpreter and/or preparer. Even if a family member or friend prepared the application, you should indicate here. Provide information so that USCIS can contact you. Although it's unlikely that USCIS will contact you by phone, they will provide communication by email. After reviewing the application for accuracy, the applicant will sign here. The applicant will only sign in this part.
Part 11: Interpreter's Contact Information, Certification, and Signature
Although speaking English is not a requirement for permanent residence, understanding the application and your I-485 instructions is vital. If you have received assistance from an interpreter, provide the interpreter's information in this part. The interpreter must also sign this part.
Part 12: Contact Information, Certification, and Signature of Person Preparing this Application, If Other Than the Applicant
Do not fill in this section if you prepared the application yourself. On the hand, provide the preparer's information if another person – even a non lawyer — prepare the application for you. The preparer must also sign this part.
Part 13: Signature at Interview
Do not fill in this section or sign it now. The USCIS officer will have you sign it during your interview.
Supporting Documents
There are generally several forms and supporting documents that you must submit with your adjustment of status application. Although the I-485 instructions cover this information, it can be extraordinarily confusing. That's why CitizenPath provides easy-to-read, customized filing instructions for every applicant. Based on your answers in the adjustment of status application, we personalize your filing instructions so that you know exactly which documents to submit. We even provide cover letter templates and instructions on how to organize your adjustment of status package. Learn more >>
About CitizenPath
CitizenPath provides simple, affordable, step-by-step guidance through USCIS immigration applications. Individuals, attorneys and non-profits use the service on desktop or mobile device to prepare immigration forms accurately, avoiding costly delays. CitizenPath allows users to try the service for free and provides a 100% money-back guarantee that USCIS will approve the application or petition. We provide support for the Adjustment of Status Application (Form I-485), Petition to Help a Relative Obtain a Green Card (Form I-130), and several other USCIS forms.