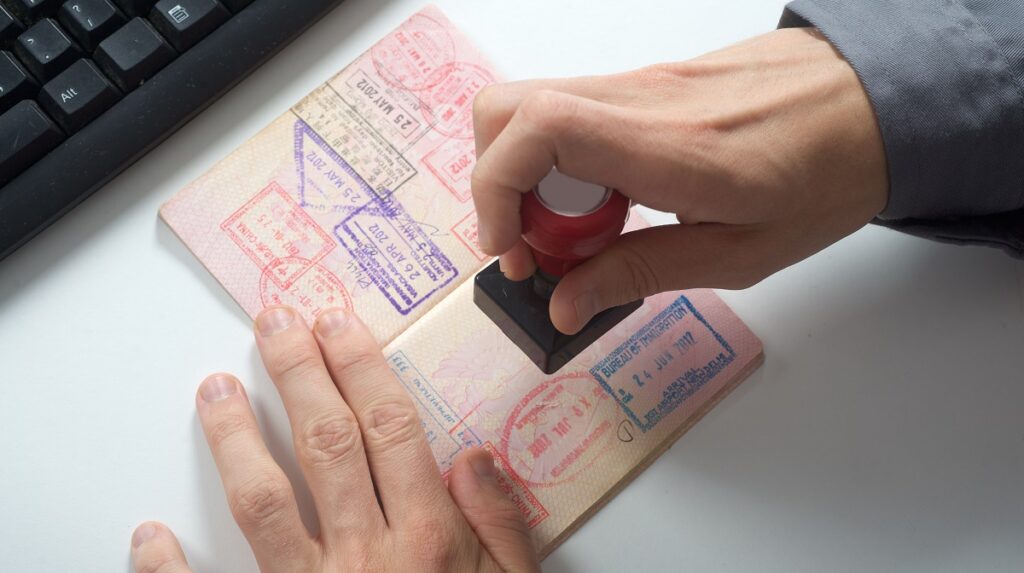 The phrase "immigrant intent" is used in the discussion of American visas and is an important concept in U.S. immigration law. If you are requesting a visa to visit the United States for short-term purposes, you need to understand that the U.S. government will always assume that you have an immigrant intent. If you want them to approve the visa, you'll generally need to demonstrate that you do not have immigrant intent.
First, let's make sure you understand there is a distinct difference between an immigrant visa and a non-immigrant visa in U.S. immigration law. The U.S. issues immigrant visas (green cards) to foreign nationals who will live and work permanently in the United States. On the other hand, non-immigrant visas are for temporary visits to the United States. Examples of non-immigrant visas include tourism/pleasure (B-2), school (F-1), short-term business (B-1), and exchange programs (J-1).
Mistakes on USCIS forms can cause costly delays or a denial.
Prepare your application correctly and affordably with CitizenPath. The attorney-reviewed software guides you through immigration forms and provides help to answer questions like this one. And personalized filing instructions help you to submit the application today knowing that
you did everything right
! No credit card or signup required to get started.
Try it before you buy it >>
Your Non-Immigrant Visa Application
Before you even submit your application to visit the United States for any non-immigrant purpose, the U.S. government makes an assumption that you want to stay permanently. This is a presumption of immigrant intent.
The burden is on you to show that you will depart the U.S. once the stated purpose your trip has concluded and/or the authorized stay has expired. For example, temporary visa categories (such as B, F, J, M, Q, TN and visa waiver program visitors) have short-term activities assigned to them. During the visa application process, immigration officers look for reassurances that you have sufficient ties to your home country that will compel you to leave the U.S. after the temporary stay.
The DS-160 visa application will include some questions that give consular officers some indication of your immigrant intent.
RECOMMENDED: How to Apply for a U.S. Non-Immigrant Visa (DS-160)
Previous Immigrant Petitions
The application will ask, "Has anyone ever filed an immigrant petition on your behalf with the United States Citizenship and Immigration Services?" This question is asking if a family member, business or other entity has every filed a petition to help you get a green card. Forms I-130, I-140 or I-360, are examples of immigrant petitions. This doesn't necessarily mean that you have an immigrant now, but it is an indicator that you've had an immigrant intent in the past. Therefore, the consular officer will want to know more.
Family Information
The DS-160 will ask that you provide information about any relatives, including those living in the United States. If you have close relatives in the United States, especially a spouse, you are more likely to have an immigrant intent.

Proving Non-Immigrant Intent at Your Consular Interview
Part of the consular officer's job is to assess your intention to use the temporary visa as requested. The government issues an F-1 visa to visitors coming for the purpose of studying at an American university. B-2 visas should be used for pleasure and medical visits. The officer will likely deny a visa if he or she believes you intend to use the visa in a way that is not permitted. This includes staying in the U.S. indefinitely.
The consular officer will assess your ties to your home country. In other words, he or she will consider factors to determine if your home country is a place you are likely to return to. The officer will evaluate factors such as:
Owning and/or maintaining a home
Permanent employment
Close family members in home country
Involvement with other organizations (e.g. social, religious, etc.) that demonstrate an incentive to return to the home country
Port of Entry
Once the embassy or consulate grants a visa, you will likely have to confront the immigrant intent presumption at the port of entry as well. The port of entry is an official inspection point for the United States, it is typically an airport, seaport or land border crossing where an immigration officer admits you as a visitor.
U.S. Customs and Border Protection (CBP) is generally responsible for admitting foreign visitors at a port of entry. The CBP officer may ask you several questions to evaluate the purpose of your visit. Many of the same questions about your residence, personal assets, and return trip may come up. For most visitors, this is a quick conversation.
Be Prepared If Necessary
In general, there isn't a requirement to bring documentation that supports your intent to return home. However, if your circumstances put you at more risk of being found to have an immigrant intent, there are items that you can carry to demonstrate your intended trip is only temporary. According to CBP, some circumstances and items that an officer may take into consideration include the following:
Evidence of Employment: Carry a letter from your employer indicating that you have a job to return to.
Proof of Foreign Residence: Take a copy of a deed, mortgage, rental or lease agreement that shows your residence.
Financial Ability to Support Oneself: Have a copy of your bank statement, checking and savings accounts.
Proof of Significant Ties to Home Country: Carry proof of other assets, property, annual tax filing or any document showing your strong ties.
Transportation Arrangements: Have a return reservation or ticket (if possible.)
Again, not everyone needs to carry these documents. Visitors who have had past difficulties or anticipate a problem, may carry these documents to help prove their non-immigrant intent if necessary.
CBP officers have wide discretion to admit or deny entry. Unfortunately, their decisions are also generally final. Therefore, it is important to demonstrate your intention to depart according to the terms of your visa while also answering the questions truthfully.
Visa Denial Due to 214(b)
If the consulate refuses (denies) a non-immigrant visa under section 214(b), it means that you:
Did not sufficiently demonstrate to the consular officer that you qualify for the non-immigrant visa category you applied for; and/or
Did not overcome the presumption of immigrant intent, required by law, by sufficiently demonstrating that you have strong ties to your home country that will compel you to leave the United States at the end of your temporary stay. (H-1B and L visa applicants, along with their spouse and any minor children, are excluded from this requirement.)
Again, ties are the various aspects of your life that bind you to your home country. Strong ties vary from country to country, city to city, and person to person, but examples include your employment, home, and/or your relationships with family and friends in that home country.
Unfortunately, you cannot appeal or overcome a visa denial or refusal under section 214(b). The refusal is for that specific application. Therefore, the consulate cannot take any further action once the case is closed. If you feel there is additional information to demonstrate you do not have immigrant intent or there are significant changes in your circumstances since your last application, you may reapply for a visa.
Adjusting Status
Some foreign nationals enter the United States as visitors but have a change in circumstances that forces them to change the purpose of their stay. They find themselves eligible to adjust status from non-immigrant to permanent resident. For example, an F-1 student may fall in love and get married to a U.S. citizen. Or, while visiting their U.S. citizen daughter, the foreign national parents decide retiring in the U.S. near grandchildren is irresistible. Does this violate the terms of their non-immigrant visa? As long as the visitor did not have immigrant intent upon entry, it is possible to change their mind at a later date.
Keep in mind that immigration officials are aware some people may try to manipulate this exception. Adjustment of status applicants may be subject to the 90-day rule. If this change of circumstances happens within the first 90 days of entering the United States, immigration officials may presume that the applicant violated the terms of a non-immigrant visa.
RECOMMENDED: How to Apply for a Family-Based Green Card