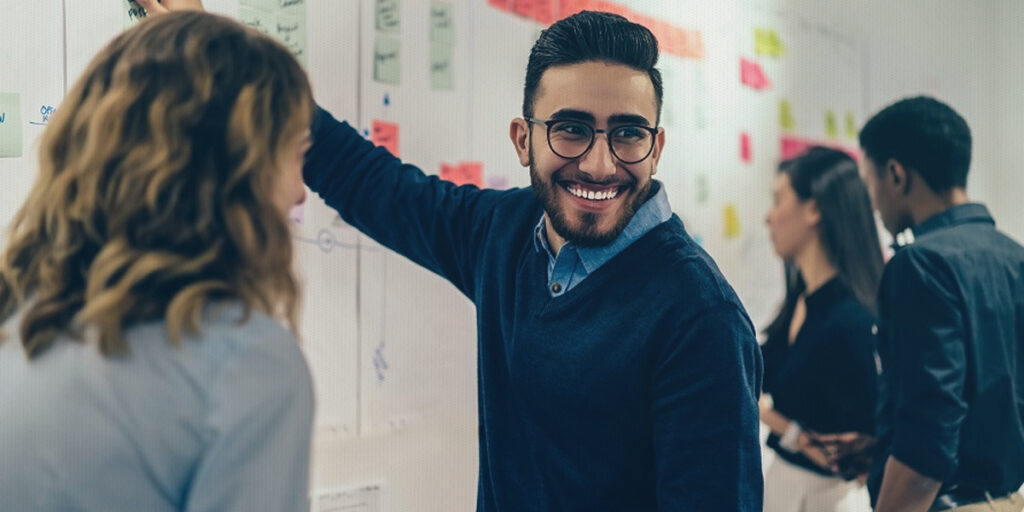 The United States has long been a destination for economic opportunity. Immigrants have a significant history in American business as contributors and creators. They have labored in fields and factories, and immigrants have also built some of the largest U.S. businesses. There are many types of U.S. work visas and immigration statuses that may provide employment privileges in the United States. The rules for each can vary.
This is not a comprehensive list of all possibilities, but we've compiled a list of some of the more popular U.S. work visa types.
Immigrant Visas (Permanent Employment-Based Immigration)
Immigrant visas, otherwise known as green cards, are carried by permanent residents. There are very few restrictions on employment for permanent residents. Except for employment designated for U.S. citizens only, green card holders can generally work for any employer and switch employers as desired. Proof of employment authorization is the green card.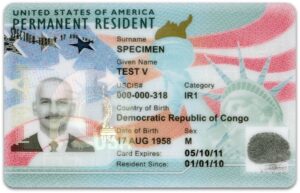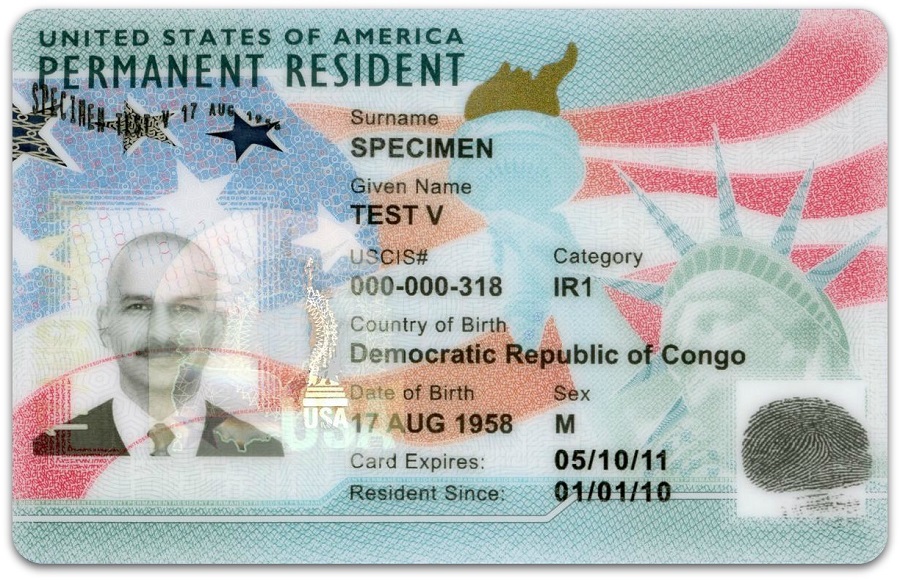 Immigrant visas always come with permission to work. Therefore, anyone granted a green card has many employment options. There are certain green cards granted for employment-based reasons. In other words, the type of employment makes the applicant eligible for a green card. Generally, employment-based green cards must have an employer sponsor. These include:
EB-1: Priority Workers
The first preference EB-1 category is for priority workers. It's broken down into three categories reserved for persons of extraordinary ability (EB-1A), outstanding professors and researchers (EB-1B), and multinational executives and managers (EB-1C). In most cases a U.S. employer must extend a permanent offer of employment and file an employment-based petition. However, self-sponsorship, based on qualifications, is available in the EB-1A extraordinary ability category. There is an annual limit of 40,000 EB-1 visas, but candidates can be further limited by per-country limits.
EB-2: Professionals with Advanced Degrees or Exceptional Ability
The second preference EB-2 category is for members of professions holding an advanced degree or its equivalent or a foreign national who has exceptional ability in the arts, science, or business. Generally, EB-2 visas require approved individual labor certification from the Department of Labor. However, certain foreign nationals may qualify for a National Interest Waiver. National interest waivers are typically granted to those who have exceptional ability and whose employment in the United States would greatly benefit the nation.
EB-3: Skilled Workers, Professionals, and Unskilled Workers
The third preference EB-3 category is for skilled workers with at least two years of training or experience, professionals with college degrees, or "other" workers for unskilled labor that is not temporary or seasonal. While there is a less stringent set of requirements that comes with an EB-3 visa, there is also a longer backlog.
All cases in the employment-based, third preference (EB-3) and most cases in the second preference (EB-2) categories require employment sponsorship and approval of PERM labor.
The permanent labor certification program (commonly known as PERM) verifies that there are not sufficient U.S. workers able, willing, qualified and available to accept the job opportunity in the area of intended employment and that employment of the foreign worker will not adversely affect the wages and working conditions of similarly employed U.S. workers. allows an employer to hire a foreign worker to work permanently in the United States. In most instances, before the U.S. employer can submit an immigration petition to the Department of Homeland Security's U.S. Citizenship and Immigration Services (USCIS), the employer must obtain a certified labor certification application from the DOL's Employment and Training Administration (ETA).
Nonimmigrant Work Visas (Temporary Employment-Based Visas)
There are also a variety of nonimmigrant visas designed for employment purposes. These U.S. work visas grant temporary work authorization and are not connected to permanent residency. There are typically several restrictions put on type of employment, specific employers and the length of time one can be employed. Proof of employment authorization is generally the visa.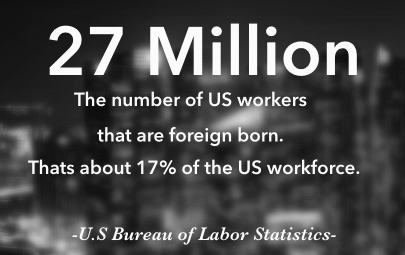 Nonimmigrant U.S. work visas are visas that grant a foreign national the right to temporarily visit the United States. A foreign national who enters the U.S. in nonimmigrant status is restricted to the activity or reason for which they were allowed entry. And once that purpose has been completed or the authorized stay expires (which comes first), the foreign national must depart the United States. For example, a B-2 visitor is authorized to visit for pleasure. A B-2 is not authorized to enroll in a university and become a student. An F-1 student visa (and a few other types of visas) are for this purpose. The same goes for these employment visas:
E-1/E-2 Visa: Treaty Trader or Treaty Investor
The E-1 visa allows foreign nationals of certain countries to visit the United States for the purposes of international trade. Alternatively, certain individuals may qualify for an E-2 visa as a Treaty Investor. Applicants must be a national of a country that maintains a trade treaty with the U.S. and must establish that they're coming to the U.S. pursuant to that treaty to carry on substantial trade. For the Treaty Investor, the investment must be substantial in a real operating enterprise that has a significant economic impact in the U.S. A large investment in a passive bank account won't fulfill the requirement.
H-1B Visa: Professional Workers in a Specialty Occupation
The H-1B is a U.S. work visa in high demand. The applicant must have offer of employment from a U.S. employer, and the job position must be in a specialty occupation. Generally, this means that a bachelor's degree or higher is required to do the job. The U.S. employer must sponsor the foreign national for the H-1B visa by filing an I-129 Petition with USCIS and submitting a labor condition application. Thus, H-1B visas are linked to a specific employer, and H-1B visa holders generally can't transfer employees. There are a limited number of H-1B visas issued each year. Due to the high demand of H-1B work visas, many companies utilize an experienced immigration law firm to navigate the complicated process. This U.S. work visa can be extended up to six years.
L-1 Visa: Temporary Intra/Intercompany Transferee
The L-1 work visa is generally utilized by larger companies to bring executives, managers, or employees with specialized knowledge from a foreign branch to the United States. The L-1 visa holder may be a temporary transfer to the U.S. branch of the company or may be sent for the purpose of establishing a U.S. presence. Additionally, the L-1 employee must have worked for the foreign employer for one continuous year within the past three years immediately preceding entry to the United States. The L-1 U.S. work visa is sub-categorized into L-1A (managerial/executive capacity) and L-1B (specialized knowledge) visas. In addition to for-profit multinational companies, nonprofit, religious, and charitable organizations may utilize the L-1 type of work visa. Organizations that frequently utilize L-1 employees can file a blanket petition that enables them to obtain approval from USCIS only once to transfer multiple managerial, executive, and professional employees. Employees are granted an L-1 visa for an initial period of three years that can be extended up to a maximum of seven years.
O-1 Visa: Aliens of Extraordinary Ability
The O-1 is a U.S. work visa type that enables U.S. employers to recruit foreign nationals with certain extraordinary abilities. The O-1A visa includes individuals with an extraordinary ability in the sciences, education, business, or athletics. And the O-1B visa covers individuals with an extraordinary ability in the arts or the extraordinary achievement in the motion picture or television industry. O-1 visa holders are granted an initial period of stay of up to three years that can be extended in one-year increments in some cases.
TN Visa: NAFTA TN Professional
The North American Free Trade Agreement (NAFTA) created what's known as the TN visa. The TN visa is available to qualifying nationals of Canada and Mexico for the purpose of working for a U.S. employer. But there are very specific eligibility requirements. This U.S. work visa type is only available to certain professions. The list contains a variety of occupations including: accountants, architects, engineers, designers, lawyers, pharmacists, scientists and teachers. Generally, the visa applicant must possess a Bachelor's degree or higher to be considered a professional in the TN category. TN professionals are granted an initial period of stay of three years with possible extensions of stay for another three years.
RECOMMENDED: How to Apply for TN Status from Canada or Mexico
Nonimmigrant Employment Authorization (Temporary & Not Employment-Based)
In addition to temporary visas set up specifically for employment purposes, there are some nonimmigrant visa holders and other immigration statuses that may be eligible for employment authorization. Individuals that fall into these eligibility categories must apply for the work authorization using Form I-765.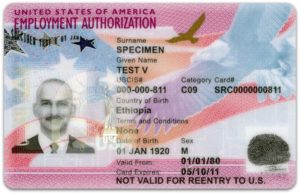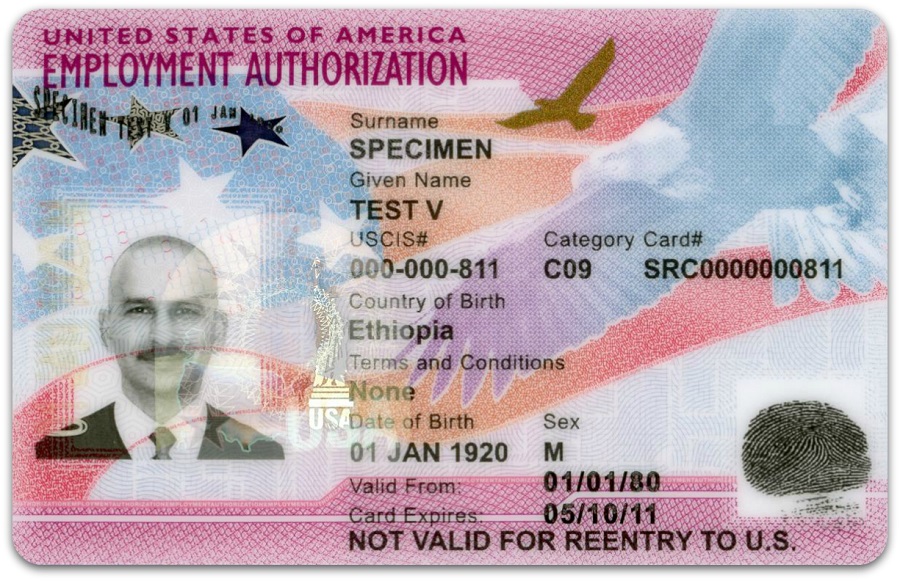 Upon approval, USCIS grants an Employment Authorization Document (as pictured above). Commonly referred to as an EAD or work permit, this document is proof of employment authorization.
It is illegal for U.S. businesses to knowingly employ someone whose employment authorization has expired. Companies that violate the law could face civil fines or their executives could go to jail in extreme cases.
RECOMMENDED: How to Apply for an Employment Authorization Document (Work Permit)
About CitizenPath
CitizenPath provides simple, affordable, step-by-step guidance through USCIS immigration applications. Individuals, attorneys and non-profits use the service on desktop or mobile device to prepare immigration forms accurately, avoiding costly delays. CitizenPath allows users to try the service for free and provides a 100% money-back guarantee that USCIS will approve the application or petition. We provide support for the Adjustment of Status (Form I-485), Employment Authorization (Form I-765), and several other immigration services.
Want more immigration tips and how-to information for your family?
Sign up for CitizenPath's FREE immigration newsletter and
SAVE 10%
on our immigration services