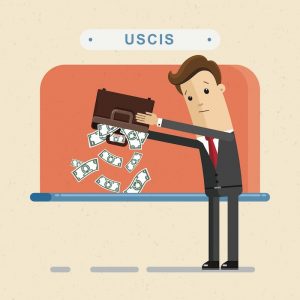 Effective December 23, 2016, U.S. Citizenship and Immigration Services (USCIS) will increase the fees that must be submitted with the majority of its immigration forms. The USCIS fee increases, which were finalized in an announcement yesterday, can be found in a final rule published in the Federal Register. Applications and petitions postmarked or filed on or after December 23, 2016, must include these new fees or USCIS will reject your submission.
During the early summer of 2016, USCIS announced fee increases would be coming. The USCIS fee increases became official yesterday. Fees increased by a weighted average of 21 percent for many forms. While fees for some forms increased only modestly, fees for other forms such as Form N-600 ballooned by 95 percent.
USCIS Funded Through Your Fees
Many people don't realize that tax dollars aren't used to fund USCIS. In fact, applicants and petitioners for immigration benefits almost entirely fund USCIS through the fees they pay. The agency conducts fee reviews every two years to determine if fee adjustments are necessary to support the full cost of services provided by USCIS. These include the costs associated with fraud detection and national security, customer service and case processing, and providing services without charge to refugee and asylum applicants and to other customers eligible for fee waivers or exemptions.
"This is our first fee increase since November 2010, and we sincerely appreciate the valuable public input we received as we prepared this final rule," according to USCIS Director León Rodríguez. "We are mindful of the effect fee increases have on many of the customers we serve."
Critics of USCIS Fee Increases
Critics say the fee increases could potentially prevent family reunification for certain U.S. citizens and lawful permanent residents that cannot afford the fees. This problem is compounded by the fact that multiple forms must be filed for family-based residency applications, and larger families will suffer the greatest financial burden. Regardless, immigration legal experts stress the importance of meeting the necessary obligations to maintain your immigration benefits.
Low-income households could be some of the hardest hit. A fee waiver is available for many USCIS forms, but not for all. See the chart below. Additionally, USCIS has developed a tiered fee waiver schedule for naturalization applicants.
Renewing/Replacing a Green Card
The USCIS fee for Form I-90, Application to Replace Permanent Resident Card, has increased 25 percent, from $365 to $455. USCIS will continue to waive the fee for those who demonstrate an inability to pay through the fee waiver process. More than ever, it makes financial sense to naturalize as a U.S. citizen. The average permanent resident will pay over $12,000 in green card renewal fees over his or her life time! Check your costs with our cost calculator. Once you become a U.S. citizen, you'll never pay a USCIS fee again.
Naturalization – Partial Fee Waiver
Form N-400, Application for Naturalization, only saw a minor increase from $595 to $640, a $45 difference. A total fee waiver will continue to be available for those with a very low income. But certain low-income naturalization applicants may qualify for a reduced filing fee.
USCIS will offer a reduced filing fee of $320 (plus the $85 biometric services fee) for N-400 applicants with family incomes greater than 150 percent and not more than 200 percent of the Federal Poverty Guidelines. For 2016, this means, for example, that a household of four with an income between $36,000 and $48,600 per year could pay the reduced fee. Those eligible may apply for this option using the new Form I-942, Request for Reduced Fee.
Obtaining Permanent Residence for a Family Member
The process for obtaining a green card for a relative involves several different USCIS forms, most of which are affected by fee increases. A 27 percent increase was applied to Form I-130, Petition for Alien Relative, raising the fee from $420 to $535. The current fee of $985 for Form I-485, Application to Adjust Status, increased to $1,140. Children under age 14 will continue to receive a discounted fee when filing Form I-485 concurrently with the application of a parent seeking adjustment to permanent resident. The child's fee has increased from $635 to $750.
Deferred Action (DACA)
USCIS did not increase fees for Form I-821D, Consideration of Deferred Action for Childhood Arrivals. In fact, there is no fee associated with Form I-821D. However, USCIS fees increased for Form I-765, Application for Employment Authorization, a form which must be filed concurrently with the DACA application.
Employment Authorization
The fee to file Form I-765, Application for Employment Authorization, increased from $380 to $410, an 8 percent hike. This increase affects applicants for work authorization, including adjustment of status applicants (with stand-alone applications), foreign students, spouses of certain non-immigrant visa holders, as well as recipients of DACA and TPS applicants. A fee waiver is available, except to DACA applicants.
Travel Documents
In some cases, USCIS fee increases that affect Form I-131, Application for Travel Document, are significant. The 60 percent increase from $360 to $575 will most noticeably affect permanent residents applying for reentry permits and anybody applying for stand-alone advance parole. Applicants for advance parole who file Form I-765 concurrently with their Form I-485 will continue to pay no fee. Applicants for the new Form I-131A, Application for Travel Document (Carrier Documentation), will also have to pay the increased fee.
USCIS Fee Increases by Form
This is a partial list of some of the more popular USCIS forms filed each year. Visit the USCIS website for a complete schedule of USCIS fee increases.

| | | | |
| --- | --- | --- | --- |
| Form | New Fee | Old Fee | Waiver? |
| I–90 Application to Replace Permanent Resident Card | $455 | $365 | Yes |
| I–102 Application for Replacement/Initial Nonimmigrant Arrival-Departure Document | $445 | $330 | No |
| I–129F Petition for Alien Fiancé(e) | $535 | $340 | Yes |
| I-130 Petition for Alien Relative | $535 | $420 | No |
| I-131/I-131A Application for Travel Document | $575 | $360 | Varies |
| I–140 Immigrant Petition for Alien Worker | $700 | $580 | No |
| I–485 Application to Register Permanent Residence or Adjust Status | $1,140 | $985 | Varies |
| I–526 Immigrant Petition by Alien Entrepreneur | $3,675 | $1,500 | No |
| I–539 Application to Extend/Change Nonimmigrant Status | $370 | $290 | Varies |
| I–600/600A Petition to Classify Orphan as an Immediate Relative | $775 | $720 | No |
| I–751 Petition to Remove Conditions on Residence | $595 | $505 | Yes |
| I–765 Application for Employment Authorization | $410 | $380 | Varies |
| I–817 Application for Family Unity Benefits | $600 | $435 | Varies |
| I–824 Application for Action on an Approved Application or Petition | $465 | $405 | No |
| N–400 Application for Naturalization | $640 | $595 | Yes |
| N–470 Application to Preserve Residence for Naturalization Purposes | $355 | $330 | Yes |
| N–565 Application for Replacement Naturalization/Citizenship Document | $555 | $345 | Yes |
| N–600/N–600K Application for Certificate of Citizenship | $1,170 | $600 | Yes |
| USCIS Immigrant Fee | $220 | $165 | No |
| Biometric Services Fee | $85 | $85 | Yes |
Importance of a Well-Prepared Application
The stakes have been raised for submitting complete and accurate applications. When you're paying several hundred dollars for consideration of an immigration benefit, you want some reassurance that everything will be okay. Although most immigration forms can be filed by individuals, getting it right has become increasingly important. Immigration lawyers provide the highest level of legal knowledge and can provide expert advice. But services like CitizenPath, which was designed by lawyers, helps give immigration filers confidence that they're doing everything correctly. When you file a USCIS prepared on CitizenPath.com, you get a guarantee that it will be accepted and the confidence that it will be approved.
Remember, USCIS fee increases go into effect on December 23, 2016. File before this date (if possible) to take advantage of the lower fees.