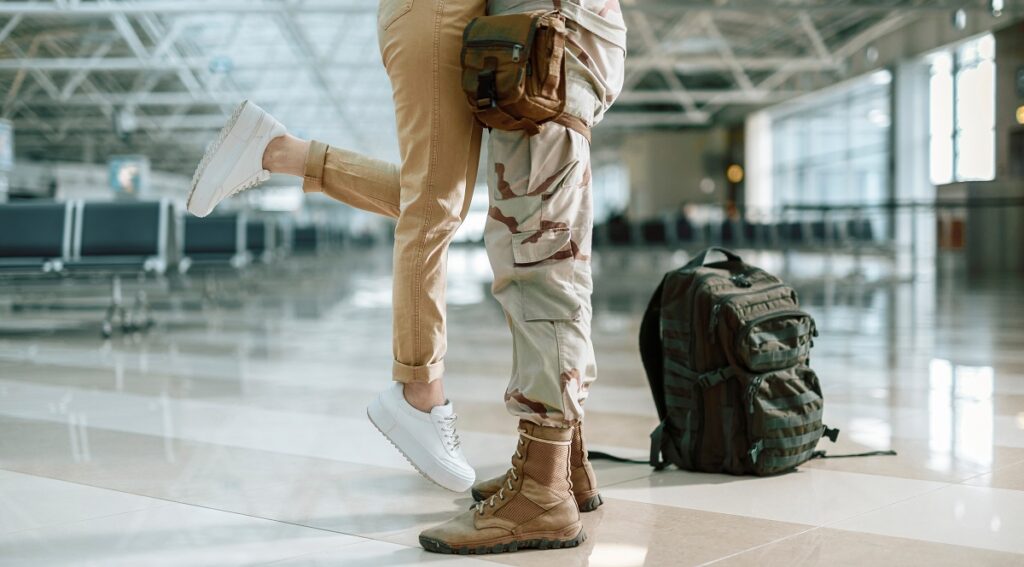 As a U.S. armed forces service member, you sometimes find love in the far corners of the world. There are established paths for you to help your spouse or fiancé come to the United States. A long deployment may even mean that you've started a family before you've even had a chance to return to the U.S. But even if you've found that special person inside the U.S., you can help your foreign citizen spouse obtain a green card.
Green Card Eligibility for Military Spouses
A U.S. citizen or lawful permanent resident, is able to petition a spouse to come to the United States (or stay when already present) and obtain permanent residence (green card). Some of the basic requirements for the couple include the following:
There's a valid marriage;
The marriage is genuine;
Any previous marriages were already terminated;
Neither has committed serious crimes or immigration fraud; and
There's sufficient income to exceed at least 100% of the federal poverty guidelines (for active military)
The immigration process for the foreign fiancés of military service members is similar but not the focus of this article. To petition a fiancé to come to the United States for marriage and a green card, review our overview of the K-1 visa process.
Undocumented Spouses of U.S. Military
Even undocumented spouses of U.S. service members can typically qualify for a green card. The spouse of a U.S. citizen may apply for a green card after a visa overstay provided they continue to be inside the country. It's generally straight forward and doesn't require special attention from a lawyer. Departing the U.S. after the visa overstay can trigger bars to reentry that make it more complicated to reenter. Also, the process is more complicated for spouses of permanent resident service members to obtain a green card after a visa overstay. Contact an immigration attorney to a solution that best fits your situation.
Military spouses who are inside the United States through an unlawful entry, may be eligible for the Parole in Place program. In the short term, the program provides protection from deportation and employment authorization. Military spouses may adjust status during this time. To qualify for Parole in Place as a military spouse, you must be:
Physically present in the United States without inspection;
The spouse of an active-duty member of the U.S. armed forces, someone in the Selected Reserve of the Ready Reserve, or someone who previously served in the U.S. armed forces or the Selected Reserve of the Ready Reserve; and
Without any criminal convictions or other serious adverse factors.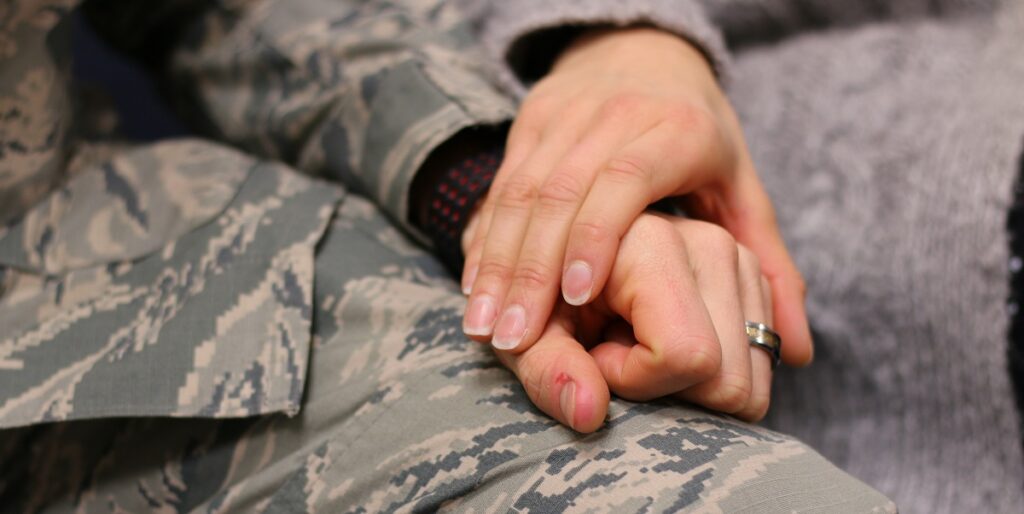 Application Process
The application process largely depends on the physical location of the military spouse. Most people apply for a green card at embassies abroad, but certain individuals may apply inside the United States.
Consular Processing
Spouses of military personnel who are residing outside the United States will generally use consular processing to apply for a green card. In other words, they will apply and interview through a U.S. embassy or consulate abroad. The process begins with the U.S. citizen or permanent resident service member filing an immigrant visa petition package that includes these forms:
I-130, Petition for Alien Relative
I-130A Supplement
Once USCIS approves the visa petition, they transfer the case to the National Visa Center. The NVC will collect additional documents and invite the foreign national spouse to apply for the immigrant visa (green card).
RECOMMENDED: What Happens After I-130 Approval
Adjustment of Status
Certain military spouses who are already inside the United States won't have to leave in order to get a green card. This process, known as adjustment of status, is generally available only to spouses physically present in the U.S. who have an immigrant visa immediately available to them.
There is an unlimited amount of immigrant visas for the immediate relatives of U.S. citizens. Thus, the spouses of U.S. citizens always have an immigrant visa available to them. This isn't the case for all types of immigration relationships. Congress puts statutory limits on the number of visas available. This can often create a wait time. At the time of writing this, there is no wait for the spouses of lawful permanent residents, meaning that spouses of permanent resident service members may typically also adjust status.
To apply for a green card through adjustment of status, the foreign national spouse submits an application package that includes:
I-485, Application to Register Permanent Residence or Adjust Status
I-130, Petition for Alien Relative
I-130A Supplement
I-864, Affidavit of Support
I-693, Report of Medical Examination and Vaccination Record
I-765, Application for Employment Authorization (optional)
I-131, Application for Travel Document (optional)
Supporting Documents for Immigrant Spouses of U.S. Military
Regardless of the path taken, consular process or adjustment of status, the application package must contain several supporting documents. The supporting documents can vary significantly based on the type of relationship and answers in each form. CitizenPath provides an affordable way to make this process easier. Attorneys designed the online immigration service to simplify the preparation of these government forms. In addition to your prepared forms, you get personalized filing instructions based on your answers. You'll know exactly which documents to submit, and you'll get CitizenPath's guarantee that USCIS will approve your application.
Green Card Processing Time for Military Spouses
The processing time for these forms can vary depending on the USCIS case load, State Department backlogs, and other factors. Generally, a couple should expect the process to take 10 to 18 months to get a green card. Well-prepared application packages have the best chance of quick processing. Missing information and small mistakes can cause significant delays due to the agencies' need to follow up and request additional information. For a closer look at what happens after filing, visit the Form I-130 processing time for consular processing and the Form I-485 processing time for adjustment of status cases.
Fiancés of U.S. Citizen Military Service Members
Couples that are engaged to be married and plan to marry inside the United States use a different process. Instead, the U.S. citizen obtains a K-1 visa for the fiancé by filing Form I-129F, Petition for Alien Fiancé. Within 90 days of arriving in the United States, the couple must get married and the alien fiancé must adjust status to a permanent resident by filing the adjustment of status packet.
U.S. immigration law does not permit a permanent resident to petition a fiancé. There are two options. If eligible, the permanent resident can apply for U.S. citizenship. Once a U.S. citizen, the petitioner can file Form I-129F and bring his/her fiancé to the United States. Alternatively, the couple can marry outside the United States. Once married, the permanent resident can petition the spouse.
RECOMMENDED: Overview of the K-1 Fiancé Visa Process
---
USCIS does provide some dedicated support for military families with immigration needs. Current members of the military and their families, as well as veterans may use a toll-free military help line, 877-CIS-4MIL (877-247-4645) and e-mail address at [email protected]. USCIS representatives are available to answer calls Monday through Friday from 8 a.m. to 4 p.m. Central, excluding federal holidays.
CitizenPath provides simple, affordable, step-by-step guidance through USCIS immigration applications. What's more, there are discounts available to military families. Individuals, attorneys and non-profits use the service on desktop or mobile device to prepare immigration forms accurately, avoiding costly delays. CitizenPath allows users to try the service for free and provides a 100% money-back guarantee that USCIS will approve the application or petition. We provide support for the Petition for Alien Relative (Form I-130), Adjustment of Status Application (Form I-485), Petition to Remove Conditions of Residence (Form I-751), and several other USCIS forms.
Want more immigration tips and how-to information for your family?
Sign up for CitizenPath's FREE immigration newsletter and
SAVE 10%
on our immigration services