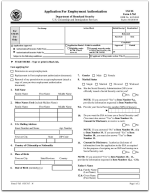 Certain foreign nationals, who are eligible to work in the United States, use Form I-765, Application for Employment Authorization, to request permission to work.
U.S. citizens and lawful permanent residents (green card holders) may work without requesting special permission. Some nonimmigrants, temporary in nature, may be granted employment authorization upon request from U.S. Citizenship and Immigration Services (USCIS). However, not all nonimmigrants are eligible for this benefit.
Employment Authorization Document
USCIS issues an Employment Authorization Document (EAD). The EAD, as pictured below, is also known as an employment authorization card or work permit. The card is physical proof of employment authorization. Generally, an employer will want to see the card before an employee can begin work. It can also serve as a government-issued photo identification. an employment authorization document (EAD). Applicants can use Form I-765 to request an initial, replacement, or renewal EAD.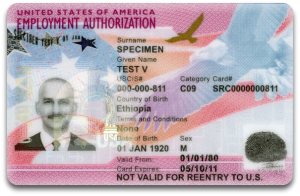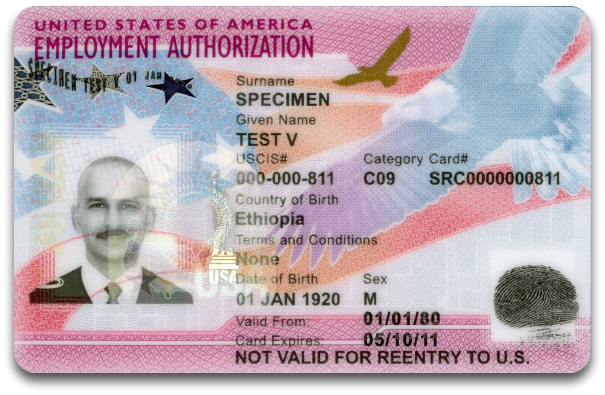 Typically work permits are valid for one year. However, they may be valid longer for some categories. Generally, you can file for a renewal if your Employment Authorization Document is expired or will expire in the next 120 days. To receive approval for a renewal, you'll need to make sure you remain eligible in the immigration category that you applied.
Mistakes on your I-765 application can cause costly delays or a denial.
Prepare your I-765 correctly and affordably with CitizenPath. The attorney-reviewed software guides you through the application and provides help to answer questions like this one. And personalized filing instructions help you to file your application today knowing that
you did everything right
! No credit card or signup required to try it.
Get started now >>
Eligibility for Employment Authorization
If you are a lawful permanent resident, conditional permanent resident or a nonimmigrant authorized to be employed with a specific employer under 8 CFR 274a.12(b), you do not need to file Form I-765. You are already authorized to work in the U.S.
Several other categories of nonimmigrants may be eligible to apply for employment authorization using Form I-765. The complete list of eligibility categories can be viewed below:
Adjustment of Status
(c)(9) – Adjustment Applicant
(c)(16) – Adjustment Applicant Based on Continuous Residence Since January 1, 1972
Renewal EAD for National Interest Waiver Physicians
Deferred Action Categories
(c)(14) – Deferred Action
(c)(33) – Deferred Action for Childhood Arrivals (DACA)
Asylee/Refugee Categories (including spouses and children)
(a)(5) – Asylee (Granted Asylum))
(c)(8) – Asylum Applicant (with a pending asylum application)Who Filed for Asylum on or After January 4, 1995)
(a)(4) – Paroled as a Refugee
(a)(3) – Refugee
Eligible Dependents of Diplomatic Missions, International Organizations, or NATO
(c)(1) – Dependent of A-1 or A-2 Foreign Government Officials
(c)(4) – Dependent of G-1, G-3 or G-4 Nonimmigrant
(c)(7) – Dependent of NATO-1 Through NATO-6
Employment-Based Nonimmigrant Categories
(c)(17)(ii) – B-1 Nonimmigrant Domestic Servant of a U.S. Citizen
(c)(17)(iii) – B-1 Nonimmigrant Employed by a Foreign Airline
(c)(17)(i) – B-1 Nonimmigrant Who Is the Personal or Domestic Servant of a Nonimmigrant Employer
(a)(17) – Spouse of an E-1/E-2 Treaty Trader or Investor
(c)(12) – Spouse of an E-2 CNMI Investor
(a)(18) – Spouse of an L-1 Intracompany Transferee
(c)(26) – H-4 Spouse of an H-1B Nonimmigrant
Family-Based Nonimmigrant Categories
(a)(6) – K-1 Nonimmigrant Fiancé(e) of U.S. Citizen or K-2 Dependent
(a)(9) – K-3 Nonimmigrant Spouse of U.S. Citizen or K-4 Dependent
(a)(13) – Family Unity Program
(a)(14) – LIFE Family Unity
(a)(15) – V-1, V-2 or V-3 Nonimmigrant
Foreign Students
(c)(2)(a) – F-1 Student Seeking Pre-completion Optional Practical Training
(c)(3)(B) – F-1 Student Seeking Post-completion Optional Practical Training
(c)(3)(C) – F-1 Student Seeking 17-month Extension for STEM Students
(c)(3)(ii) – F-1 Student Offered Off-Campus Employment by Qualifying Organization
(c)(3)(iii) – F-1 Student Seeking Off-Campus Employment Due to Economic Hardship
(c)(5) – J-2 Spouse or Minor Child of an Exchange Visitor
(c)(6) – M-1 Student Seeking Practical Training After Completing Studies
Nationality Categories
(a)(8) – Citizen of Micronesia, the Marshall Islands, or Palau
(a)(11) – Deferred Enforced Departure (DED)/Extended Voluntary Departure
(a)(12) – Temporary Protected Status (TPS) under 8CFR 244
(c)(19) – Temporary Protected Status (TPS) under 8CFR 244.5
(c)(10) – NACARA Section 203 Applicants Who Are Eligible to Apply for NACARA Relief With USCIS
(c)(2) – Dependent of TECRO E-1 Nonimmigrant
Other Categories
(a)(7) – N-8 or N-9 Nonimmigrant
(a)(10) – Granted Withholding of Deportation or Removal
(c)(10) – Applicant for Suspension of Deportation
(c)(11) – Paroled in the Public Interest
(c)(18) – Final Order of Deportation
(c)(24) – LIFE Legalization Applicant
(a)(16) – T-1 Nonimmigrant
(c)(25) – T-2, T-3 or T-4 Nonimmigrant
(a)(19) – U-1 Nonimmigrant
(a)(20) – U-2, U-3, U-4 or U-5
(c)(31) – VAWA Self-Petitioners
RECOMMENDED: U.S. Work Visa Types for Foreign Nationals