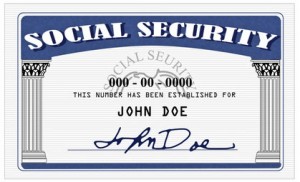 It's now possible to obtain a work permit and get a Social Security number at the same time.
To lawfully work in the United States, foreign workers in some categories and classifications need both an employment authorization document (EAD) from USCIS, and a Social Security number (SSN) from the Social Security Administration. Previously, applicants needed to submit a Form I-765 to USCIS for an EAD, and then submit additional paperwork in-person at their local Social Security office to obtain an SSN.
How to Get a Social Security Number
Form I-765, Application for Employment Authorization, now includes additional questions that allow applicants to apply for an SSN or replacement card without visiting a Social Security office. Starting with the 07/17/17 edition of Form I-765, applicants may request USCIS to transmit the additional data collected on the form to the SSA for processing. Then, applicants who receive their approved EADs from USCIS should receive their Social Security card from SSA within the following two weeks. If you didn't receive your card within two weeks, contact your local Social Security office.
Requesting a new or replacement Social Security card through Form I-765 will not affect the processing time for Form I-765. The information is not transmitted to SSA until the I-765 application has been approved by USCIS.
RECOMMENDED: Where can I find my Social Security Number?
Mistakes on your I-765 application can cause costly delays or a denial.
Prepare your I-765 correctly and affordably with CitizenPath. The attorney-reviewed software guides you through the application and provides help to answer questions like this one. And personalized filing instructions help you to file your application today knowing that
you did everything right
! No credit card or signup required to get started.
Try it before you buy it >>
Who Needs an SSN
Generally, only non-citizens authorized to work in the United States by the Department of Homeland Security (DHS) can get a Social Security number. Employers use SSNs to report a person's wages to the government and to determine a person's eligibility for Social Security benefits. You need a Social Security number to work, collect Social Security benefits, and receive some other government services. If you're a non-citizen that will not work in the U.S., you probably don't need to get a number.
Lawfully admitted non-citizens can get many benefits and services without a Social Security number. You don't need a number to get a driver's license, register for school, get private health insurance, or apply for school lunch programs or subsidized housing. Some organizations use SSNs to identify you in their records. Most, however, will identify you by some other means if you request it. The Social Security Administration will not assign you a Social Security number solely for you to be able to get a driver's license or a service that requires a credit check. Although many companies, such as banks and credit companies, may ask for your Social Security number, you generally aren't required to provide one if you don't have one.
DACA Social Security Number
If you have been granted Deferred Action for Childhood Arrivals (DACA) and have received your Employment Authorization Document (work permit) from USCIS, you can apply for a Social Security number. You need an SSN to get a job, collect Social Security benefits and get some other government services. In most states it is also a necessary form of identification for obtaining a driver license. With your DACA grant, getting a number is easy.
You will need to take your EAD and additional proof of age and identity to the Social Security office. Generally, you may use an original document or a certified copy of one of the following as proof of your age and identity:
Foreign birth certificate
Foreign passport
U.S. military record
U.S. military identification card
Religious record showing age or date of birth
U.S. driver license
U.S. state-issued identification card
School record showing age or date of birth
School identification card
Copy of medical record