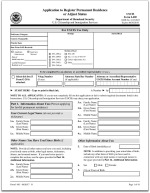 Certain foreign nationals inside the United States use Form I-485, Application to Register Permanent Residence or Adjust Status, to apply for a green card.
"Adjustment of status" is a common term used to describe a change in U.S. immigration status to permanent residence (green card holder). U.S. immigration law allows a temporary visitor (e.g. student, tourist, etc.) to change status to a permanent immigrant if the individual lawfully entered the United States and meets certain requirements.
The temporary visitor must be in the United States after being lawfully inspected and admitted or paroled. The individual must also meet all the required criteria for a green card in a particular category such as:
Family relationship (through approved Form I-130 petition);
Employment (through approved Form I-140 petition);
K-1 visa holder after marriage to U.S. citizen (through approved Form I-129F petition);
Asylum or refugee status; or
Cuban citizenship/nationality.
A request to adjust status to permanent resident is made by filing Form I-485, Application to Adjust Status. Each of the above categories has specific criteria which must be met and documented when filing the I-485 adjustment of status application.
RECOMMENDED: I-485 Checklist for Family-Based Applications
Did you know minor mistakes on your Form I-485 application can cause costly delays and rejections?
Prepare your I-485 quickly and correctly with CitizenPath. The attorney-reviewed software guides you through the application and provides help to answer questions like this one. And personalized filing instructions help you to file your application today knowing that
you did everything right
! No credit card or signup required to try it.
Get started now >>

One of the major benefits of the adjustment of status process is that eligible individuals already in the United States can get a green card without returning to their home country to complete visa processing.
Adjustment of Status Package
Form I-485 is rarely filed by itself. In other words, there are typically several other forms an applicant will include as part of an adjustment of status package. Now every applicant is the same. Most applicants must remove the public charge ground of inadmissibility (Form I-864), but asylum and refugee applicants do not have this requirement. There are also options to apply for work authorization (Form I-765) and advance parole travel (I-131).
RECOMMENDED: Typical Forms and Costs for Adjustment of Status
Consular Alternative
If an intending immigrant is not eligible to complete the adjustment of status process, the alternative path is to apply for the green card through a U.S. embassy or consulate. In most cases, the intending immigrant must have an approved immigrant petition filed on his or her behalf. Once a visa becomes available, the foreign national applies for an immigrant visa (green card) through a U.S. embassy or consular office. This is known as "consular processing."
RECOMMENDED: Adjustment of Status vs Consular Processing