The Advance Parole travel document permits reentry to the United States after travel abroad and preserves a pending I-485 application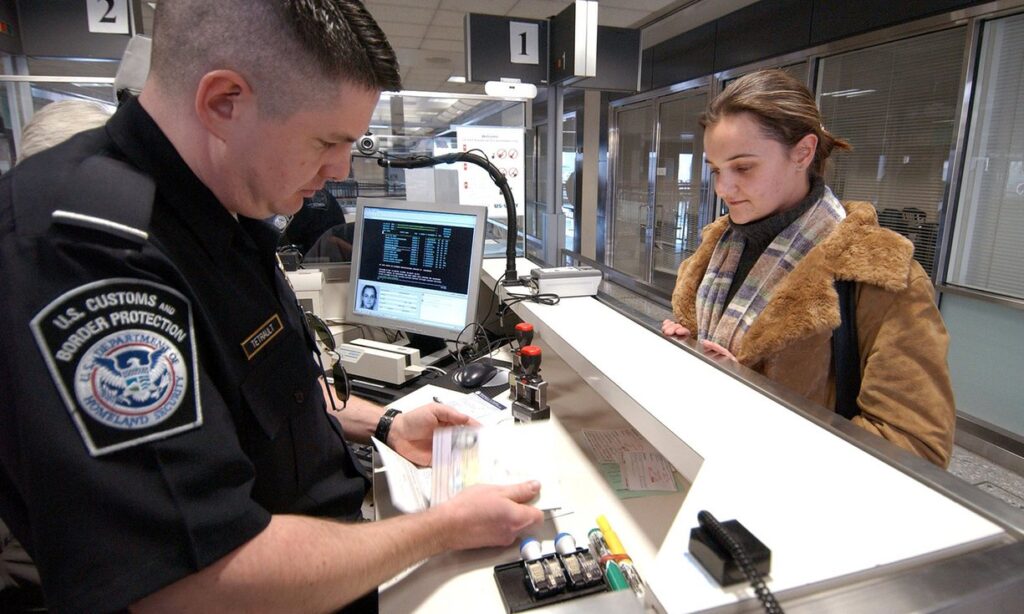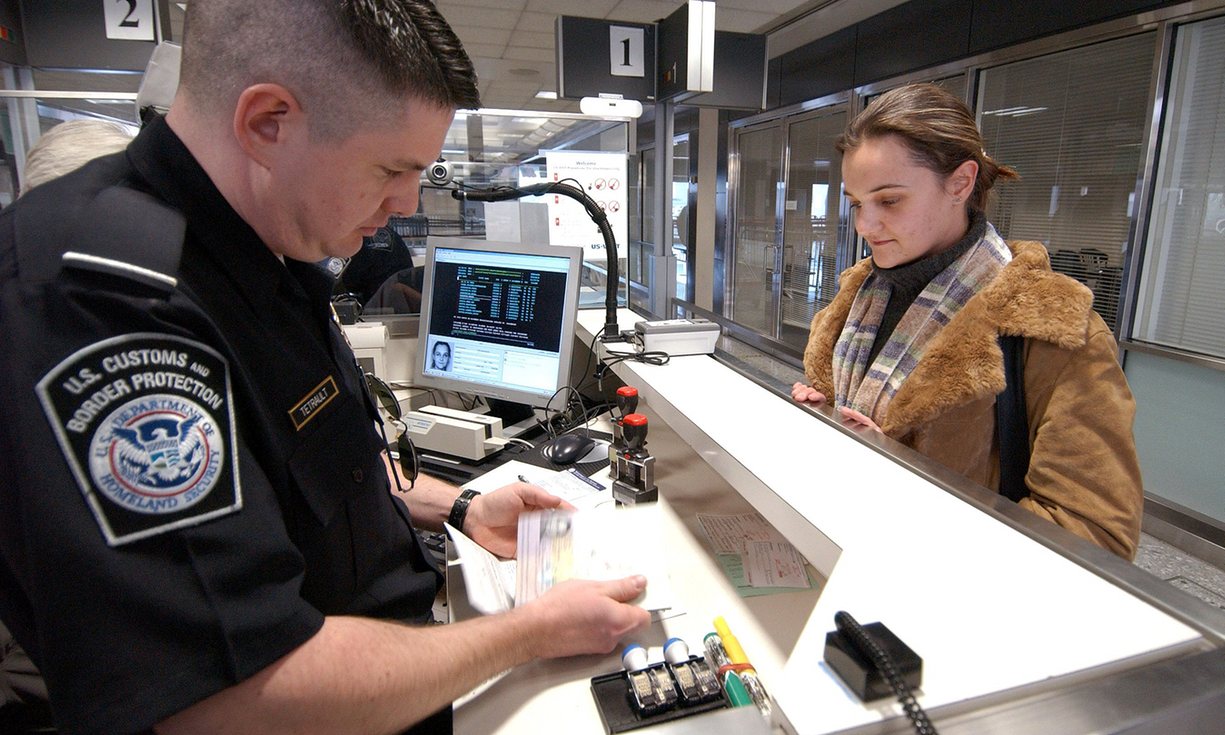 During the adjustment of status (AOS) process, the applicant may remain in the United States while waiting for his or her green card. But it can take several months to receive the green card after filing Form I-485, Application to Adjust Status.
Many applicants want to travel abroad during this time to visit family, take a vacation, or even tend to urgent matters. But there's a problem – leaving the country can put your adjustment of status application in jeopardy. Generally, an AOS applicant that leaves the United States without advance parole will abandon the I-485 application and will likely have trouble reentering. To return to the U.S., this person would need to restart the immigration process through consular processing in a foreign country. This is a long and expensive journey. There are some exceptions to the advance parole travel requirement.
With a little planning, the adjustment of status applicant can obtain an advance parole document and easily avoid these problems. Advance Parole for adjustment of status applicants resolves two issues:
Allows the AOS applicant to return to the U.S. after travel abroad without obtaining a visa; and
Preserves a pending adjustment of status application (Form I-485) already filed with USCIS.
How to Apply for Advance Parole
Adjustment of status applicants may use Form I-131, Application for Travel Document, to request Advance Parole. When preparing the Advance Parole application package, AOS applicants should include all of the following items:
Prepared and signed Form I-131, Application for Travel Document
Copy of a photo government-issued identity document (with photo, name and date of birth) such as an Employment Authorization Card (EAD) or passport
Two identical passport-style color photographs
Copy of I-485 receipt letter (Form I-797C, Notice of Action) if AOS was previously filed and is still pending
You can download the application and filing instructions from the USCIS website. Applicants that want some additional reassurance that their application is prepared correctly can use the CitizenPath website. CitizenPath provides simple, step-by-step instructions and even guarantees that USCIS will approve the application. There is no sign up or fee to get started. You pay upon completion. Try Form I-131 now.
In most cases, there is no interview associated with the Form I-131 application.

CitizenPath Guarantees Your I-131 Will Be Approved by USCIS
When you prepare your Advance Parole application on CitizenPath, we provide simple, step-by-step instructions and alerts to help you avoid costly delays. We even guarantee USCIS will approve your form. No credit card is required to try it.

Advance Parole for Adjustment of Status Applicants Fees
The good news is that's there is no USCIS fee for an advance parole document based on adjustment of status. Normally, the Form I-131 fee for an Advance Parole document is $575. If you filed a Form I-485 (adjustment of status application) on/after July 30, 2007, with a fee, and that I-485 application is still pending, there is no USCIS fee for advance parole.
When filing Form I-131 for Advance Parole with a pending AOS application, we recommend that you include a cover letter to explain why no fee is included. View a sample cover letter for Advance Parole for AOS.
Most applicants file Form I-131 together with Form I-485, Application to Adjust Status. If you anticipate any travel outside the U.S., this "concurrent" filing will help speed up the process.
Urgent Requests for Advance Parole
In most cases, it takes at least 120 days to get an advance parole document. This could be a problem if you're traveling for an extremely urgent situation. USCIS may expedite your case if you have a dire emergency and can evidence the urgent need to travel. USCIS is willing to consider an emergency request for advance parole on a case-by-case basis. You will need to provide evidence to support the emergency request (e.g. medical documentation, death certificate). If you are preparing your Advance Parole application through CitizenPath, we can also provide specific guidance in your filing instructions.
What You Should Know About Advance Parole
An advance parole travel document is not a guarantee for reentry to the United States. You are still subject to the standard immigration inspection at a port of entry to determine admissibility into the U.S.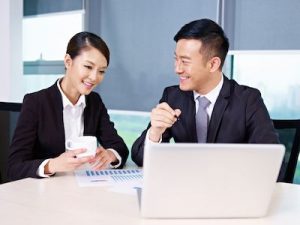 If you have any period of unlawful presence in the U.S., consult with an attorney before filing Form I-131 or traveling abroad. Unlawful presence can include time after unlawfully entering the U.S. or time in the U.S. with an expired visa. If this may apply to you, speak to an experienced immigration attorney before attempting to request advance parole.
Generally, asylees and refugees should not travel to the country you claimed persecution. By returning to that country, your actions suggest that you do not fear persecution. Your application will be denied and could negatively affect your asylum/refugee status in the U.S. In some cases, there are legitimate reasons for returning to the country you claimed persecution. If this applies to you, please speak to an experienced immigration attorney before filing Form I-131.
Traveling with Advance Parole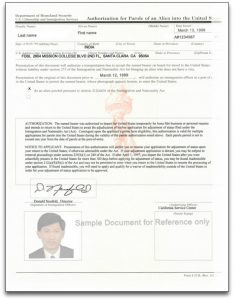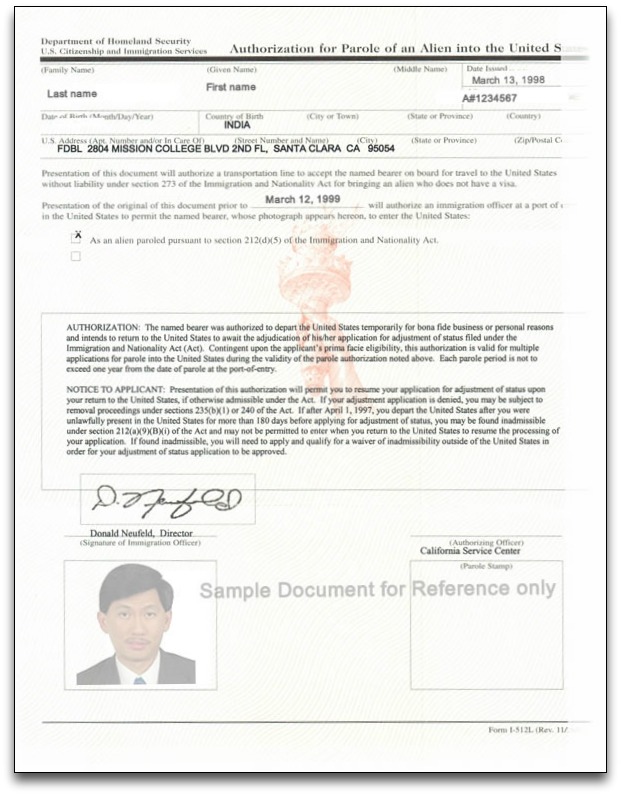 Known formally as Form I-512L, Authorization for Parole of an Alien into the United States, the advance parole document, is often printed on a standard, letter-size piece of paper. Applicants that applied for employment authorization concurrently will receive an Employment Authorization Card with "Serves as I-512 Advanced Parole" printed on the front.
Upon receiving the document from USCIS, review it to confirm all of the information is correct. An advance parole document will also include the last day that it may be used to reenter the U.S. Be sure that your travel is complete and that you return before this date.
Take the original AP document with you when you leave the United States. You'll need to present it before getting on a plane, ship, bus, or train headed back to the U.S. and to the Customs and Border Protection officer when you arrive.
When traveling with advance parole as an adjustment of status applicant, remember to:
Take your original Advance Parole Document
Take a photocopy of the I-797C Notice of Action confirming that your I-485 application was accepted
Return before the deadline on your Advance Parole Document – leave extra time in case of travel delays
Exceptions to Advance Parole Requirements
In certain situations, adjustment of status applicants are not required to obtain an Advance Parole Document. If you hold a valid H-1, H-4, K-3, K-4, L-1, L-2, V-2, or V-3 visa or status, you may travel without Advance Parole approval provided that you maintain your status. For example, you don't need Advance Parole if you are traveling for the same employer that issued your H or L visa. The H or L status must be valid, and you must have evidence that you filed an adjustment of status application. Carry the Form I-797C Notice of Action the confirms you have filed Form I-485.
About CitizenPath
CitizenPath provides simple, affordable, step-by-step guidance through USCIS immigration applications. Individuals, attorneys and non-profits use the service on desktop or mobile device to prepare immigration forms accurately, avoiding costly delays. CitizenPath allows users to try the service for free and provides a 100% money-back guarantee that USCIS will approve the application or petition. We provide support for the Advance Parole Application (Form I-131), Adjustment of Status Application (Form I-485), and several other immigration packages.
Note to Reader: This post was originally published on October 13, 2015, and has been modified with improvements.
Want more immigration tips and how-to information for your family?
Sign up for CitizenPath's FREE immigration newsletter and
SAVE 10%
on our immigration services