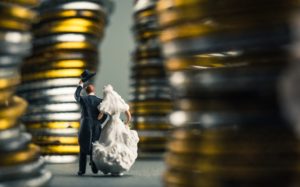 Over the course of the K-1 visa time line, there are several costs that the typical couple will incur. U.S. Citizenship and Immigration Services (USCIS) charges a fee to file Form I-129F, Petition for Alien Fiancé. Then, the U.S. Department of State has a visa fee. Along the way, there are medical exams and other costs. In our analysis of the total total K-1 visa cost, we provide a breakdown of the various fees and costs.
Form I-129F Cost
When filing Form I-129F, Petition for Alien Fiancé, with USCIS, you must submit a filing fee of $535. This starts the process. Once you've paid this fee, it is typically several months before there are additional K-1 visa costs. If your fiancé has children that will accompany him or her, there is no additional fee at this point.
RECOMMENDED: Overview of the K-1 Visa Process
K-1 Visa Cost
Form I-129F is a petition; it isn't the actual application for a K-1 visa. Once USCIS approves the I-129F petition and moves the case the U.S. embassy or consulate, your fiancé may apply for a K-1 visa through the embassy or consulate. He or she will file Form DS-160 which includes a nonimmigrant visa application processing fee of $265. Each person that wants to travel to the U.S. on the K visa will need to a submit an application and pay this fee. For example, a fiancé that has two minor children that will accompany as K-2 visa holders will a total visa cost of $795 (3 x $265).
Medical Exam Cost
The immigration medical exam is a required step before the consular office will issue a K-1 visa. Visa applicants must use a U.S. government-approved physician. Costs can vary significantly based on the country and doctor but run $50 to $300 in most countries.
CitizenPath provides simple, affordable, step-by-step guidance through USCIS immigration applications. Individuals, attorneys and non-profits use the service on desktop or mobile device to prepare immigration forms accurately, avoiding costly delays. CitizenPath allows users to try the service for free and provides a 100% money-back guarantee that USCIS will accept the application or petition. We provide support for the Petition for Alien Fiancé (Form I-129F), Application to Adjust Status (Form I-485), and several other USCIS forms. See our
forms and pricing
.
Other Costs
Other costs may include translation and photocopying charges, fees for getting the documents required for the visa application (such as passport, police certificates, birth certificates, etc.), and travel expenses to the U.S. embassy or consulate for an interview.
Adjustment of Status Cost
If your future spouse plans to stay in the United States after marriage, he or she will need to apply for permanent residence (green card). The foreign national must file Form I-485, Application to Register Permanent Residence or Adjust Status, as soon as possible to remain in status. The USCIS fee for the application plus biometrics runs $1,225.
Again, if children are involved, they will require separate I-485 applications. However, a child applicant who is under age 14 and filing with the I-485 application of the parent receives a reduce fee of $750.
RECOMMENDED: Adjustment of Status Through a K-1 Visa Entry
Total K-1 Visa Costs
For the purposes of obtaining a K-1 visa, the total fees are approximately $850-$1010 for the petition, visa application and medical exam. When including the costs for adjusting status to permanent resident, the total fees are closer to $2,075-$2,325. However, the payments are over the course of approximately one year, so most couples can afford it.
Our analysis of the K-1 visa costs includes many of the necessary expenses that will be a part of obtaining a K-1 visa. It doesn't account for other expenses that you may have such as travel or a wedding. There may also be incidental expenses for translation services or updating a passport.