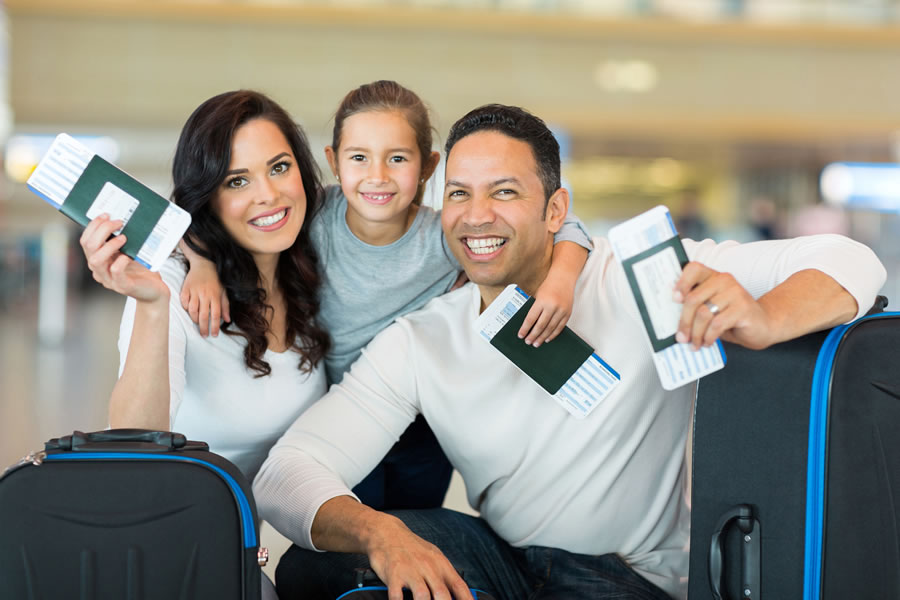 The process to obtain a family-based green card can be a long road. While some eligible relationships may only take a few months, other can take years. Naturally, it would be nice to visit family in the United States while waiting for the immigrant visa. Unfortunately, it can be difficult to obtain a B-1 or B-2 visitor visa after filing Form I-130, Petition for Alien Relative.
It may be difficult, but it's not impossible to obtain a visitor visa with a pending I-130 petition. Many people with pending immigrant visa petitions have successfully traveled to the United States on a B visitor visa or through the Visa Waiver Program (VWP). In fact, Canadians can typically cross the border with ease with a visa or visa waiver. For others, it will be necessary to prove the trip will only be temporary.
B visitor visas are generally associated with tourists, but there are a variety of reasons that one might travel to the United States with a B-1 or B-2 visa. In addition to pure business trips, a B-1 visitor visa might be used for an athlete (amateur or professional) competing for prize money or the domestic employee or nanny traveling with a foreign national employer. Typically, visitors with B visas are visiting family, touring, or vacationing. But B visitors may also be seeking medical treatments in the U.S.
Visitor Visa Eligibility
To qualify for a visitor visa, you must establish that you do not have an "immigrant intent," a plan to remain the U.S. permanently. This is a basic component of most temporary U.S. visas. The American government wants to know that you will depart the United States before your visa expires.


Unfortunately, the Form I-130, Petition for Alien Relative, filed on your behalf, signals that you intend to live permanently in the U.S. at some point in the future. Consequently, people with pending immigrant petitions run into more scrutiny when applying for a temporary visitor visa.
Apply for a Visitor Visa with a Pending I-130 Petition
You may apply for the visitor (B1/B2) visa. A denied visa does not affect your pending I-130 petition. However, it's imperative that you answer all questions truthfully. A lie may impact your ability to obtain a green card in the present and many years into the future. When applying for your B1/B2 visa, it's important for you to establish that you:
plan to stay for only a temporary period of time;
have binding ties to your home country that prove that you intend to return; and
can afford to pay for your expenses during your U.S. trip.
By presenting as much evidence as possible, you can successfully obtain a visitor visa despite having a pending I-130 petition.
Documents to Prepare Visitor Visa Application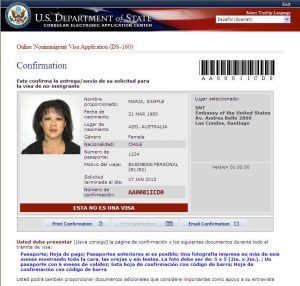 Your application for a B-1 or B-2 visitor visa will consist of government forms as well as documents that you collect yourself. The DS-160 nonimmigrant visa application is the primary document.
Although not all of the items listed below are mandatory, it's critical that you submit strong evidence to prove you intend to return to your home country. Gather the following items when assembling your visitor visa (B-1/B-2) application:
Form DS-160 nonimmigrant visa application

Complete the DS-160 application online on the State Department website. Upon completion, print out the confirmation page (pictured above). You are required to take your confirmation page to your consular interview.

MRV fee receipt

The U.S. embassy or consular office where you apply will provide instructions on paying for the machine-readable visa (MRV) application fee. Take the MRV fee receipt to your consular interview.

Passport

Your passport must have an expiration date that is at least six months later than the end of your intended U.S. trip.

Passport photo

We recommend that you use a photographer who's familiar with the required specifications. See the U.S. State Department's page on guidance for photo specifications.

Evidence that your trip is temporary

If the purpose of your trip is an event such as a wedding or holiday, it's helpful to demonstrate that there's a definitive end. Make sure to include evidence of your intent to depart the United States at the end of your stay, such as an airline, bus, or boat ticket home. If you are applying for a B-1 business visa, you'll need to take additional evidence. Obtain a letter from your foreign employer that describes your job and the scope of your activities while in the United States. The letter should state clearly that:

You will be paid only from sources outside the U.S.; and
The organization expects you to return from your trip.

 
Take evidence of the event you plan to attend. For example, take promotional materials, flyers, and proof of registration if you will be attending a trade show or similar business event.

Evidence that you will return to your home country

Demonstrate that you have strong reasons to return to your home country for financial and family-related reasons. The idea is to show that your ties to your home country are so compelling that you would never overstay your U.S. visa. Examples of evidence that help prove your case include a home ownership document or long-term lease on an apartment, documents that show relationships with close family members staying behind (such as birth or marriage certificates), and documents showing that a job will be waiting for you upon your return (such as a specially written letter from your employer).

Proof of ability to cover your expenses while in the United States

Provide evidence that you won't have the need to seek employment or rely on public assistance (welfare) if you travel to the United States. Depending on your situation, examples of documents that help prove this include:

Bank statements and/or personal financial statements showing you have adequate cash to pay your expenses during the trip.
Pay stubs or employer letter that shows your current sources of income.
Form I-134, Affidavit of Support, filled out and signed by a U.S. friend or relative. This form shows that you have sponsorship and will not become a public charge while in the U.S. This is not required, but it strengthens the application.
A letter from a friend or family member which states that you are welcome to stay with him or her while in the U.S.

Proof that you met your obligations on any previous visa

If you have previously visited the U.S. with a visitor visa, bring proof (if possible) that you departed the United States before the visa expired. A clean immigration record is further evidence that you can be trusted.
Previous Immigration Violations
If you've overstayed a previously issued visa or had run-ins with law enforcement, obtaining a visitor visa, especially with a pending immigrant petition, will be very difficult. In fact, visiting from the wrong country can make your visa more challenging to obtain. Visitors from countries with a high rate of visa denials or visa overstays will likely run into a greater challenge. Consult with an experienced immigration attorney if these issues apply to your situation.
Adjusting Status
Adjustment of status is the process of applying for the green card inside the United States. Many immediate relatives may be eligible to adjust status. However, intending immigrants should avoid adjusting status to permanent resident son after convincing immigration officials that they'll leave before the B visa expires. This misrepresentation can lead to long-term immigration problems. USCIS may view this as a direct violation of the terms of your visa, deny your Form I-485, and possibly consider it a permanent bar to immigration.
On the other hand, it is possible for your plans to change during the course of your trip. As the COVID-19 pandemic has demonstrated, life presents strange and challenging circumstances. These events may force you to change you mind about returning home. It is acceptable to adjust status if you initially had a genuine intent to return home but changed your plans.
USCIS uses a "90-day rule" as a guideline to decide how much to scrutinize your decision. Under the 90-day rule, any of the following activities within the first 90 days of entering the U.S. may be considered a visa violation:
Accepting unauthorized employment
Enrolling in an unauthorized course of study (without a proper student visa)
Entering into a marriage with a U.S. citizen or permanent resident
Filing Form I-485 to adjust status to green card holder
If any of the above conduct occurs within 90 days of entering the United States on a temporary visa (like the B-1, B-2 or VWP), USCIS presumes that you willfully misrepresented your intention for visiting. This could lead to a green card denial. Therefore, many attorneys recommend that their clients wait at least 90 days before adjusting status. It is a cautious approach.
RECOMMENDED: 90-Day Rule and Adjusting Status
About CitizenPath
CitizenPath provides simple, affordable, step-by-step guidance through USCIS immigration applications. Individuals, attorneys and non-profits use the service on desktop or mobile device to prepare immigration forms accurately, avoiding costly delays. CitizenPath allows users to try the service for free and provides a 100% money-back guarantee that USCIS will approve the application or petition. We provide support for the Petition to Help a Relative Obtain a Green Card (Form I-130), Application to Adjust Status (Form I-485), and several other USCIS forms.
Note to Reader: This post was originally published on December 20, 2016, and has been modified with improvements.