Understandably, many people want to understand the total costs for immigration and obtaining a green card. This article explains the costs and fees associated with immigrating through consular processing with a family-based petition (Form I-130).
If you are physically present in the United States and want to apply for a green card, you may be eligible for adjustment of status. For typical forms and costs of adjustment of status, refer to adjustment of status package fees.
Consular Processing Costs
This table outlines the consular processing costs from various government agencies in the family-based process, including USCIS, the National Visa Center (NVC) and the U.S. Department of State (via an embassy or consulate).
USCIS, NVC or U.S. Consulate Item
Government
Fee
CitizenPath
Cost
Form I-130, Petition for Alien Relative
$535
$139
Form I-130A, Supplemental Information for Spouse Beneficiary
$0
Included with
Form I-130
DS-260, Immigrant Visa Application
$325
N/A
Form I-864, Affidavit of Support
$120
$99
Form I-693, Report of Medical Examination and Vaccination Record
$0
N/A
USCIS Immigrant Fee
$220
N/A
Total for Typical Adult Applicant
$1,200
$216
There are other costs associated with consular processing. The cost of the required medical exam will vary by doctor and country. Every applicant must submit a Form I-693 completed by a USCIS-approved physician. There is no fee for the Form I-693, but the doctor will charge a fee for the exam. You also may have some travel expenses associated with your medical exam and consular interview, depending on how away you live. Other costs may include photos to submit with the application, postage, and any police certificates (if applicable).
When Fees are Paid
To begin the process, the U.S. citizen or permanent resident must file Form I-130, Petition for Alien Relative, along with a $535 payment to U.S. Citizenship and Immigration Services.
For immediate relatives (spouse, unmarried child under 21 or parent of U.S. citizens), the additional fees may fall 6 to 12 months after filing the I-130 petition.
For family preference categories, there is generally a much longer wait for a visa. Therefore, the additional fees don't need to be paid for several years in most cases.
Mistakes on your I-130 can cause costly delays or a denial.
Prepare your I-130 petition correctly and affordably with CitizenPath. The attorney-reviewed software guides you through the petition and provides help to answer questions like this one. And personalized filing instructions help you to file your petition today knowing that
you did everything right
! No credit card or signup required to get started.
Try it before you buy it >>

The entire consular processing path, including an immigrant visa petition, will cost approximately $1,200. Compared to adjustment of status, consular processing is the less expensive immigration path. There are generally fewer forms too.
RECOMMENDED: Adjustment of Status vs Consular Processing
Preparation Fees
You may choose to hire an immigration attorney to help prepare documents and analyze your eligibility for a green card. For people with a criminal record, past immigration violations, or a complicated case, consulting with an attorney is a great first step.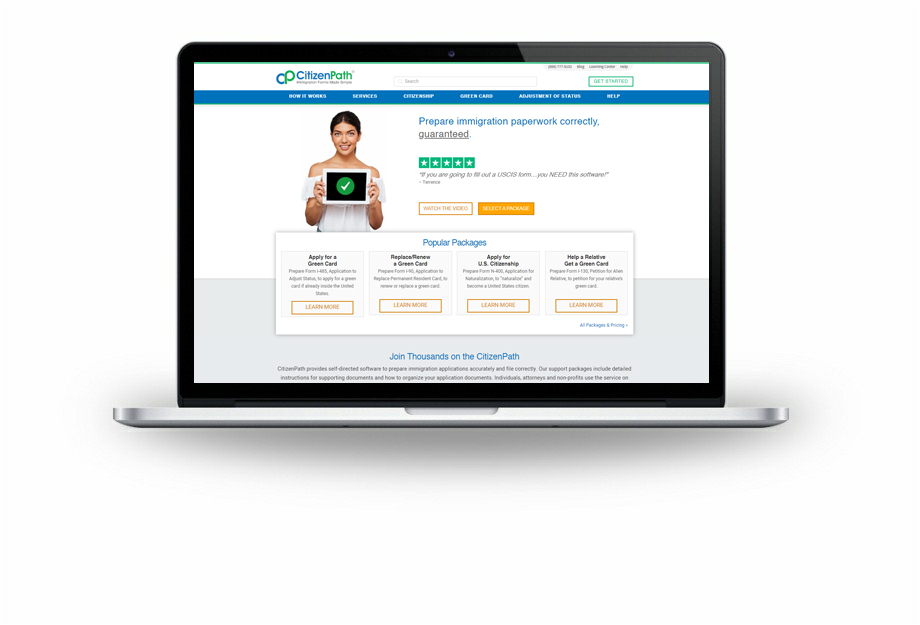 Those with straight-forward cases can typically prepare the I-130 petition without an attorney. CitizenPath has made it even easier. CitizenPath's online service was designed by immigration attorneys to give you an affordable way to prepare immigration forms correctly. We'll ask you questions. You answer. You'll get immediate alerts if there's a problem. Upon completion, we guarantee that your petition will be approved by USCIS.
In addition to your prepared forms, CitizenPath provides you with a set of personalized filing instructions. Our filing instructions are customized to your answers in the petition so you know what to do for your specific situation. The filing instructions provide detailed directions on supporting documents, how to organize your petition, and where to mail it.