College Education for DREAMers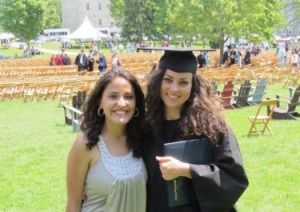 There are an estimated 65,000 undocumented students who graduate from U.S. high schools each year. And although an education in U.S. public schools through grade 12 is guaranteed by law, most (if not all) undocumented students face legal and financial barriers to higher education. Improvements are slow, but change is underway — making college education attainable for DREAMers.
Thus far politicians have failed to pass a federal DREAM Act, a bill that makes higher education more accessible for undocumented youth. For now DACA and a patchwork for state DREAM Acts are easing the pain. Sadly however, over half the nation's states have not passed DREAM-style legislation and do not have policies that are friendly to undocumented student residents. This means that an undocumented immigrant resident who wants to go to a state college, university, or community college has to pay the much pricier out-of-state tuition rate. What's more, undocumented students, even with DACA, are ineligible for grants and scholarships at the federal level.
College Admission for DREAMers
As an undocumented immigrant you probably know that your education in U.S. public schools through grade 12 is legally guaranteed. Some undocumented students assume that they cannot legally attend college in the U.S. However, there is no federal or state law that prohibits the admission of undocumented immigrants to U.S. colleges, public or private. No federal or state laws require students to prove citizenship in order to enter U.S. institutions of higher education. Yet institutional policies on admitting undocumented students vary.
College Tuition for DREAMers
Many state colleges and universities charge undocumented students out-of-state tuition fees (even if the student is a longtime resident of the state). Obviously, this policy can put college out of their reach financially. However several states have passed DREAM Acts or enacted policies that provide in-state tuition. Requirements vary by state. In general, students must live in state and attend high school for a specified period (1-4 years), graduate or receive their GED, and must sign an affidavit stating their intention to file for legal immigration status. States that support in-state tuition for undocumented students:
States that have gone out of their way to bar undocumented immigrant students from in-state tuition benefits include Alabama (HB56, 2011), Arizona (Proposition 300, 2006), Georgia (SB 492, 2008), South Carolina (HB4400, 2008), and Indiana (H 1402, 2011).
Financial Aid & Scholarship Programs for DREAMers
Undocumented students cannot legally receive any federally funded student financial aid, including loans, grants, scholarships or work-study money. Likewise, most states restrict financial aid eligibility to citizens and permanent residents. However, some states do grant eligibility for state financial aid to undocumented students who qualify for in-state tuition. TheDream.US has emerged as one of the highest profile national scholarship funds for undocumented students. To qualify, applicants must have received DACA. However, there are different scholarship programs available with varying requirements.
Schools with DREAMer Resource Centers
Several schools in California now have dedicated DREAMer Resource Centers to support the undocumented immigrant students on their campuses:
California State University, Fullerton
University of California, Berkeley
University of California, Los Angeles (UCLA)
California State University, Los Angeles
University of California, Irvine
---