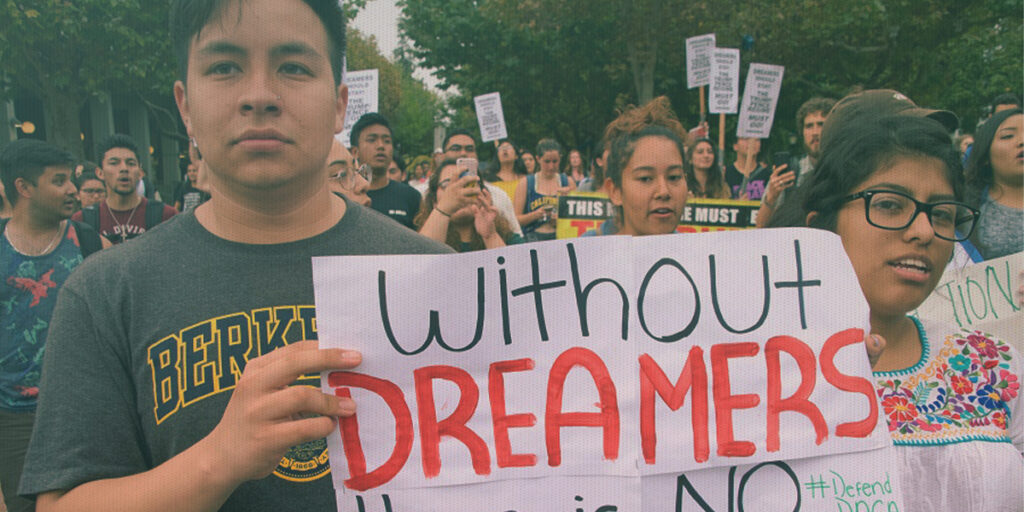 Last year, the Biden administration unveiled a plan to provide a pathway to citizenship for approximately 11 million undocumented immigrants. To date, no meaningful legislation has moved forward. More recently, Democrats pushed a plan to include a pathway to citizenship for DACA holders, farmworkers, and essential workers in the Build Back Better Act. That proposal didn't survive. Either would have provided long-term immigration solutions for many of America's undocumented population.
Dreamers, which includes DACA recipients, is the broad term referring to undocumented immigrants who generally came to the United States as children with their parents. They had no active role in the decision to come to Americas. Their hope now, like any young person, is to have a future with opportunity. Unfortunately, having no lawful immigration status in modern-day America makes building a future very difficult. Immigration reform aims to provide a permanent resolution for dreamers.
Alternative Long-Term Immigration Solutions
As we've seen in the past several years, Congress has been extremely ineffective at pushing through meaningful legislation for dreamers. Dreamers should remain optimistic, but there's no guarantee that new laws will improve the situation soon. It's important that dreamers evaluate their full range of options.
Although not everyone will qualify for these alternative paths to legal status, there are several other potential long-term immigration solutions for dreamers. These are not new programs. They are well-established paths to permanent resident status that immigrants have used for years. While not necessarily designed for dreamers, they can be used by eligible dreamers to obtain a green card.
In this article, we use the term "undocumented" immigrant to describe an immigrant without any legal immigration status. No status maybe the result of entering the United States without inspection or entering via a lawful nonimmigrant visa (e.g. tourist visa, student visa) that has since expired. We use the term "entered without inspection" or EWI to specifically describe someone that has come across the border and never interacted with a U.S. border agent.
Marriage to a U.S. Citizen or Lawful Permanent Resident
One of the most common paths for a dreamer or undocumented immigrant to obtain permanent resident status is through marriage to a U.S. citizen or lawful permanent residence. After all, the foreign spouse of U.S. citizen or permanent resident has a qualifying relationship for a green card.
In fact, if the Dreamer entered the United States with a valid visa that later expired, the green card application process can be fairly straight-forward for the spouse of a U.S. citizen. Undocumented immigrants who entered without inspection have a more difficult path, but it is possible.
Immediate relatives with a lawful entry may be able to adjust status.
Spouses (and unmarried step children under age 21) of U.S. citizens qualify for permanent residence as immediate relatives. If the immigrant entered the U.S. lawfully, he or she may be eligible to apply for a green card from inside the United States. This process is known as adjustment of status. Generally, a lawful entry means that the visitor entered the U.S. with a valid visa or parole document as inspected by a Customs and Border Protection officer.
RECOMMENDED: DACA Green Card through Marriage
CitizenPath's online immigration services accommodate situations like this. Dreamers and other undocumented immigrants who have married a U.S. citizen can use the CitizenPath platform to prepare an adjustment of status application package.
And what if you don't have a lawful entry?
As mentioned, a lawful entry is generally a requirement to adjust status. All other applicants must apply for a green card outside the United States. That means they must depart the United States and apply through a U.S. embassy or consulate, a process known as consular processing. But departing the U.S. creates a significant problem. If the immigrating spouse and/or children resided in the U.S. unlawfully for at least 180 days (6 months), they could then be automatically barred from reentry to the U.S. for 3 to 10 years once they leave the U.S. This bar to reentry could prevent them from returning.
The solution is a "provisional" waiver. Certain immigrants who are relatives of U.S. citizens or permanent residents may file Form I-601A (Application for Provisional Unlawful Presence Waiver) to request a provisional waiver of the unlawful presence grounds of inadmissibility. The provisional waiver offers individuals some level of certainty that, once approved, they will be able to return to the United States after a successful consular interview. The provisional waiver program covers the undocumented spouse and children of U.S. citizens. Filing Form I-601A to request a provisional waiver is not a do-it-yourself project. Find an experienced immigration lawyer who can analyze your specific situation and prepare the supporting documentation for a successful waiver request.
RECOMMENDED: Determining if You Need the I-601A Waiver for Unlawful Presence
Asylum Status
Asylum status is available to anyone in the United States who has suffered persecution in his or her home country or who has a well-founded fear of persecution if he or she were to return to that country. Although the limits of asylum are being tested on the southern border of the United States, it is law and a viable long-term immigration solution for certain dreamers.
It's important to understand that conditions like gang violence and poverty generally do not make someone qualified for asylum status in the U.S. The persecution must be done by the government, or by a group that the government is unwilling or unable to control. The persecution must be on account of one of the following five groups: race, religion, nationality, membership in a particular social group or political opinion.
In general, eligibility for asylum requires that:
You are present in the United States (through lawful for unlawful entry);
You are unable or unwilling to return to your home country due to past persecution or have a well-founded fear of future persecution if you return;
The reason for persecution is related to one of five things: race, religion, nationality, membership in a particular social group, or political opinion; and
You are not involved with an activity that would bar you from asylum.
A grant of asylum is not simple. It's important for asylum seekers to work with a reputable organization (non-profit or legal firm) that has experience with asylum cases. In addition to filing Form I-589, Application for Asylum and for Withholding of Removal, the lawyer must help you document that you meet the above requirements. Asylees are generally eligible to apply for a green card one year after receiving the asylum grant.
RECOMMENDED: How the Asylum Process Really Works
Green Card through Employment with LIFE Act
Even dreamers who have navigated through higher education to become candidates for a green card through employment may run into challenges. They may require the protections of legislation known as Legal Immigration Family Equity (LIFE) Act (245(i)). The law "ended" on April 30, 2001, but it's legacy may still help certain dreamers.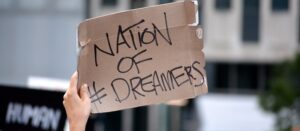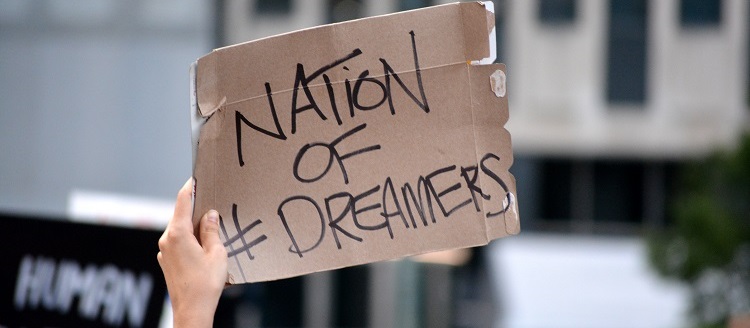 U.S. employers can sponsor foreign nationals (including DACA recipients) for a green card in certain situations. Generally, these are high skill jobs and the employer has gone through a process known as Labor Certification or PERM prior filing the petition. However, the process still requires the immigrant to return to his/her home country because of his or her original unlawful entry or out of status condition. Yet, if the individual has 245(i) protection, he/she can complete the process in the United States and obtain a green card without leaving.
These cases aren't common. To take advantage of 245(i) protection, the intending immigrant must have been the beneficiary on an immigrant petition filed before April 30, 2001. For example, if the dreamer's U.S. citizen paternal uncle filed an I-130 petition on behalf of the dreamer's father by April 30, 2001, then not only the father but the son or daughter may be covered by the LIFE Act's 245(i) provision.
This is an oversimplification of 245(i) protection and eligibility. To determine if this may apply to your situation, consult with an immigration attorney who can research past petitions and analyze your case.
U Visa for Certain Crime Victims
The U nonimmigrant status (U visa) was created for victims of certain crimes who have suffered mental or physical abuse and are helpful to law enforcement in the investigation or prosecution of criminal activity. Congress introduced the visa to encourage victims to cooperate with police and prosecutors without the fear of deportation. A U visa provides legal status, employment authorization, and can also provide a path to a green card after three years. Dreamers and other undocumented immigrants may be eligible for a U visa if they meet the requirements.
U Visa Eligibility
Eligibility for a U visa requires that:
You are the victim of qualifying criminal activity;
Your involvement resulted in substantial physical or mental abuse;
You have information about the criminal activity. If you are under the age of 16 or unable to provide information due to a disability, a parent, guardian, or next friend may possess the information about the crime on your behalf;
You were helpful, are helpful, or are likely to be helpful to law enforcement in the investigation or prosecution of the crime. If you are under the age of 16 or unable to provide information due to a disability, a parent, guardian, or next friend may assist law enforcement on your behalf;
The crime occurred in the United States or violated U.S. laws; and
You are admissible to the United States. (If you are not admissible, you may apply for a waiver on a Form I-192, Application for Advance Permission to Enter as a Nonimmigrant.)
Family Coverage
The U visa case will typically cover the witness plus additional family members (spouse and children). If you believe your situation may warrant a U visa, speak to an immigration attorney. There are also many non-profit organizations that work with immigrant victims of crime.
---
Because most dreamers arrived in the United States at a very young age, they generally don't know any other country. Many don't have any family in their country of origin. Some don't even speak the language of their native country. It's not reasonable to "send them back" as they are already home. The United States is the only home they've ever know. Dreamers are deserving of a long-term immigration solution.
About CitizenPath
CitizenPath provides simple, affordable, step-by-step guidance through USCIS immigration applications. Individuals, attorneys and non-profits use the service on desktop or mobile device to prepare immigration forms accurately, avoiding costly delays. CitizenPath allows users to try the service for free and provides a 100% money-back guarantee that USCIS will approve the application or petition. We provide support for the DACA Renewal Application (Form I-821D), Adjustment of Status Application (Form I-485), and several other immigration packages.
Note to Reader: This post was originally published on March 19, 2019, and has been modified with improvements.
Want more immigration tips and how-to information for your family?
Sign up for CitizenPath's FREE immigration newsletter and
SAVE 10%
on our immigration services