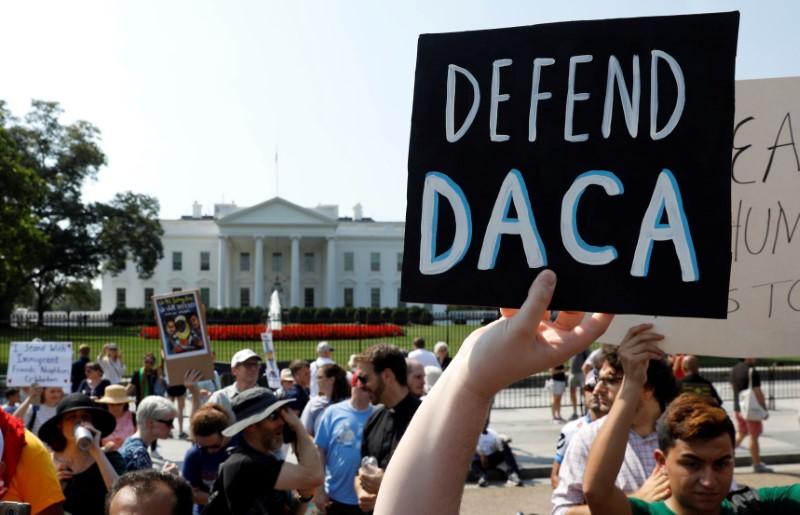 For the second time, a federal judge has issued an injunction that orders the Trump administration to continue accepting applications for the DACA program. The New York ruling affirms an earlier court injunction in California that saved the Deferred Action for Childhood Arrivals program from certain death. USCIS is now accepting DACA renewal applications.
On September 5, 2017, attorney general Jeff Sessions announced that the Trump administration would phase out DACA. At the time of the announcement, eligible applicants could file a DACA application only until October 5, 2017.
Under the federal court ruling, the U.S. Citizenship and Immigration Services (USCIS) will now run the DACA program as it was before the September 5 announcement. However, USCIS says that they will not be accepting applications for initial grants of DACA, only renewal applications.
Generally, you may request a renewal if you met the initial 2012 DACA guidelines and you:
Did not depart the United States on or after Aug. 15, 2012, without advance parole;
Have continuously resided in the United States since you submitted your most recent DACA request that was approved; and
Have not been convicted of a felony, a significant misdemeanor, or three or more misdemeanors, and do not otherwise pose a threat to national security or public safety.
There are some risks associated with a renewal application. The court order could be reversed or overturned. In this case, DHS may opt to reject pending DACA applications and not refund fees. However, this is increasingly more unlikely that a second court has ruled in favor of DACA.
My DACA Expired Before 9/5/2016
If you previously received DACA and your DACA expired before September 5, 2016, or your DACA was previously terminated at any time, you cannot request DACA as a renewal. That's because renewal requests generally must be submitted within one year of the expiration date of your last period of deferred action approved under DACA. If this applies to you, you may be able to file a new DACA request with the assistance of an immigration lawyer.
My DACA Expired On or After 9/5/2016
If you previously received DACA and your DACA expired on or after September 5, 2016, you may still file your DACA renewal request.
My DACA Isn't Expired Yet
USCIS recommends that you file your DACA renewal application five months before the expiration date. More specifically, you should renew up to 150 days before the expiration but not less than 120 days before the expiration date.
USCIS has not provided specific guidance on how it will treat early renewal requests. Previously, USCIS may have rejected requests that arrived more than 150 days before the expiration date. On the other hand, USCIS is taking several months to process DACA renewal applications. Therefore, you should renew as soon as possible to avoid being exposed without a valid, unexpired card.
Making a DACA Renewal Request
To request consideration for a DACA renewal, most applicants will file the following items with USCIS:
Form I-821D, Consideration of Deferred Action for Childhood Arrivals
Form I-765, Application for Employment Authorization
Form I-765 Worksheet
$495 filing fee
Photocopies of both sides of your Employment Authorization Card (work permit) or the approval notice from your most recent grant of DACA
All three forms must be submitted together. Applicants may need to include additional documents and/or statements, depending how questions are answered in the DACA application. Detailed filing requirements can be found at USCIS.gov or by using CitizenPath to prepare your DACA application.
RECOMMENDED: How to Prepare for a DACA Renewal Application
Cost of Renewal
As mentioned above, there's a $495 filing fee when you renew DACA. In fact, there's no fee associated with Form I-821D. Instead, there's a $410 filing fee for Form I-765 and a mandatory biometrics screening fee. You can send payment as a check, money order, or credit card payment. USCIS recently began accepting credit cards. To pay by Visa, MasterCard, American Express or Discover, fill out and submit Form G-1450, Authorization for Credit Card Transactions, with your application.
DREAM Act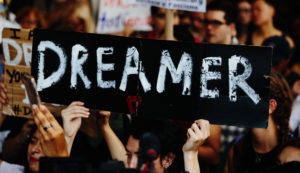 Certain Congress members are working on legislation for DREAMers that may offer a more permanent solution, perhaps even a path to U.S. citizenship. However, this is far from certain at the time of writing this article. Until DREAMer legislation is passed or you become eligible for other paths to legal status, DACA is one of the best options for most undocumented persons that are eligible.
RECOMMENDED: 4 Paths to Legal Status for Undocumented Immigrants
No Advance Parole for DACA Recipients
Advance parole is type of travel document that was previously used by DACA beneficiaries to travel outside the United States for specific, temporary travel purposes. It was even used as a strategy for DACA recipients that needed a lawful entry in order to adjust status to permanent residents. The ruling does not change the termination of advance parole for DACA recipients. USCIS will not accept advance parole applications from DACA recipients at this time.
Deferred action is a discretionary determination to defer a removal action of an individual as an act of prosecutorial discretion. Further, deferred action under DACA does not confer legal status upon an individual and may be terminated at any time, with or without a Notice of Intent to Terminate, at DHS's discretion.
About CitizenPath
CitizenPath provides simple, affordable, step-by-step guidance through USCIS immigration applications. Individuals, attorneys and non-profits use the service on desktop or mobile device to prepare immigration forms accurately, avoiding costly delays. CitizenPath allows users to try the service for free and provides a 100% money-back guarantee that USCIS will approve the application or petition. We provide support for the DACA application (Form I-821D, I-765, I-765WS), Adjustment of Status Application (Form I-485), and several other popular forms.