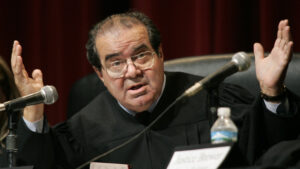 U.S. Supreme Court Justice Antonin Scalia's recent death and how a new Justice will be selected has injected new fuel into the Democratic and Republican debates. But it's highly unlikely that a new Justice will be selected before this spring when the Supreme Court takes on expanded Deferred Action for Childhood Arrivals (DACA) and Deferred Action for Parents of Americans and Permanent Residents (DAPA). Both the DAPA and expanded DACA programs have been blocked by lower courts. In the case known as United States v. Texas, the Supreme Court is expected to make a final decision.
A Final Decision for DAPA and Expanded DACA
The Supreme Court's decision in the case of the United States v. Texas is expected to be the final word and determine if the DAPA and expanded DACA programs will be implemented.
Immigration advocates consider the President's original DACA program that was implemented in 2012 as an overwhelming success story. The program enabled over 600,000 undocumented youth who were brought to the United States by their parents to receive a reprieve from deportation and obtain employment authorization for a renewable two-year period.
On November 20, 2014, President Obama announced executive actions on immigration that would help nearly five million undocumented immigrants in the U.S. to come out of the shadows. The President's immigration action included expanding the existing DACA program and introducing a similar deferred action program called Deferred Action for Parents of Americans and Permanent Residents (DAPA) to aid undocumented parents with a U.S. citizen or permanent resident child. Although these programs have been stalled, about 10 million undocumented immigrants are indirectly protected from deportation through another executive action that changed immigration enforcement policy.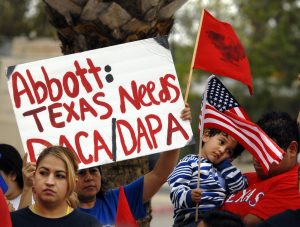 The programs were never launched. Instead, they have been challenged in courts, most notably by the state of Texas. Texas has since received support from other state's attorneys general from Arizona, Arkansas, Florida, Georgia, Idaho, Indiana, Kansas, Louisiana, Maine, Michigan, Mississippi, Montana, Nebraska, Nevada, North Carolina, North Dakota, Ohio, Oklahoma, South Carolina, South Dakota, Tennessee, Utah, West Virginia and Wisconsin.
The U.S. Supreme Court is expected to make a decision in United States v Texas in June 2016. And a favorable ruling for the Obama Administration means that DAPA and expanded DACA could be implemented before the end of the year.
Scalia's View on DAPA and DACA
We'll never know how Justice Scalia would have voted in United States v. Texas. We can only speculate on his position based on previous rulings. Justice Scalia was nominated by President Ronald Reagan and espoused a mostly conservative ideology.
Even as the Supreme Court's first Italian-American justice, Scalia didn't sympathize with immigration advocates who tried to bar states from enacting their own immigration enforcement laws in 2012 (Arizona v. United States).
In his dissent in Arizona v. United States, Scalia's comments suggested that he disagreed with President Obama's DACA program. And according to the New York Times, "Justice Scalia also took the unusual step of raising an issue that had not been part of the case, assailing President Obama's executive program granting protection from deportation to young undocumented immigrants, citing it as evidence of the administration's abdication."
Most experts agree that he most likely would have supported Texas (and the coalition of 26 states) in its effort to stop the implementation of DAPA and DACA. So does that help the case for DAPA and DACA?
Significance of Scalia's Absence for DAPA and DACA
Justice Scalia's death leaves the court with eight Justices, instead of a full bench with nine. Many legal scholars see this as insignificant as relates to the case which will rule on the future of the DAPA and DACA programs.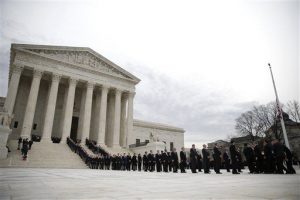 With Scalia absent, the Court has a fairly balanced bench. The Court has four consistently liberal-leaning justices — Ruth Bader Ginsburg, Stephen G. Breyer, Sonia Sotomayor and Elena Kagan — and three conservative-leaning justices — Chief Justice John G. Roberts Jr. and Justices Clarence Thomas and Samuel A. Alito Jr. Justice Anthony Kennedy has demonstrated a willingness to rule for both sides in the past. In a 4-4 split decision, the Court would allow the existing decision (to halt DAPA and expanded DACA) to stand. This would be bad for hopeful applicants as both programs would be effectively killed.
But there is much reason for immigration advocates to be optimistic. Conservative Justices have supported pro-immigrant rulings in the recent past. In the case of Arizona v. United States (SB 1070) as mentioned above, Chief Justice John Roberts, a conservative, sided with the majority and affirmed that the Obama Administration has discretion to set immigration enforcement priorities.
The Merits of DAPA and Expanded DACA
The Obama Administration argues that the President's executive actions on immigration are lawful exercises of his discretion, and in adopting these policies, he simply is enforcing existing immigration laws passed by Congress. And Arizona v. United States suggests there is clear precedent from the Supreme Court on this matter.
In fact, every U.S. president since at least 1956 has granted temporary immigration relief of some form.
For this reason, many legal scholars believe that President Obama will prevail and the DAPA and expanded DACA programs will be implemented.
Lawful Status and Lawful Presence
Much of the public debate and even legal debate has surrounded the idea that DAPA and expanded DACA give undocumented immigrants lawful status in the U.S. This is untrue.
Critics contend that the Obama Administration has attempted to "effectively rewrite the laws" through the use of executive action. They specifically point out that the DAPA and expanded DACA programs exceed the bounds of this authority on the basis that beneficiaries of DAPA and expanded DACA would be lawfully present and eligible for employment authorization while these initiatives are in effect. However DAPA and DACA do not create or grant legal status. Deferred action provides for lawful presence.
There is a clear distinction between lawful status and lawful presence in immigration law. A person granted deferred action is by definition lawfully present in the United States. However, just because someone is lawfully present does not mean that he or she has a lawful immigration status. Lawful status refers to an individual that is in the United States in a specific immigrant or non-immigrant visa classification and complying with its terms.
The concept of deferred action is a component of immigration law and has long been recognized as a discretionary decision by the Department of Homeland Security (DHS) to grant a temporary reprieve from deportation to a non-citizen in the U.S. This allows DHS to focus limited enforcement resources on higher priority targets.
About CitizenPath
Designed by attorneys, CitizenPath is the online service that makes immigration forms simple. The website provides simple, step-by-step guidance through USCIS applications and petitions. The low-cost service helps to simplify the process by explaining each question and providing alerts if your answer to a question could be a problem. CitizenPath even guarantees that USCIS will accept your application. There's online self-help for DACA Application (Form I-821D), the future DAPA Application, and several other USCIS forms.