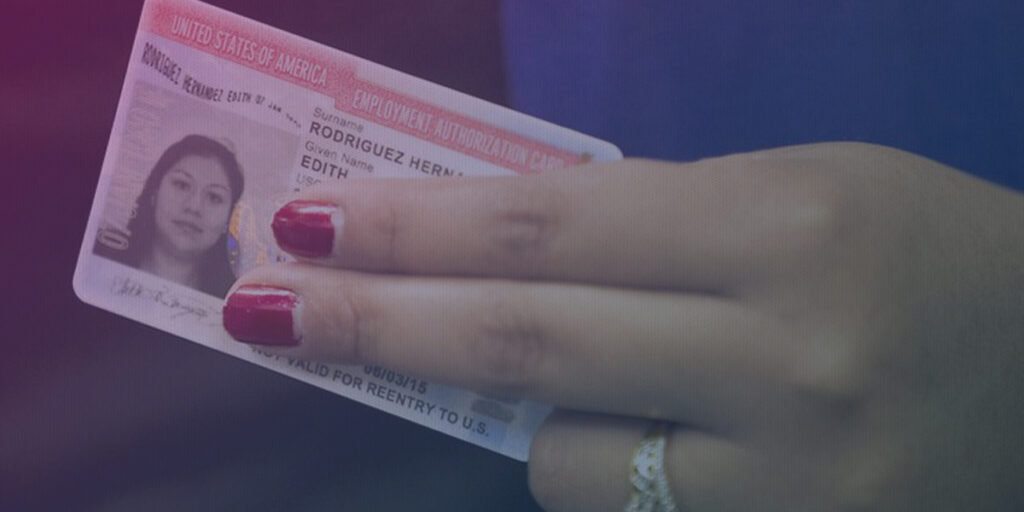 It's probably the first U.S.-government issued identification that you've ever had. So losing a work permit from your Deferred Action for Childhood Arrivals (DACA) grant can be an exasperating experience. Don't despair; you can replace a lost DACA card.
It's important to understand that losing the DACA card, officially known as an employment authorization card, does not mean that you've lost your grant of DACA. It's only a card that proves your deferred action status and authorization to work in the United States.
However, not having the work permit in your possession can create at least two serious problems:
No work permit means that you cannot accept new employment.
Proving your right to be present in the United States becomes more difficult if questioned by law enforcement or immigration officials.
How to Replace a Lost DACA Card
You can replace a lost DACA card by filing Form I-765, Application for Employment Authorization, and the I-765 worksheet with U.S. Citizenship and Immigration Services (USCIS). It's the same application that you (or your legal service provider) filed along with your Form I-821D when initially requesting deferred action.
It's helpful to have a copy of your initial DACA application package when preparing the I-765 form. To avoid red flags, make sure that your new answers are consistent with your initial application. If you don't have a copy of the initial I-765 application, contact the attorney or legal service that helped you request DACA.
Preparing the Form I-765 is something many people can do on their own. If you feel like you need a little help, CitizenPath provides an affordable, online service to help you prepare Form I-765. The service is free to try and only takes a few minutes.
RECOMMENDED: Lost EAD Replacement
Application Checklist
When filing Form I-765 to replace your lost DACA card, you generally must include the following items:
Form I-765, Application for Employment Authorization
Form I-765 Worksheet
$495 ($410 filing fee plus $85 biometrics fee)
A photocopy of your lost DACA card (if available). If a photocopy of your lost card is not available, include a copy of another government-issued photo identity document. Acceptable examples include a copy of your:

Passport showing your picture, name, and date of birth;
Birth certificate with photo ID;
Visa issued by a foreign consulate;
Matrícula consular card (if of Mexican nationality); or
National ID document with photo and/or fingerprint.

Two identical passport-style color photographs of yourself taken within 30 days of filing the application
A copy of the order, notice, or document reflecting the exercise of deferred action (i.e. Form I-797 Notice of Action)
Depending on your answers, additional items may need to be included when filing Form I-765. Please read the I-765 instructions on USCIS.gov or utilize CitizenPath's service to prepare the I-765 and receive simplified filing instructions.
Replacing a Lost DACA Card vs Renewal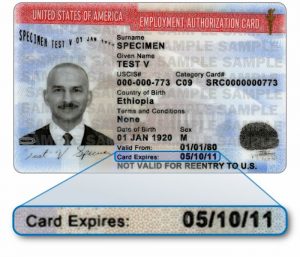 As you can see, replacing a lost DACA card is expensive. It costs as much as renewing your DACA grant. So if your expiration date is near, it's generally more practical to wait.

If you chose to replace a lost DACA card by filing Form I-765, it will take approximately 3 to 4 months to obtain approval and a new EAD. It will also cost you $495 in USCIS fees ($410 filing fee plus $85 biometrics fee).
On the other hand, you may renew your EAD up to 150 days prior to the expiration date. If renewing, you will also need to file Form I-821D, but the cost is the same as a replacement. It will also take longer than 4 months because USCIS must approve Form I-821D before they move on to your request for an EAD renewal.
RECOMMENDED: DACA Processing Time
Where's my DACA expiration date?
Not sure when your expiration date is because you lost your DACA card and didn't make a copy? Check the I-797 Notice of Action that you received from USCIS with your most recent grant of DACA. It will provide the valid dates for your current grant of DACA.
Employment with a Lost DACA Work Permit
Generally, an employer must have your physical work permit to hire. In rare cases, that employer may accept a photocopy of your work permit
If you are already employed, you do not need to inform your employer that you've lost your DACA card. Replace it as soon as you can in case you are asked to re-verify or want to move to a different employer.
Lost Driver's License and Social Security
Lost Social Security Card
It's not important to have a Social Security card on your person; it's only important to know your Social Security number. You don't want identity thieves to have your Social Security number, so don't carry it in your wallet. Keep it in a safe place at home.
The good news is that it's free and relatively easy to replace a Social Security card. You can learn more on the Social Security website.
Lost Drivers License
The procedure for replacing a lost driver's license will depend on the rules in your state. Driver's licenses are issued at the state level. So each state's department of motor vehicles will have different requirements and costs for replacing a driver's license or state ID.
My DACA card was stolen!
The process for replacing a stolen work permit is basically the same as a lost card. It is recommended that you obtain a police report. A police report may help get the ID returned (if it's recovered), saving you some important cash. It also puts the matter on record in case of identity theft. If you do have a police report, you can include it when filing Form I-765.

Most DACA recipients have learned that the best thing to do is leave the Social Security card and DACA card at home. Carry a driver's license (or state ID) only. Generally, you'll only need the Social Security number and EAD when applying for employment, schools and other as-needed uses. This will save you the anxiety and cost of dealing with a lost DACA card.
About CitizenPath
CitizenPath provides simple, affordable, step-by-step guidance through USCIS immigration applications. Individuals, attorneys and non-profits use the service on desktop or mobile device to prepare immigration forms accurately, avoiding costly delays. CitizenPath allows users to try the service for free and provides a 100% money-back guarantee that USCIS will approve the application or petition. We provide support for the Application for a Work Permit (Form I-765), DACA Renewal (Form I-821D), and several other immigration services.
Want more immigration tips and how-to information for your family?
Sign up for CitizenPath's FREE immigration newsletter and
SAVE 10%
on our immigration services