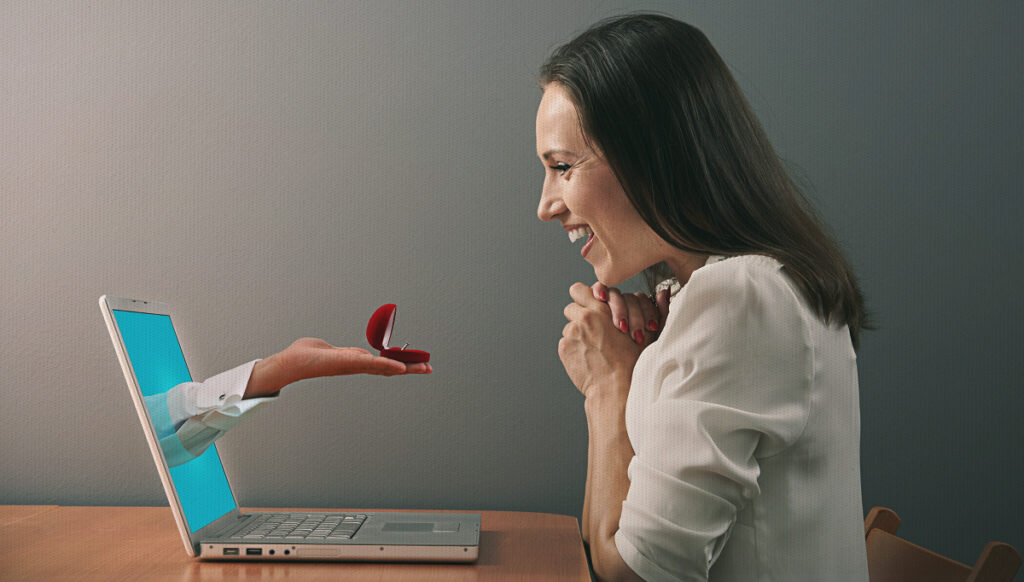 For some couples, the traditional wedding is no longer practical. Virtual weddings are becoming more prevalent. This may be true for arranged marriages and some long-distance relationships. It may also be requested by U.S. military personnel who are abroad. The need for proxy marriages got additional attention during the pandemic. Many couples were simply unable to unite in person for a wedding due to international flight restrictions. For U.S. citizens and permanent residents who want to help a spouse obtain a green card, it's important to understand the legality of these virtual weddings for immigration purposes.
Virtual weddings are generally known as "proxy marriages" in a legal context. They refer to marriages where both individuals are not physically present in the same place. In other words, either of the two matrimonial parties are not present at the marriage ceremony. Another person stands in for the non-present individual as a proxy. Therefore, proxy marriages are typically conducted online through platforms such as Zoom and Skype.
Marriage Requirements for a Green Card
A U.S. citizen or permanent resident may petition a foreign national spouse for permanent resident status (green card). The U.S. spouse files Form I-130 (Petition for Alien Relative) to designate an immigrant visa for this "qualifying relationship."
In order for the U.S. government to recognize the relationship, the petitioner must submit evidence that:
The marriage is legally valid and
There is a bona fide relationship.
Legal Marriage
In most case, married couples can submit a copy of marriage certificate to prove a valid marriage. Provided that the marriage was legal in the jurisdiction where it took place, USCIS will generally consider it a valid marriage. It doesn't matter if the marriage was in New York or Bangladesh. If the government body responsible for issuing marriage certificates deemed it a legal marriage, the U.S. government will also consider it a marriage. But it does get a little more complicated for persons with a proxy marriage.
Bona Fide Relationship
A marriage certificate is just a document. A document can be faked. Therefore, it's also critical for spouse-based petitions to include evidence that there is a genuine relationship between the spouses. A marriage is more than a piece of paper. Generally, it's a long-term commitment to each other. This can be evidenced with a variety of documents that is outside the scope of this article.
RECOMMENDED: Evidence of a Bona Fide Marriage to Support a Spouse I-130
Legality of Virtual Weddings for Immigration
Generally, U.S. immigration law will recognize proxy marriages. However, it's important to understand the specific requirements. The marriage must be legally valid in the jurisdiction where it occurred and the couple must consummate the union after the marriage. Specifically, the couple must have had sexual relations after the marriage took place. Therefore, it is essential that the couple be in the same physical space at some point after the marriage. Consummation prior to the marriage does not meet the criteria.
How to Get a Proxy Marriage
If you are interested in a proxy marriage, contact your local government authority to determine if a proxy marriage is a legal method in that jurisdiction. In the United States, Colorado, Missouri, Montana, Texas, and Utah each have laws that allow for proxy marriages with various rules. There are also private businesses that can help you coordinate the event such as:
If you're not certain, always check with an immigration attorney to confirm the validity of the marriage.
Evidence to Prove Your Proxy Marriage is Valid for Immigration Purposes
While married couples can generally submit a copy of marriage certificate to prove a valid marriage, those who married through a virtual ceremony should submit additional evidence to prove the marriage was consummated.
Immigration officials may accept affidavits and/or documentary evidence as proof that you consummated your marriage after the ceremony. Examples of acceptable documentary evidence to show the couple was in the same physical place include but are not limited to copies of the following:
Airplane tickets
Hotel reservations
Photos together
Bills
Apartment lease
Additionally, petitioners should gather a written account from third-parties who are knowledgeable of the couple's relationship. Individuals may write an affidavit that attests to the fact of the relationship. The person writing the affidavit should have been someone who witnessed the proxy marriage and the couple's in-person meeting after the marriage. Persons writing an affidavit may include:
Friends
Family
Religious leader
Landlord
The couple
Filing for a Green Card
Once the couple has consummated the marriage, they can also start the process to obtain a green card for the foreign national spouse. The consular process starts with the U.S. citizen or lawful permanent resident filing Form I-130, Petition for Alien Relative and the Form I-130A supplement. This petition tells the U.S. government that you have a qualifying relationship and reserves an immigrant visa.
CitizenPath helps people prepare the petition and navigate the spouse-based green card process. Experienced immigration attorneys designed our affordable services to make it easy and give you the reassurance you're doing everything correctly. CitizenPath customers get a neatly prepared Form I-130, Form I-130A, customized filing instructions, and a guarantee that USCIS will approve the petition. Learn more >>
Getting Married in the United States
In some cases, it may be necessary to get married in the United States. Foreign nationals may be able to obtain a K-1 visa for the purposes of marrying a U.S. citizen. A K-1 visa may be appropriate for your situation if:
Your preference is the marry in the United States;
You are unable to have a legal proxy marriage in your area; or
You married through a proxy marriage but are unable to consummate the marriage.
A K-1 visa allows a foreign national to enter the United States for the purpose of marriage to a U.S. citizen within 90 days. That same U.S. citizen initiates the process by filing Form I-129F (Petition for Alien Fiancé).
Some individuals choose to have a ceremonial online wedding with friends and family. Then, the foreign fiancé enters the U.S. to have the official marriage and adjust status to permanent resident.
RECOMMENDED: Overview of the K-1 Visa Process
---
A proxy marriage may be a good solution for your situation, but always check to make sure it is valid for immigration purposes. Even if a proxy marriage is legally valid in the place where you were married, U.S. immigration law will only recognize the marriage if it was later consummated.
Use CitizenPath to prepare your USCIS forms and get detailed directions on supporting documents to submit as a part of your petition package. Individuals, attorneys and non-profits use the service on desktop or mobile device to prepare immigration forms accurately, avoiding costly delays. CitizenPath allows users to try the service for free and provides a 100% money-back guarantee that USCIS will approve petition. We provide support for the Immigrant Visa Petition (Form I-130), K-1 Visa Petition (Form I-129F), and several other immigration packages.
Want more immigration tips and how-to information for your family?
Sign up for CitizenPath's FREE immigration newsletter and
SAVE 10%
on our immigration services