Preparing for your marriage-based immigrant visa consular interview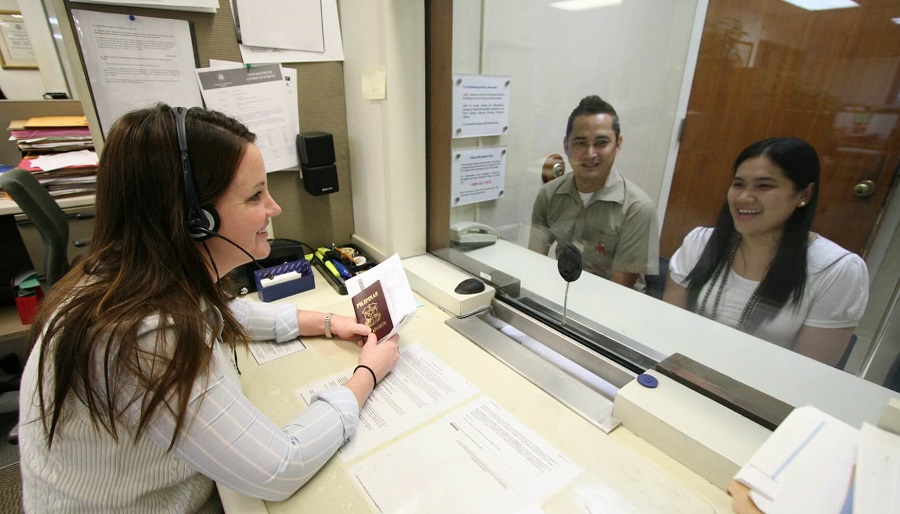 The consular interview at a U.S. embassy or consulate is an important milestone in your application for an immigrant visa (green card). After all, consular officers use their discretion based on this interview to determine if they will approve your green card application. For marriage-based applications, the interview is especially crucial. Knowing what to expect and preparing for possible green card interview questions will help you be ready for the big day.
Green card interview questions for spouses tend to dig a little deeper than typical interviews. That's because marriage is one of the primary ways that fraudulent visas are requested. In other words, immigration officers want to verify that you have a bona fide marriage. That's it. The officer will ask additional questions to help determine if your marriage is the real deal.
This article addresses the green card interview questions at a U.S. embassy or consulate. If you are applying for a green card inside the United States (adjustment of status), consider reading our article on the I-485 interview preparation.
When to Expect the Consular Interview for a Green Card
The marriage-based green card process starts with the U.S. citizen or permanent resident spouse filing an I-130 petition package with U.S. Citizenship and Immigration Services (USCIS). The I-130 processing time generally takes a minimum of six months.
After the approval of an I-130 petition, USCIS forwards the case to the National Visa Center (NVC). The NVC does much of the ground work before the interview. Assuming an immigrant visa is available, the NVC will have you complete the following steps:
Choose an Agent

The agent is the person that will receive information about the case. The beneficiary can be the agent, or you may select the petitioner, family member or other person that you trust to be your agent.

Pay Fees

You will pay the Immigrant Visa Application Processing Fee and Affidavit of Support Fee. Both are required DOS fees. See the total consular processing costs.

Submit Immigrant Visa Application

The applicant must prepare and submit the DS-260 online visa application through the Department of State website.

Send Documents to NVC

The NVC will require you to submit various financial and supporting documents such as Form I-864 Affidavit of Support.
Once the NVC is satisfied that you have correctly submitted the required documents and have paid the fees, you'll be able to schedule an interview at the U.S. embassy or consulate. Additionally, all applicants must undergo a medical examination performed by an authorized physician and obtain certain vaccinations before the interview.
Who Attends Consular Interview
The U.S. embassy or consulate does not require the U.S. petitioner to attend the consular interview. However, he or she may attend in some cases. Check with the embassy or consulate conducting your interview. Any children that will immigrate with the principal applicant will likely be required to attend the interview as well.
Items to Take to Interview
The appointment notice will include a list of items to take to your consular interview. You should expect to take the following items:
Interview appointment letter from the National Visa Center (NVC).
Unexpired passport valid for six months beyond your intended date of entry into the United States and a photocopy of the biographic page (where your name and photo are located).
Two color passport photographs measuring 2 inches by 2 inches (5 cm by 5 cm) with a white background.
Required civil documents (the original version and a photocopy), even if you submitted a photocopy to NVC. You may need to get an updated police certificate.
Medical exam results if the physician gives you these results. In that case, bring them to your interview in the envelope sealed by the medical office. Do not open this envelope.
Confirmation page from Form DS-260, Immigrant Visa and Alien Registration Application, that you submitted on ceac.state.gov.
A signed Form I-864 Affidavit of Support and supporting documents from your petitioner and any additional financial sponsors who submitted a Form I-864 on behalf of your visa application. Applicants may bring photocopies and scanned versions of signed Forms I-864 and associated documents. (Please note that the form must still be signed; typed names and electronic signatures will not be accepted.)
Proof of the U.S. petitioner's status and domicile in the United States (photocopy of a U.S. passport, naturalization certificate, or legal permanent resident card).
Translations of any document not written in either English or the official language of the country in which the interview will take place. Translations must be certified by a competent translator.
Additionally, you should take the original version plus one photocopy of any civil documents that you used with your application. For example, if you previously submitted a photocopy of your birth certificate, take the original or certified copy version to the interview.
Changes to your Application
The consular officer will likely ask if you have any life changes that may affect your application for a green card. The officer is looking for anything that may change an answer on your application or petition. Some examples include the birth a child, new employer, or new address. If your changes include an arrest or other immigration issues, speak to an immigration attorney before attending your green card interview.
RECOMMENDED: Obtaining Permanent Residence through Marriage (Marriage-based Green Card)
Green Card Interview
The typical consular interview may only last about 20 to 25 minutes. After introductions and swearing in, that doesn't leave much time for questioning. For the most part, the consular officer will ask you questions about your application and ask you to verify or explain certain answers. If you've truthfully answered questions on the immigrant visa application (DS-260), there's generally no reason to be anxious. It's also not necessary to memorize answers to any questions.
For applicants that applied for an immigrant visa based on spousal relationship, the questions will get slightly more personal. USCIS wants confirmation that the marriage is bona fide. In other words, they will scrutinize the application more to make sure there's no marriage fraud.
Sample Green Card Interview Questions for Spouses
As mentioned, green card interview questions for beneficiaries of a spouse-based petition dig deeper into your relationship with the petitioner. The U.S. government wants to confirm that you have a genuine relationship and that you're not circumventing immigration laws to get a green card. Consequently, the questions will be personal at times. Consular officials are trained to find inconsistencies and determine if applicants are being untruthful.
These are some sample interview questions. As you can see, they are very simple questions. You don't need to memorize answers. Review the list of questions so that you can think about how you would answer.
Initial Meeting & Dating
How, when and where did you meet your spouse?
Where and with whom did your spouse live when you met your spouse?
How do you and your spouse communicate (i.e. telephone, text, email, etc.)?
How much time have you and your spouse spent together in person?
What is your spouse's date of birth?
Family
Does your spouse have any siblings? If so, what are their names and ages?
Have you met your spouse's family? If so, describe the circumstances who you met.
Where do your spouse's closest family members live?
Employment & Residence
What type of work does your spouse do?
What is your spouse's salary?
Have you visited your spouse's home? Describe it.
Wedding
How long did you and your spouse date prior to getting married?
When did you and your spouse decide to get married? Was there a proposal? Who proposed? When and where did it take place?
Did you and your spouse live together prior to your marriage? Where, when, and how long?
When did you and your spouse move in together?
When did you get married?
If you had a celebration, what food/beverages were served?
Did you and your spouse go on a honeymoon? If yes, where?
What did your parents think about this marriage?
Future Plans
When do you intend to move to the United States?
Where do you plan to live?
Do you plan to work or attend school in the United States?
This is a small sampling of green card interview questions. In practice, the consular officer can change up the questions based on the circumstances.
After the Interview
At the end of your immigrant visa interview at the U.S. embassy or consulate, the consular officer will typically inform you whether your visa application is approved or denied. Your immigrant visa will be placed on a page in your passport. Review the printed information right away to make sure there are no errors. If there are any spelling errors, contact the embassy or consulate promptly.
The U.S. embassy or consulate will also provide a sealed packet containing documents that you must present to U.S. Customs and Border Protection at a port-of-entry (like an airport or border crossing) upon your arrival in the United States. You must not open the sealed packet.
Finally, you must arrive and apply for admission in the United States no later than the visa expiration date printed on your visa. An immigrant visa is usually valid for up to six months from the date of issuance unless your medical examination expires sooner, which may make your visa valid for less than six months.
About CitizenPath
CitizenPath provides simple, affordable, step-by-step guidance through USCIS immigration applications. Individuals, attorneys and non-profits use the service on desktop or mobile device to prepare immigration forms accurately, avoiding costly delays. CitizenPath allows users to try the service for free and provides a 100% money-back guarantee that USCIS will approve the application or petition. We provide support for the Adjustment of Status Application (Form I-485), Petition to Help a Relative Obtain a Green Card (Form I-130), and several other USCIS forms.
Note to Reader: This post was originally published on February 25, 2020, and has been modified with improvements.
Want more immigration tips and how-to information for your family?
Sign up for CitizenPath's FREE immigration newsletter and
SAVE 10%
on our immigration services