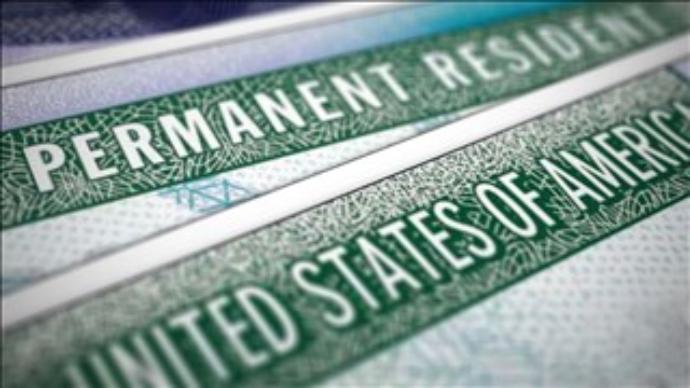 Although you can work with an expired green card, it's extremely difficult to start a new job with an expired green card. As a permanent resident, you may lawfully work in the United States. The problem is that when your green card expires, you can no longer prove your immigration status. That's why it's important to renew your green card on time.
Accepting New Employment with an Expired Green Card
It's extremely difficult, if not impossible, to obtain new employment with an expired green card. U.S. employers are required by law to confirm that all new hires are authorized to work in the U.S. To satisfy this requirement, you must provide valid proof of your permanent resident status. Generally, this means you must present an unexpired green card.
When you start a new job, your employer will most likely ask you to complete a Form I-9. The Form I-9 is an employment verification document that the employer uses to verify your identity and employment authorization. The employer must review a physical copy of your valid green card. The employer cannot legally accept a photocopy or expired card.
RECOMMENDED: Expired Green Card Creates Big Problems
Mistakes on your I-90 application can cause costly delays or a denial.
Prepare your I-90 correctly and affordably with CitizenPath. The attorney-reviewed software guides you through the application and provides help to answer questions like this one. And personalized filing instructions help you to file your application today knowing that
you did everything right
! No credit card or signup required to get started.
Try it before you buy it >>
Existing Work with an Expired Green Card
When your green card expires, your status as a U.S. permanent resident does not expire. If you are employed at the time your green card expires, there's no reason for you to inform your employer. What's more, there's no reason that your employer should ask you for an updated green card. Therefore, if you've been continuously employed with the same organization since completing your original I-9, your employer should not re-verify a green card even if it is known to have expired.
Of course, nobody has complete job security. It's always a possibility that you'll be looking for a new job in the near future. You might even get an unexpected job offer that pays more money. Without valid proof of your permanent resident status, it's unlikely that you'll be able to accept new employment.
In fact, during the recent Coronavirus economic downturn, many permanent residents had trouble obtaining unemployment benefits because they were missing key information from their green card.
How can resolve this quickly?
To renew (or replace) a green card, permanent residents must file Form I-90, Application to Replace Permanent Resident Card. However, it will likely take more than 8 months to get the new card. There is a solution to help you work with an expired green card.
Receipt Letter
Beginning in January 2021, USCIS starting providing a green card extension with the receipt letter.
After you file Form I-90, USCIS will mail you a receipt letter. Provided that your card is not yet expired or has been expired less than one year, the letter will provide an extension. Present the letter along with with your expired permanent resident card as evidence of your status and employment authorization.
If your card was already expired for more than 12 months or you've lost your card, you can request an I-551 stamp.
I-551 Stamp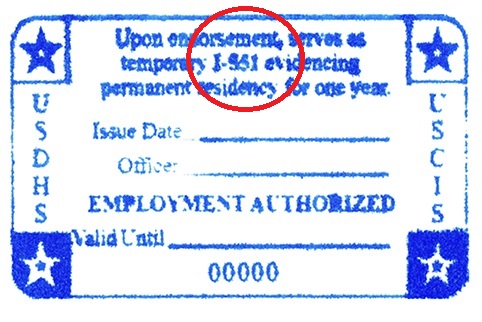 Individuals with a lost green card or card that's been expired for more than on year may be able to obtain an "I-551" stamp in their passport. You must have a valid, unexpired passport from your home country. Schedule an appointment at your local USCIS office. Take your passport and the I-797C, Notice of Action, that you received by mail after filing Form I-90. The USCIS officer should be able to provide an I-551 stamp inside your passport. This stamp serves as valid proof of your permanent residence. You may use it to accept a new job even with the expired green card. See how to get the I-551 stamp.