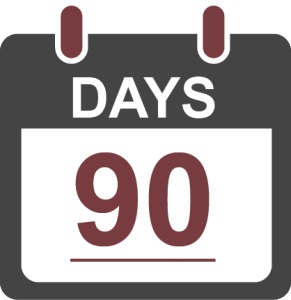 Generally, conditional residents must file Form I-751, Petition to Remove Conditions on Residence, within the 90-day period before your conditional residence expires. U.S. Citizenship and Immigration Services (USCIS) will reject the petition if you file too early. There are also consequences if you file too late.
In most cases, you will lose your conditional resident status and are removable (deportable) from the United States if you do not file the I-751 petition by the expiration date. There are exceptions for conditional residents who must file with a waiver to the joint filing requirement due to the death or divorce of a spouse.
When to File Form I-751
It's simple to determine when to file Form I-751. Look at the front of your green card. You should have a "Resident Since" date and an "Card Expires" date. This defines the period of your two-year conditional residence. File Form I-751 jointly with your spouse any time during the 90 days that precedes the Card Expires date. For example, if your card expires on 12/31/2022, you can file the I-751 petition as early as 10/2/2022. You must file it by 12/31/2022 in this example.
RECOMMENDED: Form I-751 Processing Time
Mistakes on your I-751 petition can cause costly delays or a denial.
Prepare your I-751 petition correctly and affordably with CitizenPath. The attorney-reviewed software guides you through the petition and provides help to answer questions like this one. And personalized filing instructions help you to file your petition today knowing that
you did everything right
! No credit card or signup required to get started.
Try it before you buy it >>
Exceptions to the 90-Day Filing Period
In some cases, the marriage may have ended due to divorce or death. It may also be possible that the marriage is still valid, but it is impossible to file jointly because the conditional permanent resident is abused or battered. In these rare cases, it's possible to get a waiver of the joint filing requirement. When filing with a request that the joint filing requirement be waived, you may file Form I-751 at any time (before or after the expiration date).
If you have failed to file before the expiration of your conditional green card, you have lost your permanent resident status and may be removable from the United States. CitizenPath recommends that you immediately contact an experienced immigration attorney that can assist you.
RECOMMENDED: I-751 Waiver After Divorce: Filing without the Ex