Does time spent as a conditional permanent resident count for naturalization?
Your time as a conditional resident counts toward the continuous residence requirement for the purposes of naturalization. In fact, a conditional resident spouse who remains in a viable marriage is often able to become a U.S. citizen three years after first obtaining conditional permanent residency.
Continuous Residence Requirement
Continuous residence means that the applicant has maintained residence within the United States for a specified period of time. For a permanent resident married to a U.S. citizen, the requirement is three years. You must have been a lawful permanent resident of the United States for at least three years. In addition, you must have been married to and living with the same U.S. citizen spouse for the last three years, and your spouse must have been a U.S. citizen for the last three years at the time you filed your Form N-400, Application for Naturalization. For examples and to learn more, visit our continuous residence page.
Did you know minor mistakes on your Form N-400 application can cause costly delays and rejections?
Prepare your N-400 quickly and correctly with CitizenPath. The attorney-reviewed software guides you through the application and provides help to answer questions like this one. And personalized filing instructions help you to file your application today knowing that
you did everything right
! No credit card or signup required to try it.
Get started now >>
How to Determine When Permanent Residence Started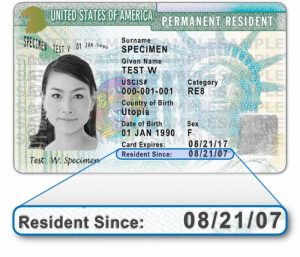 It's very easy to determine the date that you became a conditional permanent resident. Look at the front of your green card and find the label for "Resident Since."
This date is the date you were admitted as a permanent resident of the United States.
Applying for Citizenship When I-751 is Still Pending
Even if your I-751 is pending and you've not yet received your 10-year green card, you may be eligible to naturalize as a U.S. citizen. Of course, USCIS won't approve Form N-400 until they have approved Form I-751. As long as you meet the eligibility requirements for naturalization, you may file Form N-400 while the I-751 is pending.