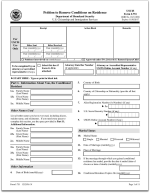 Form I-751, Petition to Remove Conditions on Residence, is used by conditional permanent residents that obtained status through marriage to request that the conditions on residence be removed and subsequently become lawful permanent residents.
It's important that conditional residents file the form on-time and with ample evidence to prove there is a good faith marriage. The petition removes conditions on residence and finalizes the permanent resident process. Failing to file the petition can create a deportation problem.
Obtaining the approval on Form I-751 is a process that takes approximately 12 to 18 months for most petitioners.
When to File Form I-751
If your conditional green card is expiring within 90 days and your residence is based on your marriage or your parent's marriage to a U.S. citizen or permanent resident, you must file Form I-751. Form I-751 is a joint petition. That means that you and your spouse will file it with USCIS together. However, there are exceptions for conditional residents that want to request a waiver to the joint filing requirement. Filing with a waiver the joint filing requirement may be necessary for individuals in an abusive relationship or divorce.
RECOMMENDED: I-751 Waiver After Divorce: Filing without the Ex
If the I-751 petition is not filed by the day the two-year green card expires, the conditional generally becomes deportable. Therefore, filing the petition within the 90-day period before status expires is extremely important. For waiver petitioners, there is more flexibility. Anyone seeking a waiver to the joint filing requirement should speak to an immigration attorney first.
Did you know minor mistakes on your Form I-751 can cause costly delays and rejections?
Prepare your I-751 petition quickly and correctly with CitizenPath. The attorney-reviewed software guides you through the petition and provides help to answer questions like this one. And personalized filing instructions help you to file your petition today knowing that
you did everything right
! No credit card or signup required to try it.
Get started now >>
Submitting Evidence of a Good Faith Marriage
When filing an I-751 petition, the couple must also submit a variety of other supporting documents. The purpose of the petition is to verify the marriage is real. Therefore, submitting strong evidence of a bona fide marriage is critical.
RECOMMENDED: Prove a Good Faith Marriage When Filing I-751
What Happens After Filing Form I-751
In most cases, the conditional resident is required to attend a biometrics appointment and the couple may attend an interview. For a look at what happens after filing, review the I-751 processing time. Once USCIS approves Form I-751, the conditional permanent resident becomes a lawful permanent resident and receives a 10-year green card. This should be the last time you need to provide evidence of a bona fide marriage.
RECOMMENDED: What Happens After Filing I-751, Petition to Remove Conditions on Residence