Your time as a permanent resident begins on the date you were granted permanent resident status. If you interviewed at a U.S. embassy or consulate, it is the date that they approved your immigrant visa. If you adjusted status inside the United States, it is the date that USCIS approved your permanent resident status. This date is on your Permanent Resident Card (also known as a green card).
Resident Since on Green Card
In the example below, the card holder has been a permanent resident since 8/21/07.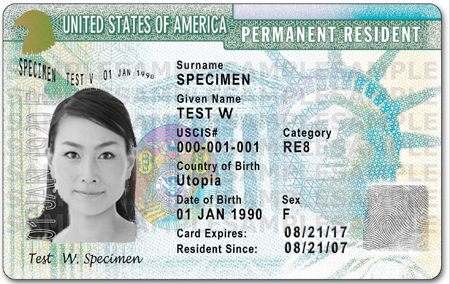 It's likely that your "resident since" date is prior to the date that you received your actual green card. For example, if you were granted an immigrant visa at the U.S. embassy in your home country and the green card was mailed to you at your U.S. address, you'll notice that the date will be the actual grant date.
Resident Since on Other Documents
If you do not have your green card in your possession, you may be able to determine your time as a permanent resident from another document. Search for the I-797 Notice of Action approval notice or consular letter that granted your permanent resident status. The date of the letter is the date you became a permanent resident.
Mistakes on your N-400 application can cause costly delays or a denial.
Prepare your N-400 correctly and affordably with CitizenPath. The attorney-reviewed software guides you through the application and provides help to answer questions like this one. And personalized filing instructions help you to file your application today knowing that
you did everything right
! No credit card or signup required to get started.
Try it before you buy it >>

If you are applying based on five years as a permanent resident or based on three years as a permanent resident married to a U.S. citizen, you may file Form N-400, Application for Naturalization, up to 90 days before you meet the "continuous residence" requirement. You must meet all the other requirements at the time that you file your application with USCIS.
RECOMMENDED: Continuous Residence and Physical Presence Requirements