If you are applying for a green card, you'll need to know if you are a principal applicant or derivative applicant. Although USCIS has removed the question in the most recent edition of Form I-485, Application to Adjust Status, the terminology is still used in Part 2. Applicants are one or the other. Here's how to determine if you are a principal or derivative applicant.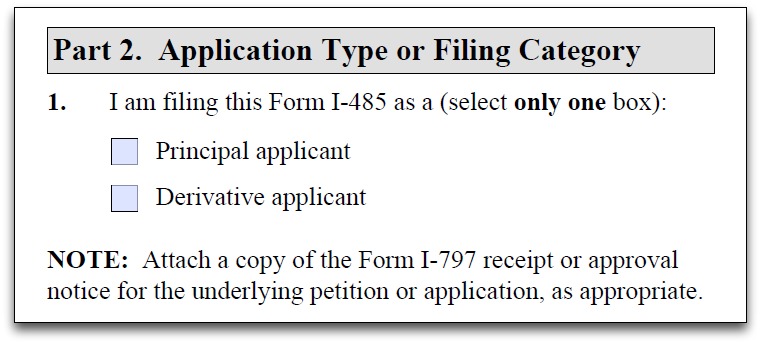 Principal Applicant Explained
A principal applicant on Form I-485 is the primary or main intending immigrant named on an immigrant petition. If you are the only applicant in your family that is adjusting status, you are a principal. Most people are principal applicants.
An immigrant petition is the government form that requests recognition as someone who with a qualifying path to permanent residence status. For family-based immigration, a relative files Form I-130. (A U.S. citizen can also file Form I-129F for a foreign fiancé.) Employment-based sponsors use Form I-140. The I-130, I-129F and I-140 are all examples of immigrant petitions. The person named as the beneficiary on the immigrant petition is the principal applicant.
Mistakes on your I-485 application can cause costly delays or a denial.
Prepare your I-485 correctly and affordably with CitizenPath. The attorney-reviewed software guides you through the application and provides help to answer questions like this one. And personalized filing instructions help you to file your application today knowing that
you did everything right
! No credit card or signup required to get started.
Try it before you buy it >>
Derivative Applicant Explained
A derivative applicant is an intending immigrant who cannot be directly petitioned for, but who can acquire the ability to adjust status through the principal applicant. The spouse and unmarried children (under the age of 21) of the principal beneficiary generally receive the same or similar immigration benefits (green card) as the principal. Provided they are named on the same petition as the principal applicant, the spouse and children will typically qualify as derivative applicants.
This gets a little confusing for the immediate relative category. Immediate relatives are the spouse, unmarried children (under age 21) and parents of U.S. citizens. There cannot be a derivative applicant for immediate relatives. That's because the spouse and unmarried children (under age 21) of U.S. citizens already qualify as immediate relatives. Each requires his or her own I-130 petition, and each is a principal applicant on Form I-485.
RECOMMENDED: Reasons for a Green Card Application Denial
Examples of Principals and Derivatives
Example 1
John is a South African citizen with a wife and child (age 10). John's brother is a U.S. citizen who filed Form I-130 to petition him for permanent resident status. John's wife and child were also listed as family members on the I-130 petition. When John becomes eligible to file Form I-485 to adjust status, he will file as the principal applicant. It was he who was petitioned. His wife and child may also file individual I-485 applications as derivative applicants because their eligibility stemmed from the principal (John).
Example 2
Maria and her daughter (age 15) are Mexican citizens. She recently married a U.S. citizen and they will all relocate to the United States. George, the U.S. citizen, files an I-130 petition for Maria and files a separate I-130 petition for his new step daughter. Both are immediate relatives and require their own petitions. Therefore, they are both principal applicants.
Evidence to File with Form I-485
You may need submit evidence of your principal or derivative applicant status. Applicants filing Form I-130 concurrently with Form I-485 can disregard this requirement. However, any principal applicant with a pending or approved immigration petition, should submit the receipt or approval notice. For example, you may submit the Form I-797C, Notice of Action (as pictured below) as evidence.

Generally, derivative applicants may only adjust status once USCIS approves the principal applicant's immigrant petition. There are exceptions. Derivative applicant will have an underlying petition naming the principal applicant and should submit the approval notice with Form I-485.
RECOMMENDED: I-485 Checklist for Family-Based Applications