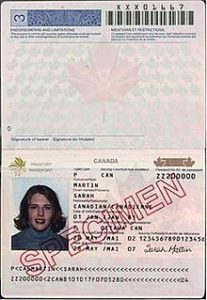 Generally, when filing Form I-485, Application to Adjust Status, you'll need to prove that you had a lawful entry to the United States. Lawful entry means that you were admitted or paroled into the United States. For most people, this means that you entered the United States with valid documentation and made face to face contact with a U.S. immigration officer and that officer acknowledged your entry to the United States. Typically, this happens at a port of entry (airports, seaports, border crossing, etc.) when you share your passport and visa.
The evidence of your lawful entry must be related to your most recent entry to the U.S. Most adjustment of status applicants will submit a copy of at least one of the following documents:
Passport page with admission or parole stamp (issued by a U.S. immigration officer)
Passport page with nonimmigrant visa
Border crossing card (Mexican citizens only)
However, there are situations that the above documents are not available. So what do you do when you have no evidence of a lawful entry?
No Evidence of a Lawful Entry Available
Some people had a lawful entry but are unable to produce one of the above documents. For example, visitors may be "waved" across while in their cars at some border entries. This counts as a lawful entry as long as you had the proper documentation (e.g. Visa Waiver Program or valid visa). If you entered with a valid visa, but that visa has since expired, you still had a lawful entry.
Individuals admitted under the Visa Waiver Program are generally ineligible to adjust status. INA section 245(c)(4) renders foreign nationals admitted under the VWP ineligible to adjust status to that of a person admitted for permanent residence. This provision, however, includes an exception for immediate relatives of U.S. citizens. Therefore, immediate relatives (i.e. spouses, unmarried children under 21 and parents of U.S. citizens) may adjust status to permanent resident through a Visa Waiver Program entry.
When filing Form I-485, the applicant should submit (1) a photocopy of the passport page that was valid at the time of entry; and (2) a personal declaration that the person entered through a lawful entry. The personal declaration might read like:
I, John Doe, came to the United States on June 15, 2015 and entered through the port of entry at Buffalo, New York. When I entered the United States, the immigration officer "waved" me across while I was inside my vehicle.
Mistakes on your I-485 application can cause costly delays or a denial.
Prepare your I-485 correctly and affordably with CitizenPath. The attorney-reviewed software guides you through the application and provides help to answer questions like this one. And personalized filing instructions help you to file your application today knowing that
you did everything right
! No credit card or signup required to get started.
Try it before you buy it >>
Evidence of Lawful Entry Not Required in Some Cases
Provisions in the law make exceptions for certain individuals. Those who are filing Form I-485 on the basis of asylum, VAWA self-petitioner, or special immigrant juvenile, do not need to submit documentation of inspection and admission or parole if it is not available. If you are filing Form I-485 based on one of these categories, no evidence of a lawful entry is required to adjust status.
RECOMMENDED: Asylum Status to Green Card after Only One Year
Alternative Evidence of Your Legal Entry
If you cannot provide evidence that you lawfully entered the United States through one of the documents above, USCIS will presume to did not have a legal entry. For most applications this will result in a denial and can potentially put you in removal proceedings.
Other Evidence: Submit any other documents that support your claim that you entered the United States through legal means. A common situation involves an applicant who entered as a small child with parents. An I-94 stamp in the parent's passport can help support the claim to a lawful entry.
Affidavits: Submit a statement written by the applicant that explains the entry, if an immigration official was present at your entry and acknowledged entry and any other significant details. Additional affidavits can be provided other persons with knowledge of your entry.
We highly recommend working with an immigration attorney to prepare your alternative evidence and affidavits.
Unlawful Entry
If you entered the United States through an unlawful entry, you face a more challenging path to a green card. Generally, those who entered without inspection cannot adjust status. This is a common scenario faced by many undocumented immigrants who marry a U.S. citizen. It is possible to become a permanent resident (green card holder), but the path is more complex. You may need to use consular processing and request a provisional unlawful presence waiver. If this is your situation, we recommend that you seek the guidance of an immigration attorney.
RECOMMENDED: Determining if You Need the I-601A Waiver for Unlawful Presence