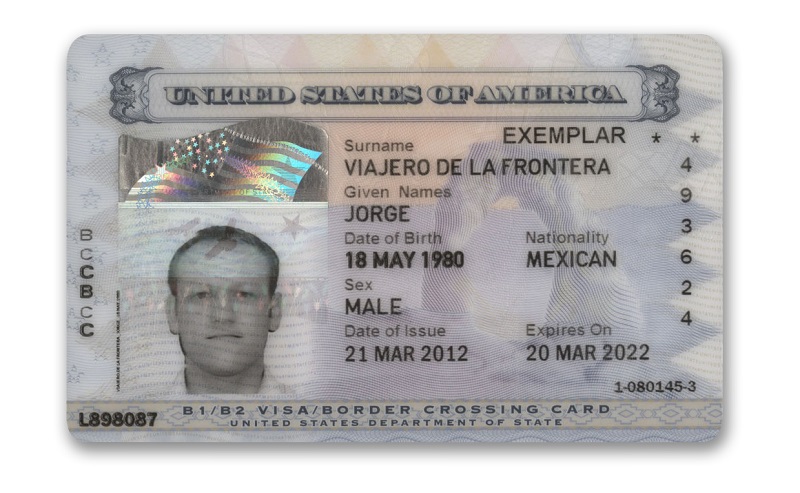 A border crossing card (BCC) is a U.S. immigration identification card which serves as a B-1/B-2 visa for Mexican citizens. The U.S. Department of State (DOS) issues a border crossing card to Mexican citizens to enter the United States for temporary purposes. The BCC is generally valid for a period of 10 years, except in the cases of some children.
The BCC has a photo and machine-readable biometric information. The card even has a built-in RFID chip and Integrated Contactless Circuit. The format makes it easy for immigration officials at the border to scan and admit visitors at a port of entry. In that past, it was known as a "laser visa." Immigration officials may also refer to the card its internal name, Form DSP-150.
Most people applying for a nonimmigrant visa are temporary visitors coming to the United States for business or pleasure. The State Department issues B-1 visas to temporary visitors for business and short-term training. They issue B-2 visas to temporary visitors for pleasure. Generally, DOS will issue a combined B-1/B-2 visa either in the form of a Border Crossing Card (BCC/mica) or a foil affixed to their Mexican passport (BBBCV/Laser Visa).
BCC Privileges
The border crossing card is valid for an unlimited number of U.S. entries during the 10-year period. However, the cardholder may only stay in the U.S. for a period 30 days and travel only within a certain area (generally no more than 25 miles from the border).
If you want to stay longer or travel further into the United States, request a Form I-94 Arrival/Departure Record from the immigration officer at the time of entry. The I-94 will generally be valid up to six months. You'll be able to travel throughout the United States.
However, just as with a standard issue B-1 or B-2 visa, the BCC does not provide you with employment authorization. In other words, you may not work in the United States.
RECOMMENDED: How to Find an Electronic I-94 Record
Requirements for the Border Crossing Card
To qualify for the BCC, you'll need to meet some fundamental requirements including:
Have a valid Mexican passport at the time of application;
Be a citizen of and resident in Mexico;
Meet the eligibility standards for B1/B2 visas; and
Demonstrate that you have ties to Mexico that would compel you to return after a temporary stay in the United States.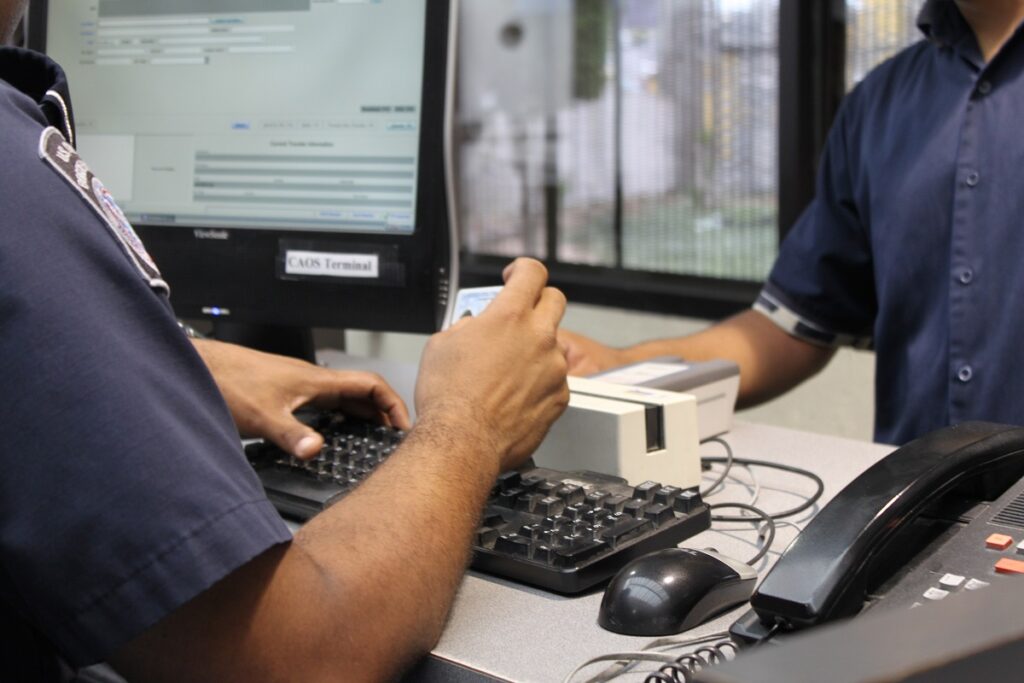 Applying for a Border Crossing Card
Start by visiting the website for the U.S. embassy in Mexico City or one of the nine U.S. consulates closest to you. Generally, Mexican border crossing card applicants can apply at one of these locations. The website may have specific guidance for you.
Next, complete the online nonimmigrant visa application (DS-160) for a B-1/B-2 visa. During the application process, you'll need to upload a passport-style photo. Be sure to review the State Department's photograph requirements. Print a copy of your application. You'll need it for your interview.
BCC Fees
Currently, a border crossing card costs . It is the same fee as most nonimmigrant visas. (Check DOS for the most current fee.)
Mexican children under 15 years of age pay a reduced fee for the card. The child must have at least one parent who holds a valid BCC or is applying for a BCC. BCC's issued for the reduced fee expire on the child's 15th birthday. If the full fee is paid, the child receives a BCC valid for the full ten years.
Mistakes on USCIS forms can cause costly delays or a denial.
Prepare your application correctly and affordably with CitizenPath. The attorney-reviewed software guides you through immigration forms and provides help to answer questions like this one. And personalized filing instructions help you to submit the application today knowing that
you did everything right
! No credit card or signup required to get started.
Try it before you buy it >>
Applying for a Green Card after a Border Crossing Card Entry
It is possible to adjust status to permanent resident (green card holder) after entering with a border crossing card. However, an individual should not enter the U.S. with the intent to adjust status with the BCC.
In order to apply for a green card, a foreign national must be eligible. If the applicant has a valid family-based immigration relationship, he or she must also have a lawful entry. Entering with a valid border crossing card counts as a lawful entry. You'll need to include evidence of your lawful entry when applying for a green card through adjustment of status. Although you technically entered legally with the card, it is hard to prove this without documentation that indicates the date and location. When entering the United States at a border crossing, Mexican visitors with a border crossing card may request a Form I-94 Arrival/Departure Record. The I-94 will evidence the exact date and location of the specific visitor. The I-94 is critical evidence of a lawful entry when filing the green card application.
Again, the B-1/B-2 visa is for the purposes of temporary visits. When entering the U.S., the card holder is reaffirming the intent to visitor temporarily and depart as required. Therefore, you should not enter the U.S. with immigrant intent. However, life circumstances can sometimes change intentions during the course of a trip. For example, if a Mexican national visited her U.S. citizen spouse in the United States with a B-1/B-2 visa, she couldn't go with the intent to apply for a green card. But if COVID-19 hit during her visit and she decided to stay in the U.S. permanently with her husband, her intentions changed. This would likely be the basis to proceed with an application after the BCC entry.
RECOMMENDED: Can I come to the U.S. for the purpose of adjusting status?